We live in a world where possibilities are endless and anything is possible. But why have we stopped focusing on ourselves, especially on our health? Every other day we discover about a new disease which is most of the times curable but why not take precautions since the beginning? Haven't we heard 'precaution is better than cure'?
It was once said that one should love themselves enough to live a healthy lifestyle. And investing in a healthy lifestyle is more beneficial than investing in a materialistic thing.
When it comes to living a healthy life, it doesn't always mean to join a gym or to start eating healthy from day one. If we do that, sooner or later we'll be either bored of the monotonous schedule or will start craving for junk food.
Our body needs time to process some things. Small changes make a big difference. Instead of turning our whole world upside down, one should focus on making changes in their lifestyle by taking one step at a time.
Healthy eating
The most important step towards a healthy lifestyle would be healthy eating. We always hear this saying - 'What we eat is what we are' which means whatever we consume, directly affects our mind and body and builds us as an individual. With so many options of places serving healthy food in Chandigarh, one can easily maintain a good and healthy lifestyle.
One such great place, when it comes to eating healthy, would be AJA Fresh & Grilled.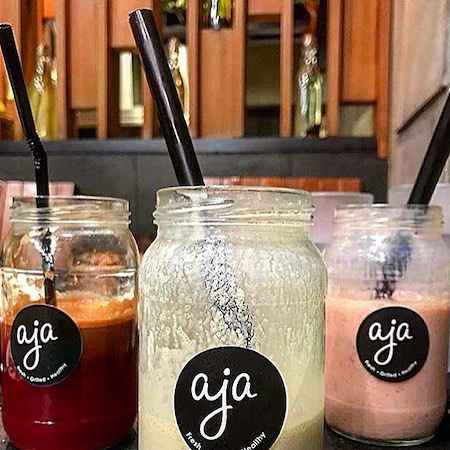 One of the Premium Organic Food Restaurants, AJA has a huge variety of food and beverages. Everything on the menu is made out of pure organic items and no preservatives are added. Everything you have there is made freshly and they have gluten-free dishes as well. Not to forget, AJA is a great option for vegan people as well. And the most important thing, they have zero compromises when it comes to quality and taste of the food.

Eating healthy isn't only limited to food, having healthy beverages is a major part of the whole process. The beverages we consume in daily life, like sodas, energy drinks etc., has a high amount of sugar level which is the major cause of health issues these days. As we all know that the human body constitutes majorly of water, so it is very much necessary to hydrate ourselves constantly.
Apart from water, which is genuinely the best drink, we have so many options in beverages which are healthier compared to the ones we usually get at the market. Some good variety of healthy beverages can be found in AJA as well. Ranging from delicious smoothies to detox juices, AJA makes sure that there is something for everyone! No preservatives are added and there is no sign of artificial flavors.
WELLNESS JUICES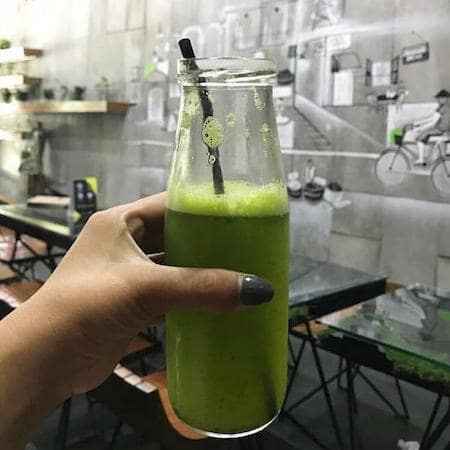 It is always said that anything consumed in its purest form is the best. AJA brings you a great mixture of fruit and vegetable juices which are 100% pure i.e. made purely from fruits and vegetables and nothing else. No added sugar and no preservatives. Vegetable juices are a great low-calorie choice, and AJA sure does offer various options in these juices.
If you're looking to workout on something particular in your body, AJA has juices like,
Yogi Detox - a mixture of pure Aloe Vera, Cucumber, Broccoli, Water Melon and Pineapple, for the proper purifying of your body.
Skin Glow - a mixture of Orange, Apple, Carrot, Fresh Turmeric, and Thai Ginger, for clearing and glowing of the face.

SMOOTHIES
Smoothies are basically the healthier version of milkshakes. And who says they can't be healthy and yummy at the same time? AJA has some lip-smacking smoothies. My personal favorite being, Bora Bora, a mix of Dried Cranberry, Flax Seeds, Papaya, Strawberry and Pineapple.
VEGAN DRINKS
The whole new stop for all you vegan people should be AJA. They serve great vegan drinks which shouldn't be missed. Some drinks like, Coconut Mocha, Almond Iced Coffee, Almond Milk Chocolate etc. are among their best sellers.

ORGANIC TEAS & COFFEES
After water, Tea and Coffee are the two most commonly consumed beverages. AJA serves organic teas which are great for health. Some teas like Berry Blush Tea, Hibiscus Tea etc. are a pure delight!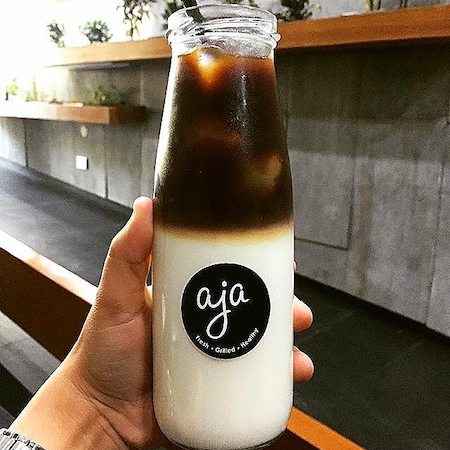 Apart from the regular Cappuccinos and Mocha, AJA offers the best Vietnamese Iced Coffee which is my mandatory order. A strong flavor of coffee is just what you need to kick start your mornings.
AJA is undoubtedly a great place for having super delicious and super healthy beverages. So, let's take a step towards a healthier life by switching from our general beverages to healthier ones!
130, S.c.o 129, 131, Madhya Marg, Sector 9C, Chandigarh, 160009
Best Deals in Chandigarh
---