This Makeup Artist From Delhi Is Giving Makeup Goals To All The Future Brides!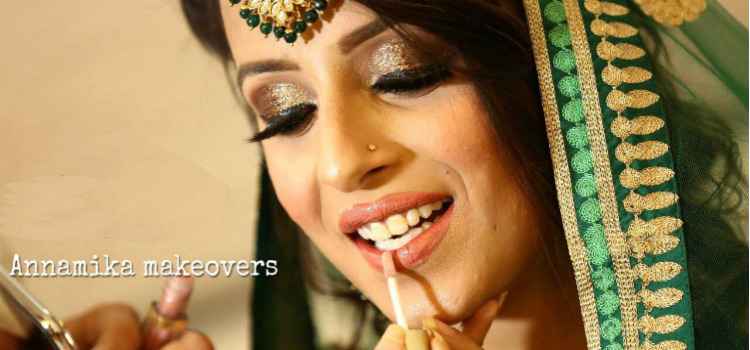 As rightly said, "Makeup is self-confidence applied directly onto the face", one can't help but remember the good old days when as little girls one would apply mothers lipstick on their face and paint their finger and toenails. Remembering those days always bring a smile to all our faces. We all loved dressing up our barbies and as time would have it, now, we love doing that to ourselves. Women, mostly, are in love with makeup and want to look absolutely flawless every day. Be it any special occasions or just a casual day, any girl would love to have flawless makeup on. But not many of us are as skilled as a professional makeup artist.
A professional makeup artist will not just amplify your features but also bring out the inner beauty as she works her magic on you. On a wedding day, every bride wants to look her best and only a true makeup artist can help her do that. Picking the right person for your D-day is a herculean task as a lot of options are now available. However, there is one makeup artist from Delhi who is giving all the prospective brides a reason to the Happy Dance. Yes. Ladies! Say hello to Annamika S Anwar: Magician with a Makeup Brush in her Hand!
Get Ready to Look like a Million Bucks with Annamika Makeovers!
An Interior Designer by profession, Annamika started her makeup journey about 4 years ago when she had her baby girl. She was always in love with makeup and even as a little girl, she used to try her mother's cosmetics on her face. Since then, her love affair with makeup began. She believes that everyone in this world is beautiful and makeup is only a tool that can enhance the already present features. "I believe in bringing out the features that are already present and don't encourage anyone to try and change the color of their skin. I believe that every colored skin has its own pros and can be enhanced if the right kind of makeup is used." She is truly brilliant at what she does and can really make anyone look their best with her skills.
Wondering where she learned it all from? Surprise, Surprise!
Well, you will be surprised to know that she has no formal training in makeup from any Beauty school. However, she is self-taught and has been following all the trends and developments in the makeup industry. For her learning, she heavily relied on youtube videos, Instagram videos, and makeup seminars. She practiced her skills on herself and that's how she honed herself as a Magician with a brush. Understanding the Indian obsession with fair skin, she tries to overcome the fairness mania with her clients by explaining to them that she can work her magic on their natural skin tone. With such a great vision, she is able to convince her clients to try makeup on their natural skin tone and the results make it totally worth it!

A Pro at All Types of Makeups!

A woman of many talents, Annamika offers a variety of makeups for her clients based on their need. She offers basic makeup, HD makeup, Theme-based Makeup, Transformational makeup, Imitation makeup and Airbrush Makeup for events like weddings, photo shoots, farewells, college events and the like. Each package includes Makeup by Annamika, Hair-styling, and Draping by her team of qualified professional. A client can pick according to their need. Each type of makeup comes with different types of products which are handpicked by Annamika herself. For her, safety is most important and thus, she tries the makeup first on herself and only on being satisfied with the results, she offers it to the clients. She also offers paid trial for those clients who would love a trailer of her makeup. Now, that is exactly the kind of care a bride would need on her D-Day!

Premium Products, Great Makeup!

Annamika has always believed that products are the make or break for any makeup. Thus, she lays great emphasis on finding the right products for her clients. A lot of clients might be allergic to certain chemicals and she makes it a point to ask that in advance. For her, a bride isn't just a client. She is a caterpillar waiting to bloom as a butterfly and it's her job to make it happen. She treats her brides with a lot of love and pampering and tried to use the best in class products to ensure no mishaps. Some of the brands she uses are Anastasia Beverly Hills, Huda Beauty, Smashbox, MAC, Benefit, Estee Lauder, Bobbi Brown and Makeup Revolution. With such amazing collection of cosmetics and her brilliant and flawless skills, anyone can be transformed into a celebrity!

Worried about Breaking the Bank For her Makeup Services? We Got You Covered!
Inspired by Sazanamin, CEO of Sazan Amin Eye Lashes, Annamika is definitely the go-to makeup artist for those would-be brides who would love some pampering and attention. She, along with her team of professionals, wouldn't leave any stone unturned to make your special day even more amazing. The best part, she even travels to the venue and metro cities for destination weddings. So, kiss those parlor vali aunties goodbye. With such a professional group of artists, the price she charges is quite competitive and won't break your bank. For basic bridal makeup, she charges anywhere between 12,000 to 14,000 whereas for a full HD makeup for brides she charges 25,000. If someone wants to opt for Airbrush makeup, the charges vary between 35,000 to 40,000 whereas for outstation makeups charges are between 35,000 to 40,000.
So, whether you are a would-be bride or family of the bride or just someone who has an occasions coming up, get your appointment booked with Annamika for a completely amazing makeover!
Contact: Annamika Makeovers
Call on: 08860803925
Follow on: Annamika MUA & Annamika
Get your Slots booked for the wedding season with One of the best the Bridal Makeup Artists in Delhi!