Have Your Cake, And Eat It Too: Your Guide to Chandigarh's Best Customized Cake Shops!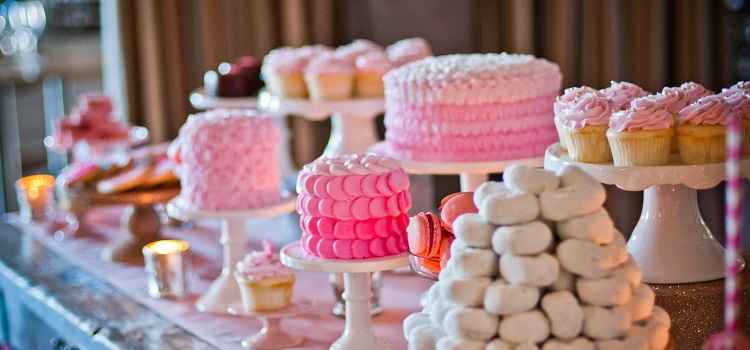 As stated correctly, " a party without cake is really just a meeting" and by all means, this seems to be true. When one thinks of birthdays, weddings, farewells or just a celebration of any kind one can't imagine it without a Cake. City Beautiful's love for bakeries is no exception to this rule.
In the recent years, the number of bakeries all over the city seems to have grown manifold. So to simply bring you the best, we are here. We present
The best bakeries in Chandigarh:
1. Nik Bakers
If there is one bakery that has been ruling the hearts and taste buds of every food connoisseur since 2006 in the north it is -Nik Bakers. It won't be wrong to say that it's an outlet which is no less than a baker's love from Australia being served on a plate. They offer a host of baked delights and offer some of the most delectable desserts one has ever tasted. Their menu includes breads, cookies, chocolates, pastry, and cakes to highlight a few. The variety in each category is unmatched and unrivalled. The USP of-course, are the cakes which are available in a host of different flavours and can be customized too based on the occasion. They specialize in designer cakes for weddings, birthdays or any other event which is sure to make an impression. Just place an order at least 48 hours prior to the event and sit back and enjoy a yummilicious cake!

Average price for 1 kg cake (Premium): Rs. 1000-1200 approx
Must have: Strawberry Chocolate Cake, Chocolate Praline, Fresh Fruit Tart
Contact: 0172-5062257
Address: Sector 9D, Sector 35C, Elante Mall, Chandigarh and Sector 5, Panchkula
Order Online: Nik Bakers
2. Monica's Puddings & Pies
Serving City Beautiful since 1994, Monica's started out as a home bakery but owing to the success based on word of mouth soon turned into an entrepreneurial venture which has been taunting our taste buds ever since. A boutique-styled bakery with products devoid of any preservatives or colouring, Monica's Puddings & Pies is a haven for everyone with a sweet tooth. They specialize in French desserts like pies, tarts, cookies, chocolates, souffles, puddings but the trademark item is the cake. With over 40 varieties of fresh cream, fruits, and nuts, their cakes are the most sought after in Tricity. Their forte is customizing the product according to client needs. So if you really want a taste of the best dessert in town then you ought to visit this outlet!

Average price for 1 kg cake: Rs. 800-1500 approx
Must-Have: Chocolate Mud Cake, Red Velvet Cupcake
Contact : 0172-5018076
Address: Sector 8B, Chandigarh and Sector 9, Panchkula

Order Online: Monicas
3. D'licious Cakes by Devina
A home baker who specializes in customized designed cakes and cupcakes to grace each and every occasion. Started out in 2011 with just chocolates, gradually making the shift to a host of delectable desserts which are sure to make one's mouth water. They offer cupcakes, French desserts like cheesecakes, banoffee pie, chocolate tarts, tea cakes, but the USP are the customized decorative cake for anniversaries, baby showers, birthdays or any special occasion. Truly professional, D-licious cakes and cupcakes are by far the best gastronomical delight for cake lovers across the city. So if you have a theme in mind just share it with Devina and surely you wouldn't be disappointed. P.S Place the order at least 3-4 days in advance!

Average price for 1 kg cake (Fondant cake): Rs. 1950-2250 approx
Must try: Chocolates, fondant cakes
Contact: +91 9781610009
Address: #706, Sector 8B, Chandigarh
Order Online: D'Licious
4. Crumbs by Sanchit Malhotra
If one is looking for a roller coaster in their mouth in the form of unique flavours than just visit Crumbs by Sanchit Malhotra. A home baker specializing in all types of baked desserts like cupcakes, profiteroles, tarts, souffles and much more in a variety of unique flavours as a base is surely to take your taste buds for a trip to a French patisserie. His speciality is the designer cakes which can be customized according to any theme. His creativity and imagination can transform an ordinary cake into a work of art which not only satisfies the heart but also pleases the eyes. He also offers liquor cakes (ahem ahem! something I'm sure we all can't wait to try). So if you are a dessert lover and have some occasion coming up don't wait just place an order now!

Average price for 1 kg Cake: Rs. 1500-2000 approx
Must try: Jack Daniels Cake, Nutella Brownies
Contact:+91 9988990010
Address: #1153, Sector 15 B, Chandigarh
Order Online: The Crumbs

5. Ovenfresh Bakery & Cafe
A well-known cafe and bakery across the Tricity, Ovenfresh is the go-to place for all food lovers in town. They offer a variety of products like cookies, breads, tarts, cupcakes, brownies, puddings and cakes along with the freshest brewed coffee and some absolutely melt in mouth desserts. Their brownie sizzler and Chocolate mud cake are definitely to die for and are loved by all dessert lovers. Not heavy on the pocket at all, Ovenfresh is definitely worth a try.

Average price for 1 kg cake: Rs. 700-1000 approx
Must try: Brownie sizzler, Chocolate mud cake, red velvet cupcakes.
Address: Sector 26, Sector 35-C and also at Elante Mall, Chandigarh
Order Online: Ovenfresh
6. Cookie's Jar by Geet & Vir
By far the best cake designers in the city since 2001, Cookies Jar by Geet and Vir not only design and customiZe cakes but also provide a host of different desserts to satisfy one's quest for the mouth-watering desserts. Their cakes are definitely the best in terms of flavours and they can customize any theme you have in mind. Based on the belief that baked savouries are not just food items but a personal experience in itself for each client, their products torment and tease the taste buds and please the eyes of everyone. What are you waiting for? Go ahead and book your orders now and make someone feel extra special by customizing a sweet delight by Cookies Jar!

Average Price for a 1 kg Cake: Rs. 850 to 1500 approx
Must Try: Fruit fusion cake, Tripple berry cake
Contact: +91 9041099234
Address: Sector 46C, Chandigarh
Order Online: Cookies Jar
7. Sweet Nothings
Located in Sector 8, Chandigarh, Sweet Nothings has a reputation of offering some yummilicious desserts well within the budget. It is well known for its eggless options including orange, chocolate, walnut, and banana bar cakes. All the bakery preparations are superbly sumptuous and fresh. Apart from cream cakes, they are well known for dry cakes and offer them in packings as well as by slice. The staff at Sweet Nothings, Chandigarh is very courteous and go the extra mile in making one feel like an esteemed guest. Definitely a place worth trying the next time you visit Chandigarh.

Average price for 1 kg cake: Rs. 200-800 approx
Must Try: Coffee walnut cake and Orange chocolate cake

Contact: +91 9855398553
Address: Booth No. 60, Sector 8B, Chandigarh
8. Classic 44
With a number of outlets across Chandigarh, Classic 44 offers a wide range of bakery delights at rock bottom prices without compromising on the taste. Offering a huge variety of eggless cakes and pastries like fruit cake, vanilla, and chocolate cake, Classic 44 not only satisfies the sweet tooth but also takes care of those looking for savoury treats in the form of Chicken sandwiches, veg puffs and a lot more. It's probably one of the most popular among the college-going youth of the city. If a pocket-friendly treat is what you are searching for then don't wait up and head to classic 44 today!

Average price for 1 kg cake: Rs. 200-600 approx
Must Try: Pineapple Cake, Chocolate cake
Contact: 8284858019 / 0172-2621935
Address: Shop No.414, Sector - 44D, and also at SCF No. 37, Sector 19, Chandigarh
Now that you know about these bakers in Chandigarh who are more than a match for your sweet tooth, wait no more to start tasting the delights.