10 Best Bars & Night Clubs In Hyderabad For Every Party Animal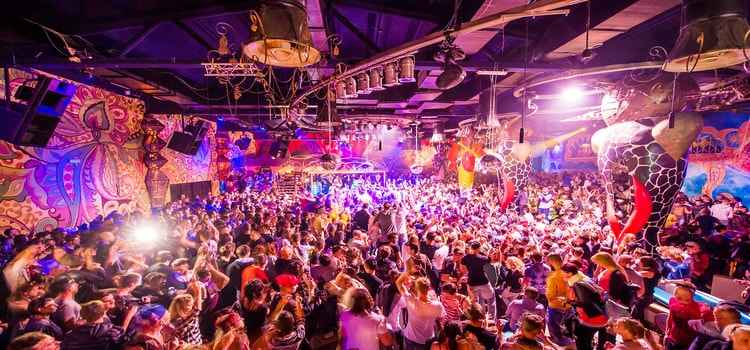 Nightclubs, the most pervasive part of our culture, an excellent social venue, are attractive to both genders, as they offer the promise of a wonderful experience on every visit. No matter where you go around the world, each country has adopted the nightclub as the benchmark of their nightlife.
Hyderabad, the city of pearls, with their cosmopolitan and enthusiastic crowd makes the nightlife happening. The nightlife of Hyderabad is something that will make everyone fall in love with the beautiful city. With the approaching weekend, people love to hit the clubs and you can't keep the people of Hyderabad away from enjoying themselves in the night.
As the sun goes down the Hyderabad nightlife heats up so If you're in Hyderabad even for the weekend, make sure you don't miss out on these top 10 places.
10 DOWNING STREET
This place! It got it all. Everything's on point. People are transported to another word as soon as they enter. It's a place that has not lost its charm even though it has been in the city for more than a decade now. Fancy as the name goes, this typical English style pub, the epitome of wood and leather has been ruling. The ambience, the lights with a generous use of timber for the tables and chairs is a nice touch. The lights are of the right warmth, it does not hurt your eyes when you are squinting them after a couple of drinks. With the consistent quality, quantity, and taste of food it gives a splendid experience. It has a great and versatile combo ranging from Indian to oriental and continental. They almost have everything on their drinks menu. The margaritas and martinis served with Barbecue and tikkas go perfectly. With mind-boggling DJ and ultimate soundtracks, it's surely a value for money

Cost for Two – Rs 1800
Address – 10, Ground Floor, My Home Tycoon, Begumpet, Hyderabad
BOTTLES & CHIMNEYS
Perfectly apt for a night out, a restro bar, with a delectable spread of starters, main course, and drinks. The delicious food here shall only leave people wanting for more. Perfect interiors with velvety seats and centrally located busy bar and the choice of moving to the bistro on the lawn with the right company is all that's needed to make the day a special one.

Cost for two-Rs2500
Address: Opposite old Airport, Begumpet, Hyderabad
KISMET –THE PARK
It's a strategically placed nightlife, 11500 Sq. ft. lavish club with metallic-shaded interiors, tunnel-shaped entrance; a night can't go wrong here, with DJ spinning on the console, a video display on the led screens, big and long bar to dispatch the drinks, the dance floor flooded with people dancing their hearts out on the Bollywood nights

Cost for two-Rs2400
Address: 22, RajBhavan Road, Somajiguda, Hyderabad
HARD ROCK CAFE
Popular for live gigs and legendary burgers, it's one of the best places for music lovers. Filled with positive ambience and mementos from famous artists from various genres of English music, this place always places the classics from the 80s and 90s rock music that everyone always yearns for. Nice ambience and super friendly staff make this place worth a visit.

Cost for two-Rs2000
Address: GVK One, Road No. 1, Banjara Hills, Hyderabad
ALTITUDE
It's a marvelous place with soothing and rich ambience, located on the top floor of Marriot with the lovely view of Husain Lake and Marine drive of Hyderabad offering a breathtaking panorama of the City. It is the perfect place to hang out with friends with the acknowledgeable and well-managed staff, highly recommended for exclusive meetups with near and dear. The volume of the live Band and music will blow audience's mind everlasting impact.
Cost for two- Rs 4000
Address: Tank Bund Road, Opposite Husain Sagar Lake, Hyderabad, Telangana
OVER THE MOON
Truly happening places with contemporary décor, groovy music, cool ambience, exciting cocktails and beer and a lot of space. A savior in the cyber part of the city having a brewery worth visiting with lip-smacking food at the most reasonable price. It is a lovely place having a charm of its own with everything falling right into place.

Cost for two- Rs 1500
Address: 8th Floor, Daspalla Hotel, Road No. 37, Jubilee Hills, Hyderabad
THE LAL STREET
With the best Bollywood DJ night special once every week, every time you visit this place you find something new. Lal Street is innovative giving a tough competition having colorful interiors creating multiple thoughts in the eyes of the audience. This place is even more popular for its girls night out special sending a message of empowering women and being creative in its own way. The rhythm of DJs playing in Lalstreet is irresistible.
Cost for two- Rs 1300
Address: 2nd floor, SLN Terminus, Gachibowli Kondapur Road, Hyderabad
BLOCK 22
Featured in Best bars and clubs, the wow Wednesdays in Block 22 will surely make everyone stay on loop. Excellent entrance look with a huge doorway is massive and enchanting from the moment someone steps a foot inside till they leave. The music unites the club into something closer than just a group of people. The electrifying atmosphere and mesmerizing bar counter make this place unique and crazy.

Cost for two- Rs 1900
Address: Hitex Exhibition Centre, Hitech City Road, Hyderabad
AIR LIVE
It's a favorite place for all the friends to hang out. The mesmerizing performance of the band and authentic collection of food and drinks will not let the audience's mood go down. From the awestruck menu of "Everything @ 128" to the dessert makes the place affordable which in turn transforms the place into a livelier atmosphere. With the dancing floor, Air Live still stands to be one of the most Happening places in Hyderabad.
Cost for two- Rs 1500
Address: Above Jaguar Showroom, Road Number 36, Jubilee Hills, Hyderabad
STONE WATERS
Popular for Live music and rooftop bewildering ambience, it has a view to die for. This place lends fancy air with dim lighting and pleasable drinks to top it all. Extremely delicious food and excellent presentation make it a must to explore their menu and play with the taste buds. It is a definite place for all those in a mood for a musically delicious night.

Cost for two- Rs 1800
Address: Plot No. 1299B, Aruna Arcade, 5th Floor, Rd Number 1, Jubilee Hills, Hyderabad
Did we miss your favorite club? Mention them in comments and we will add them!