Nawabi Tadka by Food@U Cafe: The Ultimate Biryani Festival in Chandigarh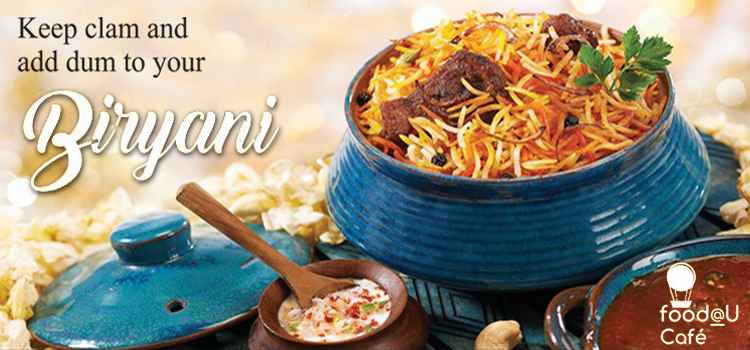 Are you among the food hoggers who swear by a bowl of hot biryani with raita?? Does the smell of smoked Dum rice with meat make your taste buds water endlessly? If yes, then Hyderabadi Dum Biryani is your Bae. And what better way to enjoy it than right in your own city.
Food@U came with a different Concept of Tasting session and after the super successful South Coastal Cuisine Festival, Food@U now brings to you Hyderabadi Dum Biryani festival. *OMMGGGG* YAYYYYY!!!

YES. YOU HEARD US RIGHT. Food@U is pumped up and all set to serve the foodies across the city with authentic Hyderabadi Dum biryani along with yummy salan and Burani Raita. All this and much more in store for Biryani lovers at rock bottom prices.

Whats even more amazing is that this festival is open for all foodies even at home. One can order delectable Dum biryani at home and enjoy! Aaaaah now this is life!

Speciality on offer:

Welcome Drink
4 Varieties of Biryani
All you can Eat:

Veg: Mix Veg Biryani & Kathal Ki Biryani ( served with Salan and Burani Raita)
Non-Veg: Chicken & Mutton Biryani ( served with Salan and Burani Raita)
Dessert
Timings:
1:00 pm to 3:00 pm
7:30pm to 10:30pm

​​Days: Sunday, October 1, 2017
​​Price per person: Veg: INR 299+ Taxes & Non-Veg: INR 349+ Taxes
To book your slot call Ashank @ 8872596973
Venue: Food @U Cafe. Berkeley Mall, Industrial Area Phase 1, Chandigarh (also valid on Delivery across Tricity)
We at ShoutLo can't wait to hog on to some authentic Hyderabadi Dum biryani right here in city beautiful. Courtesy: Food@ U Cafe.

Don't miss out folks!!