Break D Fear: Corporate Team Building Meets Adventure World!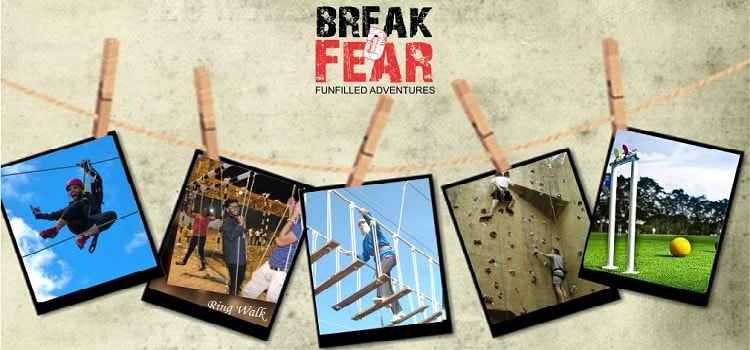 In the words of Henry Ford, "Coming together is the beginning, staying together is progress, and working together is the success."
Are you a part of today's corporate rat race with a group of team members worn out by cut-throat competition? Creating a friendly office environment is one of the most challenging tasks a manager faces in their early stages of developing a successful team. It takes time and effort for a group of individuals to function together as a team and achieve results. And when nothing works maybe a break from routine is all that your employees need!
What if, we at ShoutLo, bring to you an adventurous way to build your team's motivation and also enjoy some super fun activities not very far from City Beautiful?
Don't believe us? We present to you Break D Fear! Break D Fear: The ultimate hangout for Adventure Sports!
With activities being monitored by trained professionals, Break D Fear is the ultimate adda for adrenaline junkies and for all those who want to break the shackles of their fear. These activities not only are fun-filled and extremely awesome but also are helpful in building trust amongst teammates.

The activities include some of the most nerve-racking yet fun sports like:
Paintball
A Warzone game that needs no introduction, Paintball definitely is a game that is loved by one and all. Two teams, with the ultimate aim of eliminating the other team members using balls filled with paint, It is one of the fun games for adults as well as kids. It requires a lot of agility, fitness, and stamina and is truly the best way of building up trust and motivation among the team members. Definitely, a must try!
Burma Bridge
Ever thought of walking on a tiny rope on an elevated platform? Afraid of heights? Then Burma Bridge is definitely the game to help one overcome this fear! The Burma rope bridge is the classic rope walking activity for the thrill seekers. It involves a thick rope on the base to walk upon, and then two ropes on the sides to hold on to as this bridge stretches across an area.
Thinking of running away? Don't fret. It's absolutely safe and performed with help of trained professionals. So get ready to shed some fear and show your teammates what you got!
Zip-line
If heights are the ones that give you a high, Zip-line is definitely your muse. Suspended on a cable, usually made of stainless steel, mounted on a slope, Zip-Line is designed to enable a user propelled by gravity to travel from the top to the bottom of the inclined cable by holding onto the freely moving pulley. One of the most loved adventure sport across the globe, Zip line tours are becoming popular vacation Activities nowadays. A must try with your teammates!
Commando Drill
Want to see your seniors being grilled the military way? Then Commando drill is not to be missed out on. Commando Net, Rope Walk, Ring Walk, Commando Crawling, Rope Tunnel Nets are a part of this drill. It gives one the real feel of how military folks are trained. These can be a great form of exercise, building balance, strength and coordination without any help.
Fun Tip: Challenge your colleagues to complete the commando drill in a limited time frame and then Brag about your wins at work later! *Winks*
Croquet
Sounds like cricket ?? Well, yes to some extent, Croquet, too, originated in the Great Britain and is known as a game of queens in ancient history. Croquet is a sport that involves hitting plastic or wooden balls with a mallet through hoops embedded in a grass playing court. It is definitely a newbie for folks across the city and Break D Fear is perhaps the only place that offers such an amazing sport. Definitely, a reason not to miss out something so novel!
Wall Climbing (50 FEET)
Ever dreamt about rock climbing but didn't find the time to travel? Don't worry. Break the fear can fulfil your wish in a jiffy with its most adored adventure activity: Wall Climbing A climbing wall is an artificially constructed wall with grips for hands and feet. Some are brick or wooden constructions, but on most modern walls, the material most often used is a thick multiplex board with holes drilled into them which help in climbing up the wall. It's a brilliant combination of exercise, psychological challenge, and lasting friendships – and it's open to absolutely everybody. A great way to enjoy with your teammates and to test your fitness!
All the activities are safe and performed under expert supervision. They are a part of an attractive package and can be customised according to the number of group members.
Address: Adjoining Chokhi Dhani, Amravati Enclave, Panchkula
Contact for bookings: 083960 74500
Website: Break D Fear
Facebook: Break D Fear
Go ahead and give your team a break that they deserve and trust us they will outperform post the adventure tour!