Be Productive & Inspired At These Coworking spaces in Hyderabad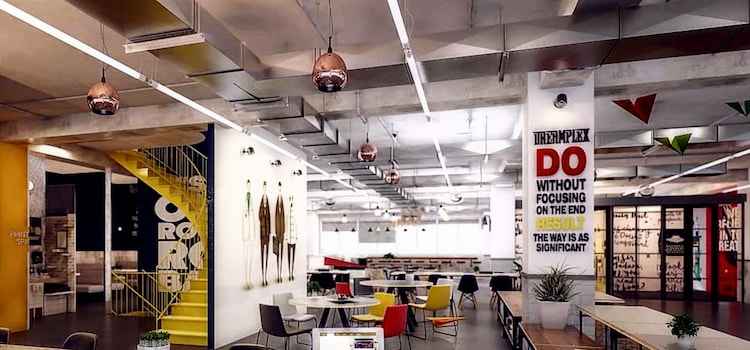 Coworking is a style of work that involves a shared working environment, often in an office although an independent activity of each other. Typically, it is attractive to work-at-home professionals, independent contractors, or people who travel frequently who end up working in relative isolation. Coworking is a social gathering of a group of people who are still working independently, but who share values, and who are interested in the synergy that can happen from working with people who value working in the same place alongside each other.

Firstly, it is a solution to the problem of isolation that many freelancers experience while working at home, while at the same time letting them escape the distractions of home. These spaces consist of members who work for a range of different companies, ventures, and projects. Because there is little direct competition or internal politics, they don't feel they have to put on a work persona to fit in. Working amidst people doing different kinds of work can also make one's own work identity stronger.
Secondly, one can help each other out, and there are many opportunities to do so; the variety of workers in the space means that co-workers have unique skill sets that they can provide to other community members.
Lastly, a lot of meaningful learnings and conversations may also be derived more and well from a concrete source. Coworking movement aspires to, including community, collaboration, learning, and sustainability. It is also a part of a social movement.
With all these things coming up in the global world, there are a few best coworking spaces in Hyderabad which people traveling for business or residents and users must know for work.
91 Springboard
This space aims to attract and retain employees in an environment that's corporate yet has a unique company culture. They always give their team the freedom of movement. It also creates a vibrant co-working community for start-ups, freelancers and business owners with a calm and devoted mindset. They have more than 1300 active members working out of their spaces across all locations. Other than this, they even conduct 60+ events every month. They have over 7 offices throughout India. Anytime access to everything you need to get your work done: Workstations, Private Cabins, High-speed WiFi, Conference rooms, Café, Gaming & Chill zone and more. Whether you're a freelancer who wants to come for part-time, a team of 30 people who need privacy or you just want to work nights or even weekends, they just have everything one needs. It is pay per person system, flexible, so, it's a kind of place where there is no management overhead, no micromanagement of costs neither long-term leases. It's all in one simple bundle.
Address: Plot no. 44, Kavuri Hills, Phase 1, Behind Hotel Jubilee Ridge, Hyderabad
Unispace Business Center
Unispace Business Center is the largest workspace provider in Hyderabad. It offers various workspace opportunities to start-up's, large businesses, freelancers, independent professionals etc. It provides Coworking spaces, Private office spaces, Virtual offices, Meeting rooms and Professional Services as per the business needs. Unispace is located in 4 prime locations, it is an ideal choice for one's budding venture. It provides all essentials in order to scale up one's business to a new height in a very short time.With young entrepreneurs and start-up businesses on the rise in India, there is an increased insist on affordable coworking office facilities. It is indeed a very alluring concept. The customized rental coworking office spaces render flexibility and decrease the hassle of hunting a reliable and reasonable workspace. From a profitable standpoint, coworking spaces are relatively inexpensive and best-suited for start-ups, freelancing professionals, and independent contractors. These fully furnished coworking spaces ensure that one runs their business more efficiently without worrying about basic office amenities such as high-speed WiFi, reception services, monthly bills, power backup, housekeeping and other related services. Unispace has offices here in Hyderabad's prime locations such as Madhapur, Gachibowli, Hi-Tech City and Kondapur.
Address: 8-2-293/62/A, Plot 1214, Rd Number 60, Jubilee Hills, Hyderabad
CoworkZone
A comfortable working environment located in Hitec City, Hyderabad, CoworkZone is designed to offer at flexible prices which do not burn a hole in one's pocket. Based on their description, they offer Private Cabins for Start-ups. They have also partnered with THub in Hyderabad to accommodate more and more emerging start-ups. CoworkZone is happy to support the startup activities led by the IT Hub, in Hyderabad. It is providing additional capacity to help the State host more, emerging companies. It is an ambience to Attract Best Talent. CoworkZone brings easily affordable, flexible, non-shared coworking space for startups, young entrepreneurs, early-stage companies, and consultants, in Hyderabad.
Address: 4th Floor, Plot No:63, Kavuri Hills Phase 1, Jubilee Hills, Hyderabad
Our Hub
Our Hub offers more than just an affordable office space. It is championed by founders of start-ups. It has been created to nurture more creative & entrepreneurial minds. It is being built up from the ground, keeping in mind the unique needs of an early entrepreneur, freelancers and such. They are the easy, efficient way for one to get work done and to surface the resources which one would need but is not easily accessible. Our Hub lets discover, collaborate and co-work to increase overall productivity. This is a hub for creators and creative minds. Our Hub is the key to a happy community. Our Hub also has private meeting rooms and office spaces.
Address: 909, Rd Number 48, KTR Colony, Mega Hills, Madhapur, Hyderabad
Rent a Desk
Rent A Desk believes in the advantages of coworking. The constant networking, the cross-pollination of ideas and the serendipity of chance exchanges will only drive the business forward. It started its journey to provide a swanky and a comfortable workplace to young companies at a price that's within a reach of a new individual. Apart from taking care of all essential workspace amenities including ease of access by virtue of being situated at a prime location in Hyderabad, Rent A Desk is also proud to uphold essential professional virtues such as networking, ideation, and teamwork by facilitating the coming together of creative minds who would collaborate, learn and turn out great products. This coworking station offers a range of flexible month-to-month membership plans allowing you to pick and choose per preferences. This way, you can go for a brief stint before deciding if it is the way to go in the long run.
Address:8-2-348/1, Flora Apartments, Road No 3, Banjara Hills, Hyderabad
HatchStation
HatchStation is an ecosystem for startups in Hyderabad to co-work, live and prosper from ideation to profitable ventures. A lot of us have great ideas which needs are a smarter talent, right advise, enough capital and many more attributes to be successful. Here at Hatch Station, it is all about flocking resources. A group of all ideators, technologist, designers, startup junkies and investors, who not just love startups but live their life for it. As stated on their website this is where "ideas come to life", HatchStation is a startup ecosystem where one will find a community of souls from technology geeks to designers and startup junkies plus curious investors with big pockets. Hatch Station overflows with smart talent plus the mentors all willing to put their hand up to help the fledgling start-up that may be struggling to get off the ground. This place situated at Prakash Nagar, Hyderabad, HatchStation describes itself as Not just a co-working space but also a startup enabler.

Address: 19/3RT, Line 2, Street 5, Prakash Nagar, Begumpet, Hyderabad
Jack Your Startup
Based in Banjara Hills, Hyderabad, Jack Your Start-Up is one of the numerous co-working spaces that just seems to be surrounded around this area. While much is not available about this space on public media, it is to be noted that they offer mentoring facilities to their startups which is very unusual in comparison with the other places. It is a one-stop solution for all your start-up need, right from co-working spaces to Mentoring. A place where you would love to hatch like a chicken, a World class facility to leverage one's start-up. This co-working space is really amazing in the initial stages of business.
Address: Road No.12, Banjara Hills, Hyderabad
The Valley
The Valley seeks to create a space where like-minded visionaries feel motivated enough to work and create a change in this world. They offer either all-day access or 6-hour access with prices depending on your needs. They believe in people and their entrepreneurial spirit. They sought to build a community of like-minded doers visionaries, changemakers & problem solvers. As soon as they realized epic stuff happens where more than one motivated person gathers with the intention to work and create shared value for the benefit of the community and that's exactly how it all started.
Address: 8-2-351/GG6, Road Number 3, Hyderabad
So all you freelancers, startups, and businesses who need a temporary office space or meeting room, get going!