Meet A Unique Fitness Consultant & Physiotherapist In Chandigarh Who Can Help You Get A New Lease On Life With The New Age Techniques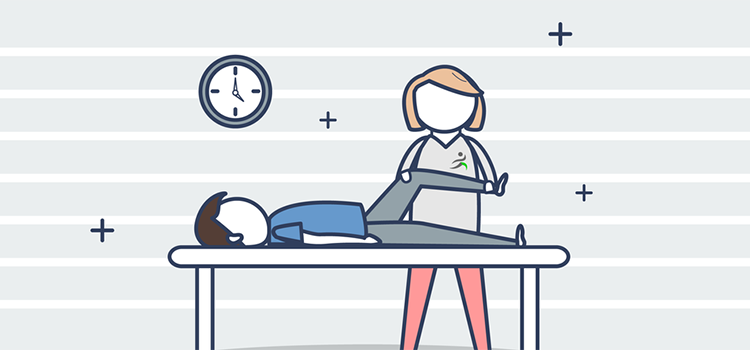 There is a popular advice, "Take care of your body, it is the only place you have to live." But how many of us follow it seriously? With the sedentary lifestyle and endless working hours, taking care of our bodies and mind gets lost in the process. For those of you who have long sitting hours, the bones and muscles are the silent sufferers. Due to the repeated ignorance and less emphasis on fitness, you may end up acquiring problems that affect your everyday lives.
To save you from such issues, a physiotherapist in Chandigarh is working day in and out. Yes! We, at Shoutlo, would like you to Meet Dr. Amandeep Jaggi (PT) whose healing hand will help you get a new lease on life!

A Cheerful Fitness Consultant & Physiotherapist All Rolled Into One!
Dr. Amandeep Jaggi (PT) is one of those doctors who like to treat their patients with a smile. With 16 years of experience, she is among the best physiotherapists in the city who believe in healing her patients with a difference. Her belief is that physiotherapy is not just about broken bones and that it is much more than that. She did her Bachelor's in Physiotherapy from D.A.V. Institute of Physiotherapy & Rehabilitation in 2002 and runs a clinic-cum-fitness studio called Physio Heal and Care in Sector 10 Chandigarh. As a health & fitness enthusiast, she believes that following an active lifestyle can help in curing any problems.
She is known for treating Orthopedic conditions, sports injuries, post-surgical patients, neurological issues, prenatal and postnatal problems, osteoarthritis and more. She believes in treating patients with care and uses her best-known ways to resolve any body issues. Some of the treatments she focuses on includes, Musculoskeletal Injury Physiotherapy, Elastic bandage, Postural Re-education, Trauma Injury Physiotherapy and Kinesio Taping. Apart from this, she is involved in Body Sculpting. She is certified in Kinesio Taping from Kinesio Taping Association International and is also a member of Manual Therapy Foundation of India. With so much experience and talent, she tries to understand the problem of each patient and treats them accordingly. So, if anyone in your family needs a consult, then Dr. Amandeep Jaggi (PT) is the one you should meet!
Physiotherapist with a Difference!
Most physiotherapists only treat the bones and muscle issues through regular exercises and techniques. But what most of them miss out on is the mental condition of a patient. Most surgical patients deal with post-surgical depression and thus, their overall recovery is affected. Dr. Amandeep Jaggi (PT) is different. She understands that every patient who is going through a hard time needs some cheering up and she tries to do that through her fitness classes. Through her body strengthening group classes, she focuses on re-channeling the negativity in a patient towards exercise routines to help bring a change in their mindset. She believes that mind is as important as the body and one needs to be involved in some activity to use their energy in the right direction. She believes being physically fit also improves the mood of a person and results in quick recovery.
Apart from the group classes, she focuses on giving personal attention to every patient and caters to only one patient at a time. Unlike many physiotherapists who focus on multiple patients in one session, Dr. Amandeep (PT) treats only one patient in one session so that each of them gets the attention that they deserve. In her strengthening classes, she promotes the importance of fitness and makes her patient workout through different techniques and exercises. She also tries to mingle and chat with her patients to reduce their mental stress. It's through her years of experience and practical knowledge that she treats any mental health problems along with physical issues at the same time!
Physiotherapy is Not just a Profession; It's a Religion For Dr. Amandeep (PT)!
For Dr. Amandeep Jaggi (PT), Physiotherapy is not just a profession; it is a Religion. Through her concerted efforts, she helps her patients recover from any ailments and ensures that they understand the importance of being fit. She has even worked with a renowned rehabilitation center, Klinik Am Hellweg in Germany and has been applauded by the center for her excellent work ethic. One of her patients, Dr. Pommy Chatrath, Senior Medical Officer, praises her and explains, "Dr. Amandeep (PT) is one of the most efficient, consistent and disciplined professionals I have come across. I suffer from post-polio residual paralysis and needed treatment for the same. I started visiting her clinic in 2006 and since then I have only got better. Personally, she is the most amazing person I have met and I would definitely recommend her to everyone." Another patient Prerna, who is from the UK, explains, "I suffered from PGP during my pregnancy and couldn't walk even for 5 minutes. I visited Dr. Aman (PT) and she made an effective and disciplined recovery plan for me. She not only stuck to the plan for those 45 minutes of therapy but also lend her support to me after the session as well. It was due to her efforts and persistence that I have fully recovered now and can jog up to 5 Kilometers."
Even the Former Punjab Vidhan Sabha Speaker, Ravi Inder Singh unequivocally recommends Dr. Amandeep (PT) and explains, "I suffered from Slip disc and was told that prolonged use of relief tablets would only result in a harmful effect on my kidneys. After getting the treatment done at a Hospital in Madras, the pain didn't go away and I couldn't sleep. Someone introduced me to Dr. Amandeep (PT) and within a week the pain vanished. For the first time in 6 months, I was able to sleep pain-free. All thanks to Dr. Amandeep Jaggi (PT)." As per Mrs. Munisha Gandhi, Senior Advocate," Dr. Amandeep (PT) is dedicated, sensitive and punctual. She helped in treating my Frozen Shoulder and worked her magic on me. Now, I am absolutely fine and completely indebted to her for all the assistance."
Her patients praise her work and consider her among the best physiotherapists in the city. With so much said about her work by her patients, one does not need to think twice before paying her a visit. So, if you need a consult or just need some fitness advice, visit Dr. Amandeep Jaggi (PT) and make a difference in your life!
Location: Physio Heal and Care, 119, First Floor, Landmark: Opposite Leisure Valley, Chandigarh
Timings: Mon-Sat, 9:00 AM - 7:00 PM
Call: 9815542691
Get your appointment booked with one of the best physiotherapists in Chandigarh today!
119, First Floor, Sector 10, Landmark: Opposite Leisure Valley, Chandigarh