5 B-town Celebrities Are A Proof That Superstars Are Born In Shimla!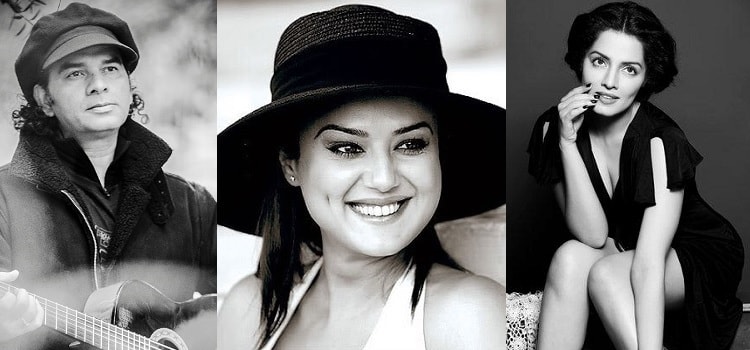 The queen of hills, Shimla, never ceases to amaze us. This beautiful Pahari town, where every nook and cranny is filled with pristine and pure beauty also is the hometown of some super talented celebrities. These people were the ones who dared to dream big and eventually made a mark in this world. Their hard work and dedication not only made them super successful but also made people from Shimla extremely proud.
We, at ShoutLo, share their success stories to instill a sense of pride and remind one and all that "Nothing can stand in the way of success if one works hard and is passionate".
Anupam Kher
Born in 1955 to a Kashmiri Pandit Family in Shimla, Anupam Kher is an acting institution in itself. Growing up in the narrow lanes of Shimla, He had a modest and a typical sanskari upbringing. An alumnus of DAV school Shimla, Kher has made a mark in B-town with his highly acclaimed acting in movies like Saraansh, Maine Gandhi ko Nakhin Maara, Darr, Khel, Ram Lakhan, Vijay, Special 26, Salaakhen, Khosla ka Ghosla and many more. Due to his exceptional acting skills, he bagged crossover projects like Bend it like Beckham, Silver Linings Playbook, Mistress of Spices, Speedy Singhs and has been awarded 'The Padma Shree' and 'Padma Bhushan' for outstanding contribution to Cinema & Arts. With his Zeal and determination, he overcame all odds and achieved his dream of being successful in the field of acting. He was also the chairman of CBFC and National School of Drama and currently heads an acting School "Actor Prepares" which is his attempt to hone the skills of aspiring artists. His hard work and never give up attitude is an inspiration to one and all!
Life's Motto:" In every role that I do - whether I'm a teacher, actor or mentor - I do it with total dedication and as much honesty as I feel is required because there's no alternative to honesty and hard work."
Preity Zinta
Fearless and talented, Preity Zinta, is a perfect example of beauty with brains. Coming from an Army family, she was born and raised in the serene and quaint Shimla. Being a literature graduate from St. Bede's College, she is witty and outspoken which inspires all women to speak their heart out. This extremely talented actress has done some hard-hitting roles and has earned respect in the world of Cinema. Who can forget the naïve and bubbly, Priya from Kya Kehna, or the Independent and brave Pakistani Girl - Zaara from Veer and Zaara or the confused and emotional Naina from Kal Ho Naa Ho? Miss Zinta's essay of the modern day woman has been awarded a lot of appreciation. Being a hardcore cricket fan she even invested in an IPL team Kings XI Punjab and became a successful entrepreneur. Even after achieving such levels of success she remained extremely rooted and her love for her hometown is undying. Her never give up attitude is what makes her respected and a reason for pride among the Shimla folks!
Life's Motto: "Luck always favours the brave. And you must remember that brave are the people who follow their heart; brave are the people who take chances in life. Which also means you have to say no sometimes. I believe the power of no is greater than yes."
Mohit Chauhan
A voice that reminds all of us of the serenity and soulfulness of Shimla, is of none other than Mohit Chauhan. This young man from Shimla only had one dream of making it big in the music industry and to make it come true he formed "Silk Route" with other passionate lads. Their first song "Dooba Dooba Rehta Hun" reminded the world of the softness and rustic charm of Himachali music. His voice appealed to none other than musical genius A.R Rahman who approached him for "Khoon Chala" for Rang De Basanti and this became his claim to fame in B-town. One cannot help but get lost the depth of his voice in songs like Tum se Hi, Sadda Haq, Nadaan Parindey and many more melodious ballads which tug at our hearts. This successful singer from Shimla, is another reason to hold your heads high Folks!
Life's Motto: "For me, music is for the soul - no matter whether the song is composed by me or by someone else."
Rubina Dilaik
If you are a fan of daily soaps, then Rubina Dilaik should definitely be amongst your favorites. This talented and ambitious TV actress's claim to fame was popular daily soap "Choti Bahu" and is the first Television actress to be brave enough to portray a transgender character in her current show "Shakti- Astitva Ka Ehsaas". Believe it or not, this gorgeous girl hails from our very own Shimla. An ex-student of Shimla Public School, Rubina did her grad from St. Bede's College, Shimla. Winner of Miss Shimla 2006, she went on to becoming Miss North India in 2008. Not inspiring enough? Read on. This pretty and sweet actress is the recipient of one of the most prestigious awards for actors - The Dadasahab Phalke Award in 2015. She attributed her success to her mother who always reminded her to stay rooted in her culture and thus, she is a true Shimla-ite at heart!
Life's Motto: "Hardwork and dedication is what is the ultimate key to success."
Celina Jaitly
Beautiful and seductive, is exactly how one would describe the famous Bollywood actress, Celina Jaitly. Not many people are aware but this gorgeous lady hails from the snow-capped town of Shimla. Born in an Army background, Celina went on to become Miss India in 2001 and got international recognition after being a runner-up in the Miss Universe Pagent. Known for her expressive eyes, she made her debut opposite Fardeen Khan in "Janasheen" and won many hearts. Due to her global appeal, she was declared as an International Tourism Ambassador for Luxor City Egypt and also is a UN Equality Champion. This vivacious girl is homely and is deeply rooted in family values. She reminds us all that women can wear multiple hats and be successful on her own terms through hard work and dedication. Kudos to you lady!

Life's Motto: "As a fourth generation Army Brat, I would like to begin by saying that it is very important to remind every Indian citizen that a soldier is a national asset to whom the motto 'Nation Before Self' is dearer than life itself."
So next time you want someone to know Shimla's contribution to the world of Cinema, do mention these B-Town Biggies.
Go ahead Pahariyo and brag your heart out!