Food@U: Good Food Within Minutes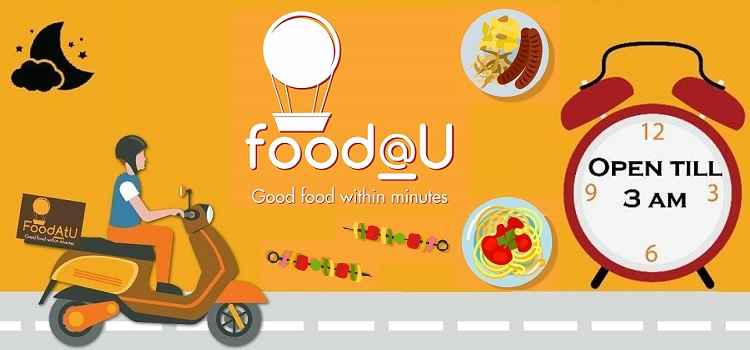 You can take the Indian out of India but you can't take out the desipan out of Indians. As much as we all love international cuisines, we as Indians love desi street food like Raj loves Simran In DDLJ. *Winks*
However, most of the food joints only cater to patrons during the normal hours like 10 to 11 pm and thus if one craves yummy food at night, one needs to drive up the highway or just cook Maggi and doze off.
But to address the late night hunger pangs of our city's foodies one place opened its doors and restored the flavor in the late night meals as well.
Food@u: Good Food meets Lightening Fast Delivery
Started off as a late night food delivery medium and then conceptualized an outlet named as 'food@u kiosk' which also served late night food till 3 AM. The Food@U kiosk popularised good quality late night food delivery and continues to be top of the line in night food delivery in the Tricity.

The food menu they offered in the wee hours of the night is the USP that no other night joint can match up to. From North Indian to South Indian or from Continental to Oriental, they deliver freshly prepared super hot meals right at your doorstep at lightning fast speed.
Imagine waking up in the middle of the night and craving piping hot chicken and rice or a veg kathi roll. *mouth-watering*
Earlier it would have been a dream but now it's a reality. Just pick up the phone and dial Food@u. Sit back and relax while your order gets delivered.
By delivering delectable food, Food@U is trending as "number one" on Zomato in Chandigarh. Thus, we at ShoutLo highly recommend it to the foodies and night owls across the city!!
Call for Delivery: +918288966669, +918699005669
Food@U Cafe: Desi Khana meets Videshi Tana Bana
Food@U slowly but steadily won the hearts and taste buds of all the food lovers across the city. Food@u as a brand believes that every customer has a unique taste that needs to be understood and catered to. Thus, the idea of 'Food@u Cafe was conceived with a motto to cater to the likes of every individual with a love for some yummy street food found in nukkars and small shops. The food they serve is authentic street food but with a videsi twist in their presentation and a zing in the taste. One can't help but fall in love with this place in a second.
From the delectable Dahi Papdi to Teekha Chana Chat masala, from Mumbaiya Poha to Maska Bun, each street food item is presented in a manner that one can't help but drool over the dish and just can't get enough.
Newly set up, Food@U cafe is a perfect marriage between Street Food and drool-worthy desserts along with some delicious guests like shikanjvi, Jamun Iced Tea and the like, and some healthy salads to satisfy the health freaks in City Beautiful.
Visit Food@ U Cafe: Berkeley Square, Plot No 24, Industrial Area Phase 1, Chandigarh.
Facebook: Food@UCafe
We at ShoutLo recommend the cafe as well for all the food lovers in the city. Come and feel the magic of desi tadka in a videsi style.!!!
So all the foodies and night owls in the city, whether you are catching up with friends for coffee, going out on a date, working late or ravenous after a crazy party, there's always gonna be food – thanks to Food@U.