12 Fun Things To Try This Weekend In Chandigarh!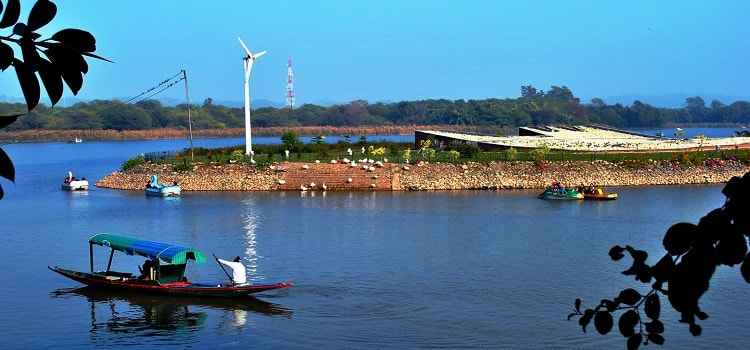 Bored from your regular weekend lunches and dinners with your friends and family? Looking for a different and refreshing way to spend your weekend in Chandigarh?
Don't fret if the answer to all the above is a yes. We, at ShoutLo, are here to remind you that you live in what was named as "The Perfect City in the world" by BBC and that here are the 12 things you should plan to do with your gang this weekend!!
Fun Things to do this Weekend:
1. Feel the Magnificent Sunrise at Sukhna Lake
Ever experienced the sunrise by the side of a serene lake at the foot of Himalayas? If the answer is no then one must leave the hustle bustle of their routine behind and head to Sukhna lake at around 5 am in the morning. The feel of the fresh morning breeze, the chirping of the birds and sound of the lake amidst the rising sun create a breathtaking moment to cherish for a lifetime!

Address: Sukhna Lake, Sector 1, Chandigarh

2. Marvel at the Rock sculptures of The Rock Garden
You must have once in lifetime participated in best out of waste competition while in school. But if you really want to see the magic that can be created from waste then "The Rock Garden" is definitely a go to place for you while in Chandigarh. Nek Chand's creations in the beautifully spread over 40 acres and designed garden have been known to leave even the most creative geniuses spellbound. The sculptures carved out of waste and beautiful architecture of the garden is something one must not miss out on!

Address: Rock Garden, Sector 1, Chandigarh
3. Jee Aayaan Nu at the Open Hand Monument
Situated on the backdrop of the Himalayan Shivalik hill range, The Iconic Open Hand Monument in the Capitol Complex designed by Le Corbusier is a symbol of Unity of mankind. To City Folks, it symbolizes a Punjabi Phrase " ਜੀ ਆਇਆਂ ਨੂੰ " meaning 'Welcome to all'. It symbolizes peace and reconciliation. No visit to Chandigarh is complete without visiting this symbolic monument. So get moving and capture this special moment in your camera forever!

Address: 31, Uttar Marg, Sector 4 A, Chandigarh
4. Savor the Flavor of Chole Bhature at Sai Sweets
Fond of Shuddh Punjabi Khaana yet don't know where to head? Just go set your GPS to Sai Sweets Sector 22 Chandigarh and prepare to be surprised. This simple and quiet looking sweet shop is the home to some of the most delicious delights like samosas, gulab jamuns and the best Cholle Bhature in the city. What's fabulous about this restaurant's chole is the blissful lack of overbearing spice. Served with just pickle and glorious bhature, Sai Sweets has been known for this delicacy ever since!

Address: SCO-1102-03, Himalaya Marg, Sector 22 B, Chandigarh
5. Bring Out the Sherlock Holmes and Unravel the Mystery at The Mystery Rooms
Ever Imagined being locked in a room with your team and you have exactly 60 minutes to use logic, solve puzzles, find hints, and prove the power of team work to pave your path to freedom.? If yes then gang up and head to Mystery Rooms right now. Mystery Rooms is a theme based entertainment gaming concept aimed at promoting team work amongst its players. It can be played with 2-8 team players and is a 60-minute thrilling experience. A reservation, however, would be recommended. The average cost for 2 to 8 players would be Rs 600 to Rs 1000 per person. Definitely, a must try for all your adrenaline junkies in the city!
Address: S.C.O No. 489-90, First Floor, Sector 35 C, Chandigarh
6. Pamper and Rejuvenate your senses at O2 Spa
Tired and Exhausted after routine work and in need of some pampering? Book yourself a spa session at O2 Spa in Elante Mall. One of the most well-known spa brands across the country, O2 offers body massage, spa treatment or any astounding salon services Their highly trained therapists and beauticians will pamper you while coaxing your body into a state of serene tranquility, enhanced beauty, and vigorous health. An average session of 60 minutes Body massage would cost around Rs 2900 to 4500 approximately. Go ahead and relax your senses today.

Address: 2nd Floor, Elante Mall, Industrial Area Phase I, Chandigarh
7. Relive your Childhood at Arcade Gaming at Funcity
Missing the arcade games you used to play as a child?? Head to Fun City Elante immediately! Designed by the Dubai based retail giant Landmark Group it is truly a Fun City with complete leisure concept. Families are provided with best avenues to experience the momentous occasion of spending quality time in the company of someone near and dear and so does it provide the best chance to the kids for enjoyment options. Some of the most popular games are the Bumper Cars, Simulated Car and Bike Racing, The Bull ride and many more. One needs to get a gaming Credit Card made for Rs 200 and top it up according to need. This place can turn even the grownups into fun toddlers for a day. Go ahead and get gaming!

Address: Third Floor, Elante Mall, Industrial Area Phase I, Chandigarh
8. Bowl Away with your Buddies at PVR BluO
Looking for a One-Stop destination to spend some quality yet fun time with your family? The city has the perfect place for you in PVR BluO. BluO is a concoction of fun + bowling, world cuisine, music, adventure coming together. BluO, has redefined bowling as a popular lifestyle and entertainment sport in the country and made it accessible for all. Just grab your mates and enjoy a game of bowling along with some yummilious food and drinks on the go. Apart from bowling, one can enjoy air hockey, pool, karaoke, F1 Racing, Foosball and even a designated PlayStation zone! With bowling starting from Rs 299 per person, This place is the ultimate destination to have fun without heading to multiple places and is a must try out!

Address: Third Floor, Elante Mall, Industrial Area Phase I, Chandigarh
9. Watch Movies like a King at PVR Business Class
If you are a movie buff and feel the high by watching the action, drama, romance or comedy flick but need no disturbances then PVR Multiplex at Elante Mall offering Business class to view should be your destination. Comfortable recliners which can be extended to a comfy bed as well, make for a completely luxurious relaxing experience while enjoying some lip-smacking popcorn and some awesome cinema. Whats amazing is the bang on customer service offered by PVR to Business class customers. One can order anything from the menu and is delivered to their seats in no time. Don't we all just deserve a break from the mundane routine and just enjoy a day of being the couch potato? If yes is your answer get your business class tickets booked now at PVR Elante Mall!

Address: Third Floor, Elante Mall, Industrial Area Phase I, Chandigarh
10. Satisfy the Shopaholic in you at Sector 17 Plaza
If shopping is what satisfies your soul then no place can quench your thirst better than The Plaza sector 17. Apnaaa Sector Sataraan is the ultimate shopping destination for everyone. One can find everything in one place. From top brands like Reebok, Nike, UCB, Woodland to some steal deals at a local vendor, sector 17 is the mecca for all shopping freaks in the city. Apart from being the shopping center, this place also has some of the most beautiful fountains and even has a musical fountain and lighting show to add to the amazing experience. So bring out the shopaholic in you and head to sector 17.

Address: Sector 17, Chandigarh
11. Gear up the Inner Warrior and Go Paintballing at Xtreme Warzone
Are you an extreme adrenaline junkie who enjoys mission oriented action sports? If your answer is Yes, then gear up and book a session of paintball at Xtreme Warzone. Located on the outskirts of the city, Xtreme Warzone is amongst the world's best in Paintballing, providing an extremely engaging and enthralling gaming experience one will never forget, with real life size paintball gun with dual action and multi-fire. A single player package with 50 paintballs cost around Rs 350. So gather all your buddies and gear up for some action!

Address: Opposite of Sant Shri Asaram Ji Ashram, Kharar, Soonak, Punjab
12. Feel the 'pahadon ki waadiyaan' by driving up the Himalayan Expressway
If driving is what gives you a kick then grab some on the go snacks, set the music to "Nile Nile Ambar Par" and just drive and drive and drive on the Himalayan Expressway. Driving this 27.5 Km stretch at dawn or dusk can be the most soothing break from the monotony of everyday life. Well maintained roads ensure safety as well make the drive a smooth experience. An added bonus is that the highway ends almost at Timber Trail Deck where one can stop to enjoy the magical view of the valley and the city left behind!

So don't just follow the routine even on your weekend. Try something fun and relive the magic of city beautiful!