Super Yummy and Healthy Gluten Free Desserts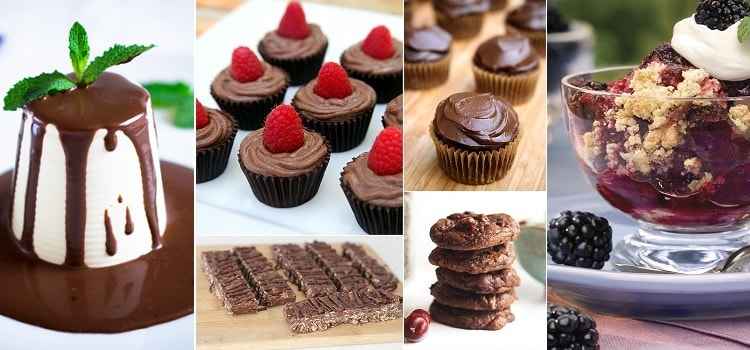 There is only ten percent of hundred who don't like desserts, but the remaining ninety percent can die for the melting sugar in their mouths. These days to stay healthy and fit we often exclude the dessert part of our diet. Then everytime when we see a boy eating Blueberry Cheesecake our blood boils. People order different types of Halwa, and you don't have a choice but to stare them eat it.
That's very true that we cannot and should not compromise on our health, but we cannot spend a dessert-free life as well. So for all the health conscious people, these days the bakeries and restaurants offer gluten-free items but how trustworthy are they? Not too sure, right? Then what is the solution or is there no solution to this problem at all?
Don't worry dear readers team Shoutlo has curated a list of healthy Gluten free desserts which you can eat whenever you feel, and you don't even have to worry about those extra pounds gained!
You can enjoy these delectable desserts in any bakery, restaurant or cafe or even bake them at home! Yes, Yes, you can thank me later!
Super tasty and healthy Gluten free desserts:
1. Chocolate Blueberry smoothie
Berries, cream, and milk the perfect combination needed for a heavenly drink. The flavour is too precious to handle. But keep in mind that you add less sugar.
2. Mango Banana Popsicles
Two delicious fruits together with the king and the healthy one. The healthiest ice-cream you can ever have.
3. Apple Pie Parfait
I love eating this since my childhood. Apple, almonds and cinnamon's combination is too great. It is full of nutritional values.
4. Mango Gratin
I am a mango aficionado. A bowl of mango mixed with yogurt, butter, and sugar sums up to a perfect dessert idea.
5. Caramelized Pineapple
This one is mouthwatering. It is easy and economical. Take a pineapple, half cup sugar, and butter, and it is done. Flaunt your cooking skills through this easy recipe.
6. Chocolate Fudge
I can't believe my eyes, is this a dream. But this isn't, this mystic dessert too qualifies as a gluten-free one. Yayaya! But with zero added sugar.
7. Coconut Macaroons
My heart is humming hmmm! Coconut, vanilla essence, honey, and egg whites. This dessert has the lowest sugar quantity.
8. Chocolate Chip Cookies
I started dieting recently and was cursing myself due to the strict diet plan. But dieting with these desserts seems easy now. They have oats and nuts in it, and the game is over Mr. Diet.
9. Congo Bars
This is something new but very healthy. It has dark chocolate, nut and some rum in it. I will have to visit my nearby bakery ASAP!
10. Vanilla Pudding
Delicious ways to diet, right? A combination of Honey, cashew nuts, water, and vanilla. Blend and freeze them for at least 8 hours, and it is done. You can prepare it before you doze off to sleep at night and grace your morning with some delicacy.
11. Rice Pudding
How about a dessert for your breakfast? Add brown rice to some Greek yogurt and voila dessert ready. You can add some seasonings to bring in some new flavor.
12. Spicy Cherry-Chocolate Soufflés
The name is so attractive, yeah? Cherry, chocolate and coconut rum. Mouth watering it will be. Deadly combination.
13. Chocolate Cupcakes
Sugar-free items can prove to be really satisfying. This simple looking cup cake is made up of coconut oil, vanilla extract, espresso powder and cocoa powder.
14. Angel Food Cake
I like the name. This is one of the most lip-smacking desserts of the entire list. This dessert is a mix of tartar cream, rice flour, and potato starch. The ingredients might not interest you much but the taste would definitely do. You can decorate it with fruits and nuts.
15. Chocolate Panna Cotta
This is a very delicious and nutritious dessert. It is made up of almond milk, vanilla extract, cocoa powder, coconut oil, honey and sugar-free drops (LOL).
16. Yogurt Tartlets
You get a heavenly feeling when the creamy tartlets melt in your mouth. It contains eggs, yogurt, and oats. Put a cherry on the top to make it more beautiful. The photograph is incredibly adorable, isn't it?
17. Peach Crisp
Enjoy a sunny summer day with fresh peaches. Peaches refresh our body. A great combination of peach, flour, oats, butter and some sugar. You can also make it with frozen peaches if you can't wait for freshly arrived ones.
18. Apple Crisp
The homemade one tastes better than the one bought from a bakery. Coconut flour, oats and apples are the main ingredients of this dessert.
19. Blackberry Cobbler
I love blackberries, the sweet and tangy flavor elates my taste buds. The base is of flour, milk, and butter and the topping is of honey and blackberries. This taste yummy.
20. Hot chocolate pudding
You must have tried brownies in a mug. This is a finger licking dessert which has eggs, dark chocolate, sugar, salt, and butter. The photo might not look so delectable, but you can still give it a try.
Happy Hogging!