Places To Get Best Food Under 100 Bucks In Hyderabad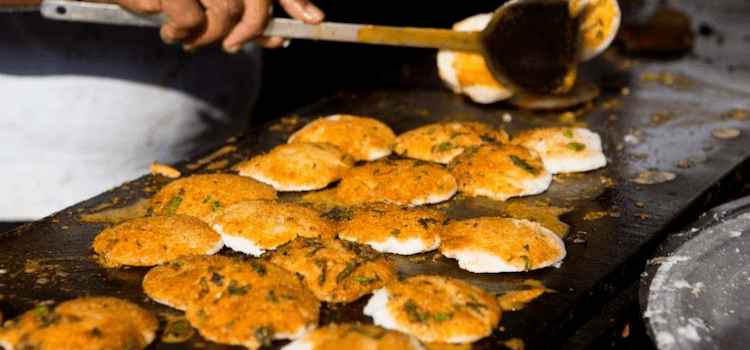 For all those struggling with the end of the month-budgets and tired of mess/Tiffin/homemade food, Hyderabad is your safe haven. You can afford some of the good flavors with just Rs. 100 in your pocket. Check out these budget restaurants in Hyderabad for a heads up

King & Cardinal Bakery
Where- Plot No:-3-5-908/1/2/3, Pooja Manor, Below Narayana College, Himayat Nagar Road, Hyderabad
Why- One of the oldest bakeries in town, known to be the student hangout zone and serve a range of 'filling' fast food for around 70 bucks. Do try out the juicy chicken burger. The patty complimented with the combination of sauces will make you want it more and more and more.
Ram Ki Bandi
Where- Jambagh Road, Mozam Jahi Market Circle, Near Karachi Bakery, Hyderabad
Why- You haven't really lived in Hyderabad if you have not tried the soft idlis and crispy dosas of Ram ki Bandi. Very pocket-friendly at just Rs 80 per person.
Minerva Coffee Shop
Where- Eat Street Food Court, Necklace Road, Hyderabad
Why- An infamous giant, the 70 mm Dosa offered by Minerva, caters to the pocket-friendly folks at Eat Street. Even with limited options on the menu, customers are wooed by the aroma. It serves the best South Indian food with a sight of the Buddha Statue on the side.
Universal Bakers
Where- Near MS Junior College, Masab Tank Road, Adikmet, Hyderabad
Why- An old yet dear possession of the food lovers of Hyderabad is Universal Bakers. It's creamy burgers and pizzas served at cheapest prices. Every bite will make you crave for another bite and within seconds you will be demanding for another one.
Gokul Chat
Where- Koti Main Road, Opp Koti Women's College, Koti, Hyderabad
Why- Oldest and proudest member of the Hyderabad food heritage is Gokul Chat in Koti. They have been serving some really spicy chats and pani puris for ages now. Even though it's old and has been through some tough times, it serves the cheapest yet yummiest street food.
Kathmandu Momos
Where- 6-3-1090/2, Raj Bhavan Rd, Lumbini Classic Apartment, Somajiguda, Hyderabad
Why- Far far away from north yet, promises the authenticity. This place is known for its light and tender seafood momos. Do try to their range of pan-fried momos. It is truly a blissful experience.
Dimmy's Pan shop
Where- 8-2-293/82/A/1125, Road Number 36, Jubilee Hills, Hyderabad
Why- If you have some late night cravings then head straight to the most happening place in the city which offers an unbelievable variety in paans and a variety of items starting from juices to chaat, snacks, chocolates, ice creams and more. You will always find this place packed with cars and people outside.
Tibbs Frankie
Where- White House Building, Greenlands Road, Kundan Bagh Colony, Begumpet, Hyderabad
Why- It is known to be a favorite hangout spot for teenage years and its one of the first in the city to come up with the idea of a Frankie. Their chicken tikka Frankie is to die for with some egg and caramelized onions inside. Absolutely low on the pocket and yet so yum. A complete package!
Wich Please
Where- Opp DLF Gate no 3, Gachibowli, Hyderabad
Why- Who's mouth doesn't water on hearing the word 'sandwiche'? They have the benefit of a low calorie and surely a dieters delight. Wich Please with its unique name offers many varieties of sandwiches mainly vegetarian. Don't forget to try the Choco-wich sandwich when you visit! Please note they are only into delivery.
Pakodi Factory
Where- Opposite Midland Bakery, Near YSR Statue, Ayyappa Society, Madhapur, Hyderabad
Why- What better an evening than having some garam chai with crunchy pakodas? The lovely weather of Hyderabad and all you need is mom's handmade crispy snacks. Pakoda factory offers you a wide range in pakodas from onion, paneer and baby corn in veg to egg, chicken, and fish in the non-veg sections which bring back a sense of nostalgia.
Why worry about money when you can still treat yourself with amazing food? Go experience the best of food under 100 bucks in Hyderabad.