Food & Drinks At INR 70: This Sports Bar Is Reminding Us What True Freedom Is!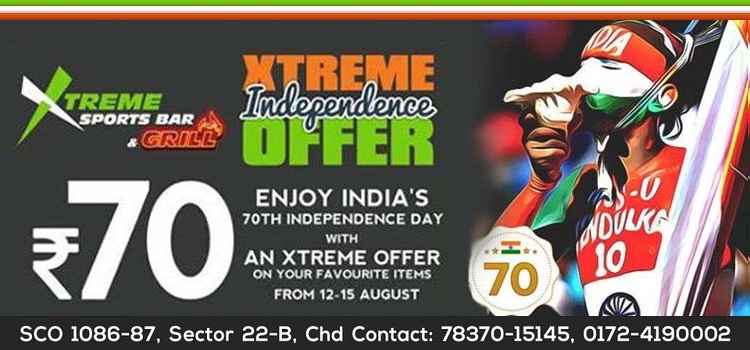 Gone are the days when Independence Day was only celebrated by watching the parade on Doordarshan or lazing around at home. It's time to rather celebrate nation's 70th Birthday in true essence like "Generation Y." All this and much more without punching a hole in your pocket. Aah! Now sounds like freedom?
ShoutLo suggests that you give your taste buds a patriotic spin this Independence Day and head straight to: Xtreme Sports Bar & Grill.
City Beautiful's most happening and loved Sports bar is offering the city folks a reason to rejoice by celebrating the 70 Years of India's Freedom all weekend!
Xtreme is celebrating India's freedom by offering a Xtreme variety of drool-worthy Snacks and yummilicous Drinks at just Rs 70 all weekend starting 12th August all the way to 15th August !!! Yes. You heard us! ONLY RS 70!! One can truly celebrate freedom in electrifying ambience and engage in games like pool, ping pong, foosball and much more.
Xtreme Sports Bar & Grill has curated a special menu to add to the celebration of 70 Years of freedom. You can savor on any one starter dish and a drink @ Rs 70 Each. Sounds irresistible right??
P.S: This offer is valid upto 9 pm on 12th & 13th August and All day on 14th and 15th August.
70th Azaadi Divas @INR70 at: Xtreme Sports Bar & Grill, SCO 1086-87, Sector-22B
Contact: 78370-15145 / 0172- 4190002
After all, what's a celebration without desi khaana peena!

Don't miss this Birthday Celebration of the world's largest Democracy! Happy Birthday India!