Bottoms Up Chandigarh: Lager N Barrel Festival is Here Again!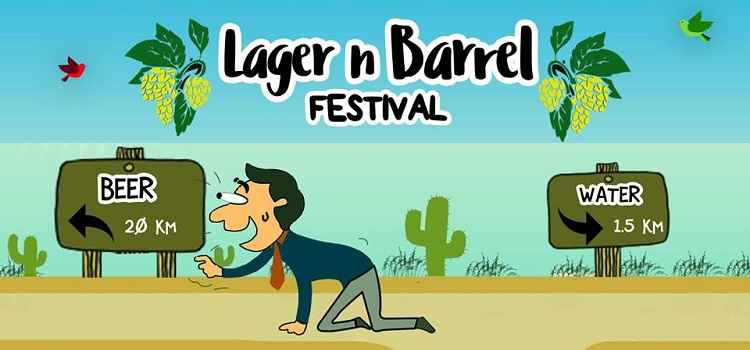 The most common ways to have a beer are either recklessly at home or at a bar like a boss. What if we bring to you another way to chug on the Lager with some rock n roll, beertastic games and some full of raula rappa??
The wait is over for all you beer lovers in town. Get ready to witness a 2-day wave of a beertastic festival here to drench your own city beautiful with Gaana Lager N Barrel Festival co-presented by Carling Beer!
You heard us right folks! Lager N Barrel festival, like previous years, is set to create its magic among all booze lovers this year too. Guess what? It's bound to be bigger and better this year.
DON' T KNOW WHAT LAGER N BARREL FESTIVAL IS?
For those of you who are still unaware, Lager N Barrel Festival is the city's first 2 day Beer Festival offering a wide variety of beers for tasting and for purchase along with a host of different games and activities on the backdrop of some amazing music created by superb artists from across the land. Debuted in 2015, it is one of the most enthralling experiences one can ever experience in City Beautiful. 'Lager N Barrel' is all about being free spirited and exploring & traversing through the beautiful setting all around to create memories which one would not forget for a lifetime. The festival in 2016 left each booze lover in town craving for more. This year is gonna be no different. Get ready to sway to some peppy music while chugging on your favorite lager!
Why Lager N Barrel Festival 2017?
1. Beer. (Duh!! Of course)
Can anyone who drinks say no to beer? Haven't heard of that. Beer is everyone's answer to life's total siyapas! The Lager N Barrel Festival offers a range of Beers which are sure to satisfy the thirst for good. So don't wait on! Get your tickets now.
2. Gaana Bajaana and Dance Shance
Fan of swaying to the tunes of live performing artists?? Guess what! It's heaven calling my friend. Lager N Barrel Festival 2017 is geared up to make u jump to the tunes of artists like: Mohammed Irfan ft. Asees Kaur, The Raghu Dixit Project, Shirley Setia, Millind Gaba, B Praak, Gurnazar Live, Himanshi Khurana, Nissi Band, Runway Project & more.
3. Beertastic Games
Ever thought of playing bachpan ki games using your most favorite drink- Beer? Don't worry, Lager N Barrel Festival is here to bring out your free inner child in this 2-day festival with games like: Stapu, Lifesize Pac-Man, Beer pong, Tic Tac Toe Hit Me, Sumo Wrestling, Zenga, Hula Hoop and many more.
4. Yaari Dosti and Chicken Shickan
When there is beer, can the Punjabi Tikke Shikke be any far behind?? Hell, no! Enjoy a sip of your fav beer with some delectable and finger licking snacks at the festival.
5. DIY (trust me! Beer bottle can be so much more)
Ever wondered of decorating your space using nothing but beer bottles? The DIY/Art corner at the fest promises to bring out the creative genius in you with some mind boggling ways to use beer bottles.
Here is a glimpse of LAGER n BARREL 2016
Thus, the formula to a beertastic getaway:

BEER + MUSIC + FOOD + DECOR + GAMES = LAGER n BARREL FESTIVAL 2017
SAVE THE DATE: 16-17 SEPTEMBER 2017 Saturday- Sunday
TIMING: 4 pm onwards (both days)
BEER GETAWAY: Aura Vaseela, (Near Chandigarh International Airport) Mohali
So grab your gang of Chuggers and book your tickets from Insider.In and BookyMyShow today.
Get moving people before all the tickets are gone!