Head To These 7 Microbreweries In Gurgaon For A Beertastic Week!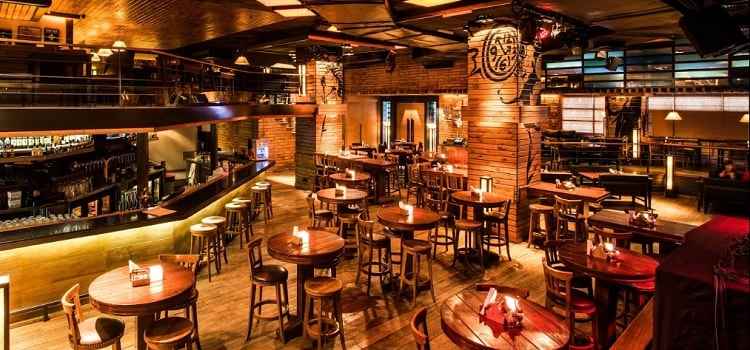 Feeling a little run-down by workload? A too hectic week? Haven't met your buddies for a while now? Seems the endless cups of Coffee isn't doing the trick for you to beat those Monday blues! It's time to dial-up the freshly Brewed Lager!
Step Aside Coffee. This is only Beer's Job!
With an array of Breweries in Gurgaon, picking the right one might just give you another headache. Uh-uh hold on and ease off. We, at Shoutlo, bring to you the best 7 (one for each day of the week) Microbreweries in Gurgaon to beat the mid-week blues and to push up the beer-etite for the weekend!
Clock Tower- Clock in to beat the Monday Meltdowns!
A Gastro-pub where brit-style Hogwarts interiors meet our favorite German-flavored Beer, The Clock Tower, promises to beat the Monday woes for all you corporate junkies. British Styled interiors with a super attentive staff, is what makes the experience so worthwhile. Coming to the main-mudda, thandi-thandi craft beer in 6 flavors like British Summer Ale, Belgian Wit, Trappist-style Tripel, Northern English Brown, Oktoberfest Marzen, and Helles, is brewed in this larger than life microbrewery. Authentic craft beer when brewed in complete traditional style definitely beats any bottled brew. Not just magnanimous lager, The Clock Tower, offers some of the yummiest delicacies like Chicken Wings and Tiramisu Jar which are absolute to die for. Gorgeous interiors along with an electrifying ambiance and super courteous staff leave one supercharged to get things going at work on Tuesday!
Beer Kharcha: INR 395 (500ml)
Beer Adda: Opposite South Point Mall, Near Rapid metro Pillar 140, Golf Course Road, Gurgaon
SOI 7- Knock Out Tuesday with Pan-Asian Punch!
Themed to resemble a fight club, SOI 7, is a much-loved microbrewery amongst the suited-booted lot at the Cyber Hub. This Asian Brewpub manages to attract maximum office goers due to the lip-smacking snacks, fresh-preservative free Lager and to beat out one's frustration they even have a Boxing Ring (Go Ahead! Box your Horrible Bosses out *winks*). The 4 premium quality brews- Knock Out, Straight Jab, Upper Cut, and Cobra Punch, all will definitely box your stress out and make you want more and more. The ambiance of the rooftop with all offices aligned around with live music in the background or Boxing Matches on somedays plus chilled Lager and some food is a reminder of what heaven feels like. All in all A Total Knockout Tuesday at SOI 7 and one is Sorted to take Wednesday head on!
Beer Kharcha: INR 325 (500 ml)
Beer Adda: 205-209-A, Cyber Hub, DLF Cyber City, Gurgaon
Manhattan Bar Exchange & Brewery- Zest up Wednesday with Zippy Booze!
In case you're having a mid-week crisis and need a break from corporate shenanigans, then fret not, Manhattan Bar Exchange & Brewery is here to the rescue. With its superbly styled interiors, motion sensing gaming and the largest screens in Gurgaon, this brewery, offers the best Booze, Entertainment and Food experience amongst innumerable breweries across the city. Experience the heart jumping chills at their Bar Exchange as the beer price goes up and down as per demand. 6 zesty flavored Craft Beers- Hefe Weizen, Belgian Wheat, Lager, Dark Lager, Stout and Colonial India Pale Ale, along with drool-worthy food and super chic ambiance just makes this an unforgettable experience. For all the beer fanatics in the Corporate Jungle, a visit to this brewery saves the day for Tiring Thursday to Follow!
Beer Kharcha: INR 225 (500 ml)
Beer Adda: 1st Floor, Global Foyer Mall, Sector 43 Gurgaon.
Molecule Air Bar- Leave behind Office Dramatics for Throwback Thursday!
A mix of Gastronomical Food and Chug-worthy German Lager is what defines the one of the most mindblowing microbreweries in Gurgaon- Molecule Airbar. This 1930's Chemistry Lab themed German brewery, is known for its gastronomical theatrics when it comes to food with re-deconstructed Chat and Biryani Arancini balls take your taste buds on a roller coaster ride. Coming to in-house Beer, Molecule offers 4 aromatic variants, Premium Brew, Dark Roasted, Wheat Beer and Molecule Brew, that are oh-so-effervescent and Malty. The Opera-like drama with fumes of liquid Nitrogen in delectable dishes curated by the experimental Chef along with the 1930's lab-feel like ambiance and chilled zippy beer, Molecule Airbar is a truly Throwback Thursday Delight!
Beer Kharcha: INR 225-300 (500ml)
Beer Adda: SCO- 53, 4th Floor, Sector 29, Gurugram
After Stories- Spill the Beans, Not The beer with a Fultoo Fatak Friday!
3 storied building, far from the usual maddening crowd of the corporate jungle with light decor and demure lighting, After Stories- Brewpub and Cafe, sets the mood perfectly right for Friday night conversations. A perfect place to chug on 6 premium flavors of Lager freshly brewed in-house with new flavors each time. Combine that with the redolent churros and some lip-smacking appetizers like grilled chicken quesadilla to make way for ambrosial Thai curry, leaves one with a superbly satisfying Food and Brewery experience to conclude the weekday and welcome the weekend!
Beer Kharcha: INR 225-300 (500ml)
Beer Adda: Address: SCO 390, Sector 29, Near IFFCO Metro Station, Gurgaon
7 Degrees Brauhaus- Sip on Seven Degree Stout on a Scintillating Saturday!
Saturdays are all about partying with your groupies like there's no tomorrow. 7 Degrees Brauhaus promises to make ones Saturday night totally happening. The rustic feel of a Beer Manufacturing Plant with steel tanks and copper kettles give this brewery a raunchy one of a kind ambiance in Gurgaon. Serving the in-house beers exactly at 7 degrees in 4 variants - Wheat, Special, Lager and Master's Brew, this German brewery offers authentic flavored zesty and Malty Booze to add oomph to the party night. Tantalizing starters like Chicken wings and Grilled prawns tease the taste buds endlessly. The music and the ambiance are super electrifying to continue partying on till wee hours of the night. All in all, a perfect Saturday Night Hangout with one's favorite Lager, some trippy music, and redolent food. Sounds amazing, Right?
Beer Kharcha: INR 355 ( 500 ml)
Beer Adda: 310& 311, 3rd Floor, DLF South Point Mall, Gurgaon
Prankster- Back to School for a Nostalgic Sunday!
All Good memories one has are of the School days, and in a concrete jungle like Gurgaon, it's super easy to forget those memorable moments. However, this brewery acts like a time machine transporting each one of us to good Old school days. Aptly named, Prankster's ambiance, reminiscents the back to school feel with a stocked library, a chemistry lab, amphitheater, bunker beds, a camera Dean and the of course 'Hamara Bajaj' scooter. Coming to the in-house brews, Prankster offers 4 varieties of zesty lagers- Premium, Wheat, Apple Cider/Mango and Dark Roasted. The Apple Cider Brew is absolutely recommended and one of the best. The food menu is filled with delectable options for foodies to dig in and tantalize their taste buds. The likes of Cholle kulche Donuts and Dahi Bhalla Ice cream pave the way for a scrumptious main course with Indian, Chinese and Continental dishes topped with the Chef-style presentation. A delightful tête-à-tête with close buddies on a Sunday afternoon, at Prankster, is a perfect way to relax and rejuvenate the lost energy.
Beer Kharcha: INR 250( 500 ml)
Beer Adda: Site 8-10 Sector 29 Gurgaon
Get Going Beer Fanatics! Its time to head out and try these Gurgaon microbreweries this week! Have a Beer-tastic week!