We Can't Keep Calm Coz Chandigarh's Freshest & Customized Music Radio Is Here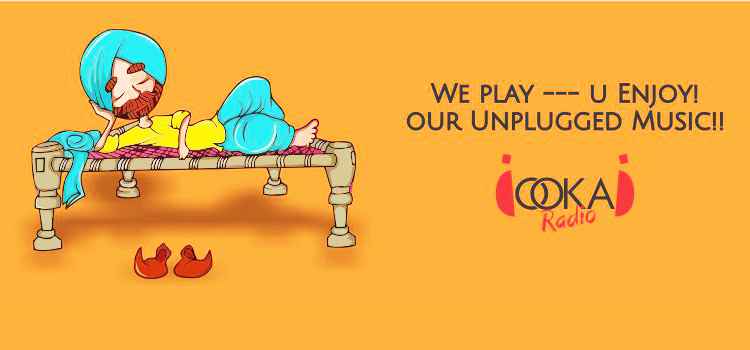 Music is the lifeline of any place in town. Be it a cafe, restaurant, a salon, a gym or a co-working space, Music is what keeps the ambience lively and entertaining. Music Scenes in Chandigarh are Changing. With more variety, people are becoming picky as to what they like to listen. From cafes to restaurants to hotels to co-working spaces, everyone is looking for customized music that meets the needs of their listeners instead of the preset radio stations.
For them, a new buzz is making its way into the foray of radios in Chandigarh. Yes! We are talking about Chandigarh's First Customized Radio where its all about Music, Masti & Magic: OOKA Radio!
OOKA Radio: One Stop Destination For Music Lovers
Imagine what happens when you combine a team of passionate music lovers to create something unique that meets the needs of businesses. The end result of such a fantastic combination is OOKA Radio. Recently launched in Chandigarh, Ooka Radio is the one-stop destination for music lovers that promises to meet the needs of all types of business with its customized music solutions. It is an In-store Music Management Company that completely changes the way one enjoys their favourite tunes. OOKA RADIO provides customized music ideas ideal to appeal your customers in a refreshing manner. From morning to evening, you will have the power to create an environment that will become your brand ambassador with OOKA Radio. Recognising the changing scenes of music, Ooka Radio brings forth the largest bank of non-royalty music and a completely reliable background radio service provider. Be it a cafe, a restaurant, a hotel or a co-working space or a salon, their customized music platform can meet the needs of the listeners in a jiffy and can also play advertisements, promos, and audio indents to promote the business in between. With such a diverse one-stop platform, one is assured of happy listeners!
My Music, My Way: Ooka Radio
With a unique concept, Ooka Radio is different from other music providers in the city. Their motto being, "My Music, My Way", they try to differentiate your business with completely customised in-store radio to give your establishment a competitive edge over the others. They have Copyright (Un-Counted) & Non-Royalty music bank of over 3,00,000 tracks in multiple languages to entertain your listeners every day. With their excellent collection of retro songs in English and Hindi from 50's to 90's era, we are sure you would be compelled to take a trip down the memory lane.
OOKA the music management company understands your business, analyses your customer profiles and creates a jukebox of copyright protected as well as copyright free songs, tracks ranging from popular, rock, romantic, jazz, Indipop, devotional, instrumental, in Hindi, English or Punjabi. With Ooka Radio a business not only gets their kind of playlist according to their establishment but also can monitor and control the promos and ads in between. Now that is something no other platform in the city provides. So, give your ears a break and listen to the peppiest customized music on your very own Ooka Radio!

Fresh Tunes in Multiple Languages Create an Awesome Experience!
Known for being the pioneers of good music, Ooka Radio comes with an automatic refresh that updates your playlist every Third Day. Ohh Yeah! This means that you don't have to spend your valuable time looking for fresh sounds. Also, if you want to listen to retro music from the old times between 50's to 90's, tune into Ooka Radio and enjoy. With advanced cloud-based technology, their playlist gets an upgrade every Third day. Also, Ooka Radio creates a Mood Map for different hours of the day and switches music accordingly. So, you can play music for your listeners according to the mood of the hour. Now, that's a USP that you might not get anywhere else!
Wondering what will happen if there is no internet? Don't Fret! With their offline music service, you can still listen to your favourite tracks all day. Also, if there is any specific announcement that you want to convey to your listeners, then Ooka Radio's team can create spot jingles, Capsules, festive announcements and more for you. No matter where you are, with Ooka Radio's cloud-based system, you will always have the music you need!
Team Ooka: Revolutionizing Music From Day One!
With sheer passion and dedication for music, Amit Chawla, the man behind Ooka Radio, started his journey. His love for music prompted him to venture into the stream of music and to do something unique. Thus, Ooka Radio was born. With such an innovative technology-based music platform, Ooka Radio promises to revolutionise the way one listens to music. Be it any workspace, their largest bank of non-royalty music will keep you entertained. Amit Chawla and the entire Team Ooka's in-house audio studio make it the perfect platform to create your jingles, promos at the drop of the hat. Their hotshot creative music planners and software buzz heads work day in and out to create customized solutions for your establishment. So, get your own playlist today!
Unbelieveably Affordable, Trendy & Loveable: Ooka Radio
OOKA RADIO is the genie every retail Aladdin has been dreaming for years. Automatic Updation every 3rd day, largest bank of songs, offline playing, control on advertisement and more can be accessed at pocket-friendly pricing with Ooka Radio. One can get Ooka Radio's access at an economical pricing that won't affect the budget. Their customized music is effective, economical and absolutely hassle-free. After successfully launching in Chandigarh, Ooka Radio is all set to spread its wings and expand in New Delhi as well. With such energetic folks working all day to create music that leaves an impact, Ooka Radio is sure to leave one spellbound. So, go ahead and revolutionise the way your listeners enjoy music by getting your Ooka Radio License Today!
Where words leave off, Music begins. So, begin your day with spectacular music by Chandigarh's first customized music provider: Ooka Radio!
Golden Square, Zirakpur, Punjab