Innovation Meets Leadership: PHD Chamber Launches Startup & Mentoring Cell With Chitkara University!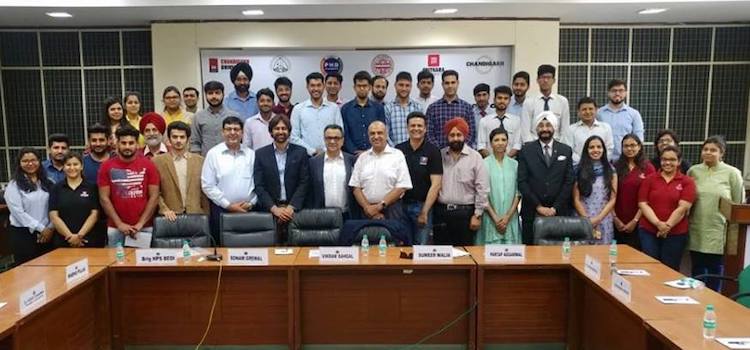 Every young mind nowadays dreams about having a startup of their own. With the right kind of support, even the smallest startups can rise to a statue of a big business in no time. However, the guidance and support needed to make this dream a success is hard to find. With the growing number of startups that are coming up, the need for leadership mentoring is felt.
Keeping this in mind, The leading university in terms of innovation in India, Chitkara University teamed up with PHD Chambers of Commerce and Industry Chandigarh to launch a Startup and Mentoring Cell!
Build your dream as PHD Chambers Teams up With Chitkara University!
PHD Chamber of Commerce and Industry breed innovation and encourages the young minds to contribute their part in nation-building. Similarly, Chitkara University has always been a pioneer in encouraging young startups and has always given a platform to its students to realise their startup dreams. Keeping the overlapping goals in mind, PHD chambers Chandigarh teamed up with Chitkara University on May 22, 2018, to launch a startup and mentoring cell that would encourage young startups. The Cell basically was formed to create more opportunities for startups to scale up and innovate.
The Main Event!
On 22nd May 2018, PHD chambers Chandigarh launched a startup and mentoring hub in association with Chitkara University to give wings to students startup dreams. The core team of Industry captains included Mr. Vikram Sehgal (leading entrepreneur in defence products manufacturing) and Chairman PHD Chandigarh Council, Mr. Sonam Grewal- Chairman of the new Startup Council, Mr. Pratap Aggarwal- Chairman IDS Infotech Ltd, Brig Bedi- Director PHD Chamber & Mr. Sumeer Walia (Director- Chitkara Innovation Incubator, Chitkara University).
The new cell gives impetus to startups that would need leadership mentoring from industry's giants and also gives them a chance to grow their business.
During the event, over 20 young startups shared their problem statements and scope to collaborate with established Industry Leaders from the region. PHD Chamber also signed Strategic MOU's with Chitkara University and Chandigarh Angels Network (more to follow). Over 11 Startups from Chitkara Innovation Incubator did an open dialogue with the Industry captains at the event that gave them a sense of what leadership mentoring can bring on board for them as startups. With such great personalities joining hands with Chitkara University, students can dream of being a high flier and to be a part of the big league businesses in the country!