10 Places That Serve Delicious Street Food In Hyderabad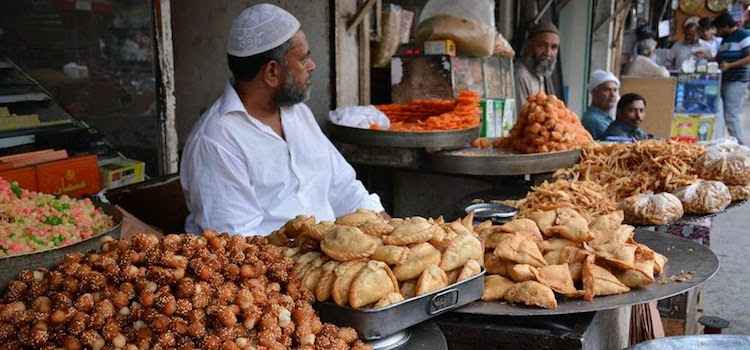 Every state has some new or old, famous street food joints. Hyderabad, the city of Nawabs also has some yummy, mouthwatering special and famous street food of its own. Aloo Tikki, Golgappe, Bhelpuri, Sevpuri, Shawarma, Fruit cream salad…...
Okay, I can hear that slurping sound. So let us check out 10 best street food joints in Hyderabad and plan for your next meal.
Gokul Chat
You google it and you see its name on the top for the best street food. It is one of the oldest and best hits of Hyderabad. What you will find here is an amazing variety of chat at low prices and not to forget their kulfi. It is indeed a trendy hangout for college gangs.
Where: Koti Main Road, Opp Koti Women's College, Koti, Hyderabad
Cost for Two: 100/-
Maharaja Chat
It is very well known for its Pavbhaji and PaaniPuri. This place takes care of hygiene with no compromise in taste. And for that reason, the water they use for preparation is mineral water. They offer a wide spread of items from Ragada's, Sev & Bhelpuri, Dahi Puri, Panipuri, PavBhajji, VadaPav etc. It's a place for a quick chat on a pleasant night as the seating is limited.
Where: Road no. 1, Jubilee Hills, Hyderabad
Cost for two: 150/-
Lamakaan
The place is cozy and ideal for some light snacks, tea and conversations, corporate meetings, workshops, and meet up with friends. This place shall give you the best service with its 'must try'- Samosa, Bread Omelette, Nimbu Pani, Lassi, Chicken Curry, Lemonade, Buttermilk.
Where: Near GVK One, Road 5, Banjara Hills, Hyderabad
Cost for two: 200/-
Nice Juice Centre
Chat, fruit juices and fruit punches are available here for all you foodies. What's the best? Here you go- Malai mulberry, malai custard apple, and malai dry fruits are a must try here. Situated near the Tolichowki flyover, this place is a good hangout to try some really amazing and cool shakes or juices as well.
Where: Yousuf Tekri Colony, Near Kashish Showroom, Tolichowki, Hyderabad
Cost for two: 300/-
Golden Point Tea & Snacks
Evening snacks can get better with Golden point Tea & Snacks, we bet. Located in the popular locality of Himayat Nagar, this fast food joint is a haven for college students who belong to the night watch! This eatery serves noodles, which also happens to be one of the best street food in Hyderabad. Fried rice and tea are other prominent options that can be picked till late night.
Where: 3-6-753, Himayat Nagar Main Road, Himayatnagar, Hyderabad
Cost for two: 150/-
Rajasthani Jalebi and Namkeens
It is one of the oldest jalebi and namkeen shop in Charminar area. Rajasthani Jalebi and Namkeens is a gourmet's delight. Another highlight of the shop is that it specializes in serving amazing imarti that would leave you craving for more. Go on and enjoy the sweet happiness at this popular Hyderabad street food delight.

Where: 21-6-782, NH 44, Rikab Gunj, Ghansi Bazaar, Hyderabad
Cost for two:100/-
Lakshman Ki Bandi
Lakshman Ki Bandi is an ideal food joint for those who harness a discerned taste for typical Hyderabadi food. With almost all popular South Indian delicacies on its menu, this place is different from rest of them,
Butter idli, paneer dosa, and cheese dosa make for the highlights of its menu. The best thing about this place is idlis soaked in butter, which melt in the mouth soon as you take a bite. Also, it is a popular breakfast point.
Where: Near Mangalhat Road, Gyan Bagh Colony, Begum Bazaar, Hyderabad
Cost for two:100/-
Tibbs Frankie
It serves one of the best street foods in Hyderabad located in the upscale locality of Himayat Nagar. The best part of this street food joint is, different varieties of rolls, one gets to savor the tingly Chicken Frankie, which is famous here. The well-cooked chicken blended with right spices, and a layer of egg makes it a perfect option for street food lovers.

Where: Himayath Nagar Road, Hyderabad
Cost for two:200/-
Big Byte

A range of pocket-friendly burgers for a quick indulgence is guaranteed with a wide range of burgers from Big Byte. They've got delicious burgers ranging from Mushroom Burger & Paneer Burger for vegetarians to Chicken Cheese Burger for the non-vegetarian soul. This place is also known for cakes.
Where: Dwarakapuri, Near SR Club, Srinagar Colony
Cost for two: 400/-
Chicken Shawarma Hub

Get the taste of the Middle East at home with the delicious Khubus Special Shawarma. With juicy chunks of chicken dripping in mayonnaise and wrapped in fresh, hot pita bread, it's easy to indulge in this shawarma. They have shwarama in three different breads and the best to offer are Rumali Shawarma and Chicken Shawarama.
Where: Plot No-25, Beside Karachi Bakery, Hi-Tech City, Madhapur, Hyderabad
Cost for two: 250/-
Before the start of an amazing night out with friends or to get a break from the boring food every day, you now know where to go!