Tie The Thread Of Love With JW Marriott's Exclusive Gift Hampers!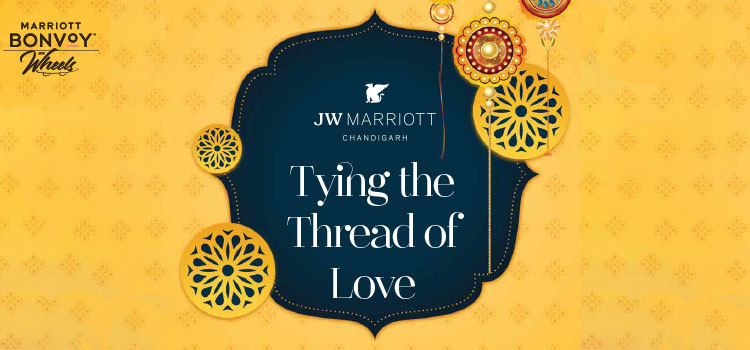 Raksha Bandhan is right around the corner, and so is the time to celebrate the treasured bond of love between brothers and sisters. However, finding the perfect Rakhi gift for the person who has been your partner in crime and your biggest cheerleader may be quite challenging. Guess what? JW Marriott is here to help you celebrate this timeless tradition with an added touch of elegance and endearing charm.

What better way to celebrate this shared bond of love than with exclusive Rakhi Hampers? Let's have a look at the gorgeous hampers that can become the perfect accompaniment for your heartfelt emotions towards your sibling.
Traditional Treats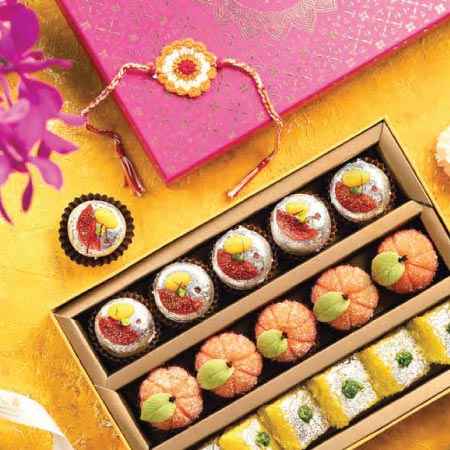 The beautiful "Traditional Treats" Rakhi hamper is more than just a present; it's a doorway to the priceless memories of your childhood. Just when your sibling will unwrap the gourmet treasure, they will discover the delectable Coconut Lemon Crunch, which is a zesty burst of flavors. While the Sweet Orange brings a hint of warmth and intense aroma, the Dry Fruit Roll invites to enjoy the medley of flavors and textures. To tie it all together, this Traditional Treats Rakhi Hamper includes a beautiful Rakhi, handcrafted with love and care.
Priced at INR 1200
The Celebration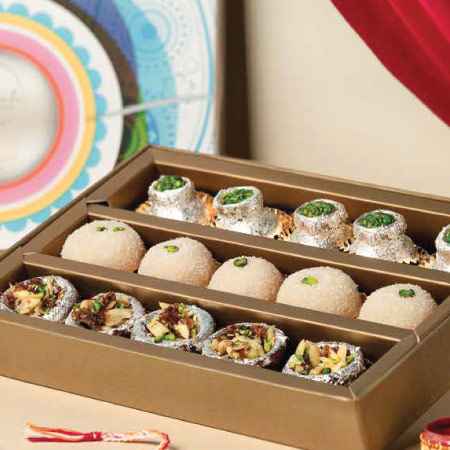 For those who want to add a touch of luxury to their Rakhi celebrations, we introduce you to JW Marriott's "The Celebration" Rakhi Hamper. Nestled within, you will find Almond and Figs Tokri, Coconut Laddoo with their unique delicate sweetness, and the small pots of happiness, Kaju Kalash. And then there comes a Handmade Rakhi perfect for expressing love. Engage in luxury, celebrate love, and create moments that will last throughout life.
Priced at INR 1400
Everlasting Treat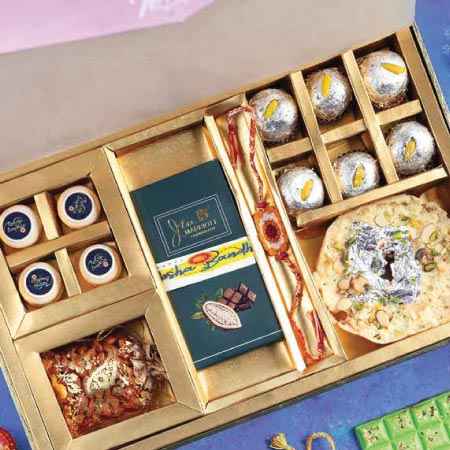 Delight your sibling with the beauty of JW Marriott's "Everlasting Treat" Rakhi Hamper, designed for those who want to shower their beloved yet annoying siblings with joy and affection. From cute Mini Macaroons to Kaju Silver Laddoo, Healthy Chocolate Bar to Roasted Almonds, and the all-time favorite Ghevar, the contents of this hamper altogether melt hearts and sweeten souls. And then, of course, there's the Handmade Rakhi and the auspicious Kumkum that complete this masterpiece.
Priced at INR 2000
JW Tradition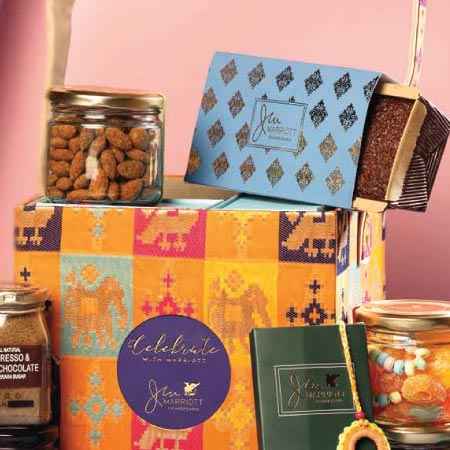 The "JW Tradition" Rakhi Hamper includes Himalayan Lychee Honey, All Natural Espresso, and Dark Chocolate Demerara Sugar with a Candy Jar filled with colorful surprises. You also got a Healthy Chocolate Bar to keep it a little healthy, a Banana and Walnut Dry Cake, Roasted Almond, and Roasted Cashew Nut to satisfy those crunchy cravings. But wait, there's more! There is also a Paan and Cranberry Choco Bar for a fusion twist. As if all these were not enough, this Rakhi Hamper has also got you a Handmade Chocolate Roll that is almost too pretty to eat. And finally, a gorgeous Handmade Rakhi to tie it all together, quite literally!
Priced at INR 3999
Why settle for an ordinary Raksha Bandhan celebration when you have JW Marriott's exquisite rakhi hampers that can make it extraordinary? These hampers are not just gifts, they are about the special moments you have shared and the promises you made. This Raksha Bandhan, order your JW Marriott Rakhi Hamper and make this day remarkably exceptional for you and your sibling. Hurry, these hampers are flying off the shelves and you surely don't want to miss the chance to tie the thread of love in a truly wonderful way.