Six Sigma Green Belt + Analytics Foundation: Time to Fly Up the Corporate Ladder!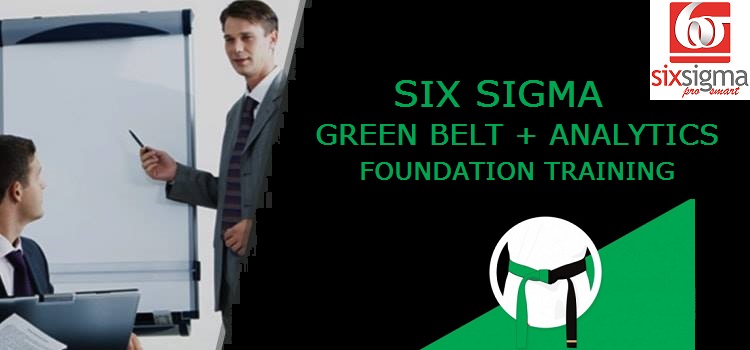 Do you want to make it big in the corporate world? Do You want to bring a breakthrough growth in your career both in terms of designation and salary?? If Yes is what your answer is then, don't wait up and get your Six Sigma Green Belt + Analytics Foundation Training today with Six Sigma Pro Smart in your own city beautiful! Yes, you heard us right! You are no longer required to travel outstation and struggle with your already very busy work schedule.
Six Sigma Pro Smart conducts Weekend training (Saturday - Sunday) relevant for working professionals across industries and even freshers seeking a good kickstart. With this certification, you get trained in both Six Sigma and the basics of Analytics, without burning a hole in your pocket.
About Six Sigma Green Belt + Analytics Foundation Training

What is Six Sigma?
Simply stating, Six Sigma is a disciplined, data-driven approach and methodology for eliminating defects in any process – from manufacturing to transactional and from product to service.

What is Analytics?
Analytics: Hottest Job Of The Millenium
Data Analytics is nothing but handling massive amounts of data and using tools to interpret these massive amounts of data into meaningful information for the growth of the business. The massive data, now called as BIG DATA, requires special skills for analysis.
About Training with Six Sigma Pro Smart
Six Sigma Pro's highly qualified faculty with 15+ years of industry experience, having worked with some top notch companies will handhold you as you unlock the mysterious world of these niche business practices.

Scope Of Six Sigma and Analytics in 21st Century

* Nearly 75% of the Fortune 500 companies across the globe have implemented Six Sigma and reported its benefits. Top brands in any sector from FMCG to BFSI, Telcom to IT, Healthcare or more, all appoint Six Sigma Professionals at handsome packages.

* Business growth: According to McKinsey, if an organization uses the data available to its full potential after analysis then it can increase its operating margin by 80%. Thus, having a workforce equipped with analytical skills will contribute to business growth.

* Huge Demand and Supply Gap: Lack of learning platforms that combine these highly valued skills like Analytics and Six Sigma. Thus leading to a huge gap in demand and a supply of qualified manpower.
Benefits of Six Sigma Green Belt + Analytics Foundation Training
* Excellent Pay Packages: According to a survey the salary for Six Sigma certified individuals may reach as high as $117,000 a year!!

* Applicable Across Different Sector/industries Whether one is a doctor or an engineer or an entrepreneur, Six Sigma's scope is wide and is ever growing. Thus, having the training provides more choice in terms of various industries one can join.
* Stand Out From The Crowd As "The Innovator": Get the first mover advantage for your business by getting six sigma certification and help grow your business.
* Reach the Top of the corporate ladder in the best companies of the world by getting the training and get an edge over your competitors.
* Skill Upgradation and investment in one's own future which is beyond the bounds of conventional education. Owing to the competition in the corporate world, having this combined training puts one ahead of the rest of the lot.
MODULE: Six Sigma Green Belt + Analytics Foundation - covers the DMAIC process with strong emphasis on Analytics
Details of the Six Sigma Green Belt+ Analytics Foundation Training:

Inclusions:

• Course Module
• Hands on practice using advanced statistical software
• Real world case studies from relevant industries
• Green Belt Training and Certification
• Project support
Contact for Details: +91 - 93562 86603/ 99885 78642

Visit the website for more details: SixSigmaProSmart
Go ahead and Get certified!
Remember all progress takes place outside the comfort zone!!