Sabki Aan Baan Shaan, Talli Bhaijaan Is Coming To Set Your Weekend Scenes At Rajouri Garden!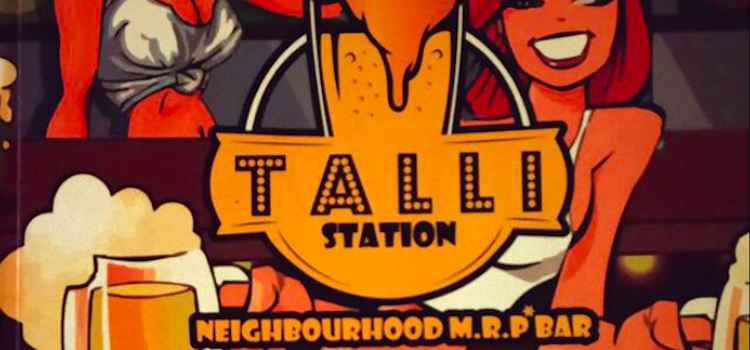 2 Words and the world automatically becomes a better place. Yes. Those 2 Words are the ones around which our entire party scenes revolve. We are talking about none other than Booze and Food. Good Food and Zesty Booze always set the scenes for any get-together. For those of us who like to splurge and chug on a drink after drink, sometimes boozing seems to break our banks.
But Fret Not Dilli ki Swaggy Janta! Coz this Newly-Opened Bar in Rajouri Garden is serving Booze at MRP (Most Reasonable Price) with Drool-worthy Food! So, Dilli Ki Gentry Say hello to Talli Station- Your Neighbourhood M.R.P Bar!
Stop By Talli Station and Forget All Your Woes!

After a grueling day at work, we all need some relaxation and some amazing buddy bonding over a couple of drinks. But what makes us think twice is the cost of drinks. Not anymore! Get ready to immerse yourself in zesty drinks and scrumptious food with Talli Station. Located in Rajouri Garden, Talli Station is a Quintessential West Delhi Bar Cum Lounge where you can meet and greet your buddies after a long day at work while sipping on to Cheap Booze (In terms of Kharcha *winks*) and munching onto mouth-watering food. So, get ready to meet Talli Bhai at one of the newest hangouts in West Delhi!

Indulge In Desi Swag Ambience As You Munch On Scrumptious Delights!
Decked up and designed to emulate a chill vibe, Talli Station has emitted a vibe that will enable you to mingle with your tribe. The lounge-like sitting sets the mood for chill scenes with your buddies post work. With an enthralling ambience and some uber-cool music, this neighbourhood MRP (Most Reasonable Price) bar sets the party mood and ends all total siyapas of your life!
Coming to the food, their menu is in line with our desi palate. So, you will find all your favourites on their menu. From Hamari Pyari Maggi to Street Chakhna to Dilli Ke World Famous Momos to Tandoor Bites, they go the extra mile to satiate your inner desi foodie. For those of you who like to indulge in international dishes, they serve cuisines like Continental, Chinese, Italian & Mexican, which will make you drool till the end. Simple stating, this place is a foodies paradise where each type of gourmand is sure to be satisfied. So, next time you want to go out for some Yummilicious food that fits your budget, just head to Talli Station and Enjoy!
Peele Peele O More Jaani at This Neighbourhood M.R.P Bar! Cheers!
No get-together can be complete without some zingy drinks and zesty booze. What makes those drinks even more interesting is the fact that they are served at MRP (Most Reasonable Price). Yes! At Talli Station, you can forget the regret that comes after boozing all night when you see the bill as they will be serving alcohol at MRP (Most Reasonable Price). Ohh Yess! From Vodka to Beer to Whiskey to Scotch to Wine, one would be able to grab a bunch of drinks at their MRP (Most Reasonable Price). So, no more brooding after throwing a party for your friends as Talli Bhai has got your back in terms booze. Coming to those who don't drink, they can quench their thirst with Talli Station's Shakes and Mocktails like Mojito, Blue Lagoon, Green Apple Mojito, Kaala Khatta and many more soul-stirring drinks. All in all, Talli Station is that Bar where you can booze as much as you like without snooze!
Scene Banao Without Worrying About Breaking The Bank!
If you are wondering, how much an evening getaway to Talli Station is going to put you down for, then don't sweat too much. Talli Station is your everyday neighbourhood bar that would fit your budget like a glove. No matter you are a college going student or a professional, Talli Station is perfect for all and is absolutely pocket-friendly. So, we're saying that next time you want to hit the Talli Gully, Head to Talli Station Rajouri Garden!
Disclaimer: This Oh-So-Amazing Bar Will Be Pouring Liquor Soon!
Theke Ka Pata: Talli Station, Second Floor, J2/11, B.K. Dutt Market, Rajouri Garden, New Delhi
Theke Ka Samay: 11:30 AM to 12:30 PM
Follow on: Talli Station
Save your mehnat ki kamayi and party all night at Talli Station!
J2/11, Block J, Rajouri Garden, New Delhi, Delhi 110027