Celebrate Teej, The Festival Of Swings In The City Beautiful!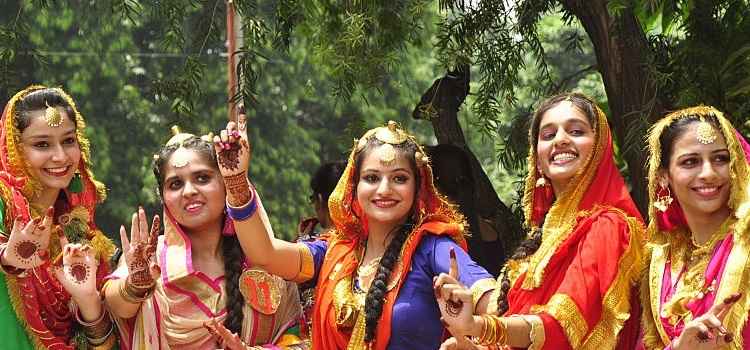 "ਓੁੱਚੇ ਟਾਹਣੇ ਪੀਂਘ ਪਾ ਦੇ, ਜਿਥੇ ਆਪ ਹੁਲਾਰਾ ਆਵੇ" meaning Hang my swing from a high tree branch where the swing moves by itself.
Yes, Punjabi mutiyaars across the city, it's time for Teej! Popularly known as 'Teeyan' in Punjabi or Teej, its a festival dedicated to the onset of the monsoon and focuses on engaged and married women. So come to think of it, its a celebration of love! It also means all engaged and married women get ready to receive some amazing gifts from your families. Traditionally, the mother in law gifts some traditional items to the daughter in law which definitely includes some gorgeous stuff for all you women to get dolled up!
To better understand the festival ShoutLo presents to you the relevance of must-haves for this Teej, Celebrate The Teej festival in Chandigarh:
1. Bangles
The gorgeous round rings made of ivory, metal, glass, gold or silver made to grace one's beautiful wrists, Bangles, hold a very traditional and ritualistic value in general. Teej, being the cultural and traditional festival that it is, is no exception. Women adorn their wrists with these colorful pieces of jewellery to complete their look.
Places to shop for bangles in Chandigarh:
Bittu Bangles
Known for the widest variety of bangles in the city, Bittu Bangles is a popular name among women in the city. Definitely a go to shop for bangles.
Address: SCF-15-16, Sector 22 C, Chandigarh
Talwar Jewellers
Known across the city for their gold jewellery, Talwar jewellers is the go to place if you are looking for gold bangles and kangans in the most stylish and gorgeous designs.
Address: S.C.F. 9-10 Jan Marg, Sector 22-D, Chandigarh
2. Ghevar
No Teej celebration can be complete without Ghevar. Ghevar is a Rajasthani sweet traditionally associated with the Teej Festival. It is a disc-shaped sweet cake made with all-purpose flour and soaked in sugar syrup. There are many varieties of Ghevar, including plain, mawa, and malai ghevar.
Places to shop for Ghevar in Chandigarh:
Gopal Sweets
One of the most authentic and pure sweets can be found at Gopal's. Their Ghewar is made with shudh desi ghee and is sure to tickle your taste buds this Teej! They offer special packing during the festive season.
Address: SCO-459-460, Sector 35-C, Chandigarh.
Sindhi Sweets
One of the oldest sweet shop in the city which is a common name in every household. They offer special varieties of ghevar during Teej and is a must visit this season.
Address: SCO 108-109, Sector - 17C, Chandigarh
3. Traditional Wear
This is the best part of the celebrations.! All engaged and married women adorn new clothes, which in this case can be a Punjabi suit or a traditional saree. Markets and stores are buzzing with discounts and offers during the season.
Places to shop for traditional wear on Teej:
Plaza 17
Apanaaa sector sataaaran!! One of the largest hub for shopaholics across the city, sector 17 hosts many stores for traditional wear like khadi, Phulkari, Poshak, Uphaar, Kohinoor, 1469 and many more. These stores offer special discounts on festive occasions like Teej. So don't wait up ladies get going!
Sector 22
If you want to shop but not blow away big bucks then this is the apt place for you. Sector 22 is known for street shopping and offer the beautiful variety of colorful traditional wear at rock-bottom prices. One can find matching Punjabi juttis too on display during the Teej festival.
4. Mehndi
Considered to be auspicious, Applying Henna or Mehndi on Teej is something women can't give a miss. Not only married women, engaged and even little girls are super excited to color their hands in red and green in intricate designs. A week before Teej is the busiest time of the year for all Mehndi artists across the city.
Go to Places for Mehndi:
Sector 15
A number of talented Mehndi artists can be found in every nook and corner of sector 15 market. These are traditional artists who have been practicing the art for decades and most of them hail from Rajasthan or Bihar. One would find some of the beautiful mehndi designs being applied by these artists. Though the prices are fairly high during the festive season, the results would surely make it worth it ladies! Price per hand: Rs 100-600 approx (depending on the design and length)
Sector 22
Another hub of some of the oldest and best mehndi artists in Chandigarh. During Teej, these mehndi artists rarely have a minute to breathe due to the long ques of women. It is advisable to get mehndi applied prior to Teej or else be prepared for long waiting hours. Price per hand: Rs 75-500 approx (depending on the design and length)
6. Swings, Giddha and Boliyaan
Aaah! Coming to the party mode. The festival of Teej encapsulates energy, happiness, vigor, and happiness. What better way to enjoy than singing traditional boliyaan and performing Giddha with your girl gang!
Traditionally called the "Peeng" or swing, it is a customary practice for the women themselves to sit in swings and express the love for their partners.
Women freely express their feelings for their love or husband by singing and dancing on traditional Teej songs.
Teej Celebration at Rock Garden
Every year on Teej Rock garden serves as the festive venue, where different cultural programs take place. On this festive occasion, women adorn their hands with mehndi and bangles and are dolled up to enjoy a day of celebration. Various Giddha performances are held which add to the charm of the celebration. Giant swings hung from the trees in the garden, are the main highlight of the festivity of Teej.
So now that you know it all, Gear up Sohni mutiyaars across the city and enjoy this beautiful festival this monsoon!