Keep Calm And Chug On With Chandigarh's Largest Brewery: The Brew Estate!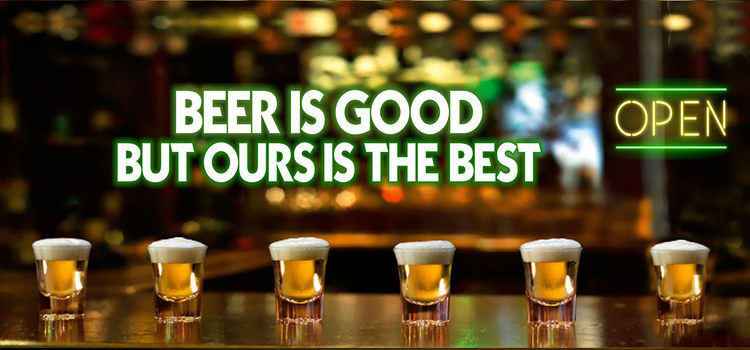 Are you looking for a perfect hangout for the weekend with a musty Beer in your hand and scrumptious food to munch on? Does the aroma of Malty Craft Beer make you parched with thirst? Are you and your Punjabi veers looking for a happening and fun-tastic beer da adda?
If you just nodded your head, then we, at ShoutLo, have the perfect brewery in Chandigarh to quench your lager-thirsty soul!
Veers te Ohna Di Heers, Say Hello to The Brew Estate 26- Chandigarh's Largest Brewery!
Situated in an array of Chandigarh's most exclusive restaurants, The Brew Estate, Sector 26 promises to make your weekends brew-tiful with the zippy craft lager and yummilicous food. Once inside this Brewery, a chic cafe-like feel embraces you which is perfect for a day brunch with your babes while the outdoor garden area interspersed with beach-like cabanas ensures you have an unforgettable intimate evening with your Beau.
Brew Estate's Beer: Germany+Belgium Booze= Bottoms Up!
Their Rockstar Brewers from Belgium and Germany makes sure that the in-house brews are to die for. From sparkling zippy malts to pinpoint bubbly lager, Brew Estate's craft beer is nothing like you ever tasted and once you find your muse, there is no stopping then. Coming to Punjabiyaan da main mudda, Brew Estate offers 4 oh-so-spritzy flavors of Beer-on-Tap and add one new flavor each month for the Beer Mongers in town. The Tangy Belgian Wit, the Clove like Bavarian Weiss, the effervescent Premium Lager, and Roasted Red Ale are sure to make your evening an unforgettable one. Apart from the craft beers, Brew Estate's Molecular Cocktails are a sensational concoction of Premium Spirits combined with Dry ice that reeks a major havoc on your mind and gets you swaying and tipsy to the tripping trance. All in all, Brew Estate's well-stocked bar is one of the largest in the region and ensures that you have a gala time.
Gourmet Dishes served on a Platter: Khaana-Shaana
Traditional yet contemporary gourmet cuisines when curated by expert chefs, find their way into Brew Estate's elite menu. From Pan-Asian Sushi platters to the Wood-fired Italiano Pizzas, to Shaan-e-Punjab butter chicken and to sweet sugary peanut butter banoffee jar, each dish is cooked to perfection by experts chefs and promises to take your taste buds on a roller coaster ride. The appetizers, as much as are a sight to behold due to the exquisite presentation, are also melt in the mouth and go really well with the zippy lager. This level of culinary experience, when combined with a lounge-like feel, is complete paisa vasool!
Brew Estate's VIP Service + Enthralling Ambiance = Unlimited Happiness!
If there is one thing that everyone desires in a lounge styled Brewery but fails to find, is impeccable service. However, at Brew Estate, you and your veers, can be assured of super VIP treatment right at your table. The servers are well aware of the menu and also make some extremely drool-worthy suggestions. Zip-zap-zoom attendants with their aww-so-affectionate smiles make sure you enjoy your beer as cold as ice and food as hot as fire.
Coming to the ambiance, the Brew Estate's cafe-themed decor perfectly complements the outdoor courtyard-like feel with being the icing on the cake. The country music during the day complements the cafe vibe and the trippy trance blends beautifully with the Pub-like atmosphere in the nightfall ensuring, you and your gang have an unforgettable time. "Cafe by the Day and Pub by the night" is Brew Estate's USP making it the Best Brewery in the region.
Beer Da Adda: SCO 25, Madhya Marg, Sector 26, Chandigarh
Contact: 7851000008
Website: Brew Estate
Follow Them For Updates: Brew Estate 26
Kharcha-Paani for 2: INR 2000 (Approx)
Veers and Heers, what are you waiting for?
Go ahead and reserve your date, with 26 da Brew Estate!