The Curious Case Of Sant Ram Rahim: A Look At The Security Measures!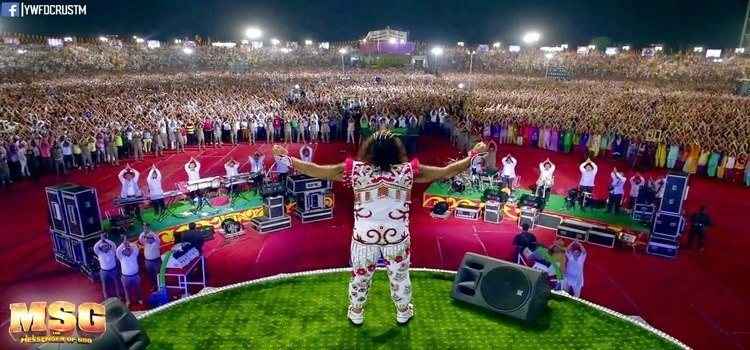 25th August 2017, The D-Day for the DSS chief, Sant Ram Rahim accused in the Rape Case, is still 2 days away and already we see thousands of his loyal followers have taken to streets. While Sirsa, which is the main district of Chief, has already been imposed with Section 144.
In Panchkula, where the case verdict will be given, hundreds of followers are seen gathering with lathis and sleeping on roads. These followers are all convinced of their "pitaji's" innocence and have been very vocal about the same.
Baba Ram Rahim is Booked Under Section 376 (Rape) In 2002, one of his female followers alleged that she and two other females were raped by Ram Rahim. The court ordered a CBI probe. In 2007, CBI charged this Saint under sections 376 (rape) and 506 (criminal intimidation) of Indian Penal Code.
Suspecting major disturbances in the next few days the Haryana and UT Administrations have declared high alert in all adjoining districts, The Panchkula administration in an attempt to avoid any unnecessary happenings have taken the following measures:
* A Two-day ban has been declared — on 24 and 25 August on vehicular movement on roads near Haryana's Panchkula district court complex where the Special CBI Court will announce the verdict.
* Roads adjoining the district court complex and the dividing road of Sectors 1 and 2 will remain closed for the two days.
* The dividing road of Sectors 1 and 6, the road from Old Panchkula to Tank Chowk traffic lights and Majri Chowk road under the flyover would also remain closed.
* All government and private guest and rest houses not to make new bookings without police verification and approval of the additional deputy commissioner. The police would also make sure that the identity of the people who are already staying at these guest houses are verified by the police.
* Two control rooms have been set up in view of the possibility of any "emergent" situation.
* Stern Action will be taken against any anti-social happenings.
* Police nakas have been set up and they are checking each vehicle thoroughly.
* Chandigarh Cricket stadium in Sector 16 has been declared a temporary jail for August 25.
* Bearers of arms licenses in the district have been directed to deposit their weapons in respective police stations or license dealers within two days.
* Schools in Panchkula and Manimajra have been shut down from August 23 to August 26.
* A special cell has also been created to monitor social media.
* Security has been increased at all entry points to the city and Forces have been deployed at ISBT and Railway Stations
* More Than 2000 police personnel and along with Teams of Para-Military forces have been deployed to curb any disturbances.
The administration is making all attempts to keep the citizens of the society safe and sound. A special request has been made by the police to the citizens to cooperate with the authorities and to help in smooth functioning over the next few days.
The city residents are requested to remain vigilant and avoid much movement near the court complex over the next few days. There is a lot of hostility and fear in the minds of citizens in case a conviction does take place.

Seeing so much being done by our administration and as responsible citizens, We at ShoutLo request all of the city's folks to cooperate with the authorities and not to encourage any anti-social elements.
Remain Vigilant People and Stay Safe!!