Top 10 DJs In India That Will Make You Sway To Their Beats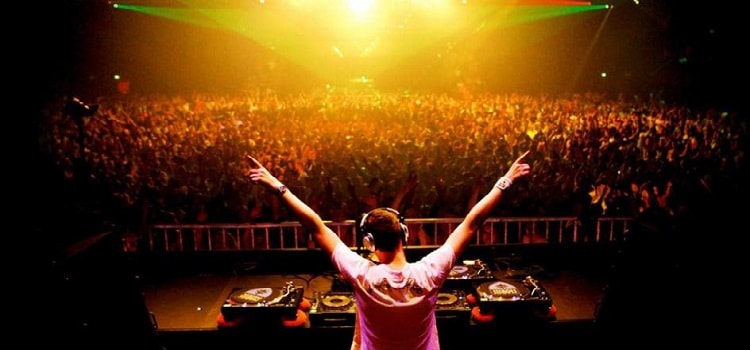 Under the huge LED panels, psychedelic lasers and thundering speakers, Eyes closed, arms outstretched at a music console in front of 10,000 screaming fans in a huge stadium or concert hall stands the Music Magician of Modern Times- THE DISC JOCKEY a.k.a DJ. For all the music lovers, DJ's are the Czars of EDM!
The Recent Outage of Electronic Dance Music (EDM) in India has given a platform to a number of talented DJ's in India to claim their Name to Fame. Electronic Dance Music (EDM)—made up of genres like House, Trance, Dubstep, and Drum & Bass—has become globally mainstream relatively recently and has taken India's young, affluent urban populations by storm. The Swedish House Mafia, Armin van Buuren, and DJ Tiesto, David Guetta—arguably the biggest names in the EDM scene—have all played their tracks at sell-out concerts in Indian cities. The top DJs all produce their own music. Also, many of our DJ's have performed across the globe in music festivals and have become very popular.
If you are one of those who loves the high of swaying to the tunes of EDM, we at ShoutLo bring to you the Top 10 DJ's In India whose tunes will force you to tap your feet along!
Nucleya
There are some names that tend to become synonymous with the genre themselves. For all the EDM lovers in the country, the only name that comes to light is NUCLEYA. Udyan Sagar a.k.a Nucleya is the Czar of Indian EDM Scene and one of the most Talented DJ's across the land. He is known for his genre-bending productions, combining EDM along with traditional Indian musical instruments & ambient sounds and is often featured on BBC Radio 1's playlist. One cannot forget his hit albums Raja Baja & Bass Rani that went on to be a huge hit. Globally, He has shared the DJ Console with some biggies like Diplo and Skrillex. His Hit Single Alo Wala & Nucleya feat. MC Zulu - Little Lotto also got him the Award for "Best Electronica Single" at The Global Indian Music Awards. From playing organizer-promoter-DJ at gigs in farmhouses on the outskirts of Ahmedabad to performing to the crowd of 35,000 people at a college festival in Jalandhar, the bomb that is Nucleya has clearly detonated!

DJ NYK
A little boy of 17 takes up DJing and goes on to become the youngest and one of the most talented youngsters in the DJ industry. Nikhil Sahani a.k.a DJ NYK is a peppy and happy soul on stage and is a favorite amongst all EDM Fanatics. Started his career from his Delhi Studio, DJ NYK's vibrant energy transcends onto some totally foot-tapping numbers which would force anyone to shake a leg. His best-known work is a collaboration with AKON for SRK starrer Ra.One for the sensational song "Chammak Challo"(also featured on a PS3 game). Dj Nyk, the soul behind making Two-Fold Amalgam of Bollywood Dhinchak sounds and Elecronica, is also popularly called the "King of Remixes". He is the person who made podcasts famous in India by putting together a mixtape for music aficionados in order to promote budding artists from across the world. He compiled many of his remixes, renditions by other uprising producers and chart-topping international dance music hit into one mixtape. What resulted was the ELECTRONYK PODCAST. NYK also hosted his own weekly radio show " on 94.3 MY FM every Saturday in India. Globally, his original productions have released internationally on Progressive Groove records (Canada), Pearlicka Records (Miami), LAD Records. NYK's original international releases have also been featured and aired on the BBC Asian Networks NYK's first Official International Remix " HAZE " on Gold Series Records got support from International biggies including Current World # 7 DJ GARETH EMERY who featured it on his weekly podcast. Owing to so much success and some absolutely amazing numbers, he has received the award for "Best Hollywood DJ" consecutively hosted by VH1 Music. DJ Nyk is truly a pioneer sensation in the music industry that is loved by all the EDM fanatics across the globe.

DJ Shaan
Calling Shaan Singh a child prodigy of EDM wouldn't be wrong as at the tender age of 15 he debuted in one of Asia's largest festivals -Sunburn Goa in 2010. His undying love for EDM and dedication towards music got him to work with huge biggies of the EDM industry like Dash Berlin, Swedish House Mafia, Tiesto, David Guetta, Hardwell, Kaskade and Micheal Woods. Being the first Indian to close infamous BOX at Ministry of Sound London twice, Shaan's music is the one that just takes one to another high. A vibrant and energetic personality like him along with the music sense got him the biggest gig for an Indian DJ as he was invited to premier is his brand new single on Tomorrowland Radio to 40 million listeners! #Respect Way to Go Brother!
Progressive brothers
Sunny and Karan, the Duo, are called Progressive Brother and are Like Mike and Dimitri Vegas of India. They have been in the industry for some time and have already left their musical imprint in popular festivals like Sunburn, VH1 Supersonic Burnout Festival and many more. They have a unique and innovative style of creating peppy mash-ups like Electro House with Hard and Trap Style. The music masterpieces created by them were also distributed freely as a gift to keep in touch with the fans. They have rocked the stage alongside David Guetta, Tiesto, Martin Garrix, Dmitri Vegas & Like Mike Dyro, KSHMR, Kygo, Oliver Heldens, R3HAB, Carnage, Steve Aoki, Benny Benassi, Dada Life, Seven Lions, Nari and Milani, Swanky Tunes, and Syn Cole. Their superhit debut track "Veda" was in collaboration with Richard Durand. This dynamic duo has not only progressed themselves but has made EDM Progressive in India too! Kudos to them!

DJ Chetas
World No 33 as per DJ Mag Top 100 DJ's list, DJ Chetas is a well-known name amongst the music fanatics. His claim to fame is Bollywood Music and his popularity has crossed all limits with a fanbase of 3 million in India.! His Musical Magic impressed our very dear SRK who appointed him as the official DJ for Kolkatta Knight Riders. A music producer who understands his audience and makes music that transcends his fans into a musical high that they are smitten by him!

DJ Chetas is an Indian music producer and his most famous mashups are the break-up mashup, cocktail mashup, yeh jawani hai diwani mashup and many more like them. Also, he is the only Indian DJ with a Mobile Application promoting dance music to the masses.
According to him, Life is nothing but a Mashup!
DJ Sartek
Sarthak Sardana, popularly known by his stage name Sartek, is a DJ from India, and music producer. Satek, a CA student, was compelled by his love for music to turn into a music producer and never looked back after that. His music reflects his stylish personality and he is the 1st Indian DJ on Hardwell's Revealed Recordings & to have all the releases on Beatport Top 100 charts. Globally, he was also the opening act for Armin Van Buuren, Martin Garrix, Steve Aoki, Axwell, Nicky Romero and much more during their India tour.

His track 'Back To The Future' was premiered by none other than hitmaker David Guetta on his international radio. He's reportedly the only Indian to make it to the top of 100 electro house charts multiple times with his peppy number Back To The Future, Dopamine and Don't Need Love. His latest number "Jump Right After You" went viral 3 hours after its release!
Now that's what we call Rocking the World and making them dance to his tunes.
Nikhil Chinapa
A name that has become synonymous with contemporary music and EDM, Nikhil Chinapa is one of the earliest pioneers of Electronica Music in the nation. From being an RJ to being a DJ Nikhil Chinapa can be called a jack of all trades. He was the festival director of Asia's premier music festival Sunburn & VH1 Supersonic and now runs his own company Submerge Music which gets the best DJs of the world to the country such as Swedish House Mafia, Tiesto, Hardwell. The idea behind starting Submerge was to promote himself as a DJ and also give a platform to budding DJ's to grow.His fan base is not just in India but global and can be seen from his 18 million followers on Twitter!

Woah, That is Huge!
Ankytrixx

A self-taught DJ/Music Producer whose music is inspired from well-known veterans of EDM Scene such as John Digweed, Paul Oakenfold, Nick Warren and more. He is the best Tech-house Dj and his popularity already reached its peak in the subcontinent from Nepal to Bangalore, from Bombay to Calcutta, through clubs, festivals, and even hot spots in Singapore. A rare gem in the EDM scene, his energetic style with heavy trance beats music is definitely the reason behind this huge fan base. His dedication can be seen from the fact that he has performed at more than 200 gigs in past 2 years. He pioneered the concept of CTRL ALT Dance Festival in 2014 and since then there is no looking back. A proud recipient of the accolades like VH1 MyFav Awards Best Electronic DJ two years in succession and the title of – VH1 MYFav DJ Of The Year (2013) in India's largest online people's choice awards proves his hard work and commitment.

DJ Zaeden
Well known as Zaeden, Sahil Sharma is titled as the 'Martin Garrix of India'. Born in New Delhi, Zaeden joined the line of globetrotting DJ/Producers to emerge in the burgeoning Indian Electronic dance music scene. He started making music in his living room just for leisure but that turned out to be his life pursuit. His passion for experimentation led him to become an energetic and zesty DJ whose success knows no bounds.

He even traveled overseas to hone his skills, playing at various clubs over a 12 month period. Setting a score in the global EDM landscape by becoming the first Indian artist to be signed on the world's biggest dance music label – Music All-Star Publishing (Spinnin' Records) in 2014. By 2015, he released a remix of Coldplay's Magic and then there was no looking back for him. His hit Single "Never Let You Go" featuring electro-pop duo Nina x Malika and the track quickly garnered close to 3 million hits. In the same year, he also delivered a TED Talk in India on the growing emergence of EDM. Since then he has done over 350 shows in 2014-2016, including stages at major festivals like Tomorrowland, Marenostrum Festival, Pacha Tour, Sunburn, Enchanted Valley Carnival, Supersonic, Mood Indigo, and clubs like Pacha and Privilege Ibiza. He is truly a Crossover EDM artist who is making India proud all over!
Lost Stories
Prayag and Rishabh a.k.a Lost Stories started their journey about 7 years ago and now have reached the peak of EDM industry globally. The duo's official mixes "Faded" and "Wherever I Go" were ranked at 52nd position in the DJ Mash-Up ranking in India. Their fan base crossed all bounds when they collaborated with Armaan Malik for the Cover of Justin Beiber's "Sorry" which had over million views on Youtube in a few hours after release.! Internationally, they have performed at the Tomorrowland Music Festival (Belgium), Mysteryland (Netherlands), Marenostrum Music Festival (Spain), Sunburn Music Festival (India), Supersonic (India) and many other music festivals across the World. Their music is a combination of House music with tripping trance beats that are sturdy enough to be used as bases for live mixes ranging from trance to euro.

In 2017, with their Lost Stories Academy, don their sensei robes and offer their production chops to aspiring DJs in Delhi with classes to give a platform to the potential artists.
Now that's what we call true artists!
Go ahead Trance junkies and check out these amazing rockstars!
If you wanna know more about the best Dj's in Chandigarh, Click here!