5 Famous Varieties Of Paan In Ludhiana- Try Karo Meri Jaan!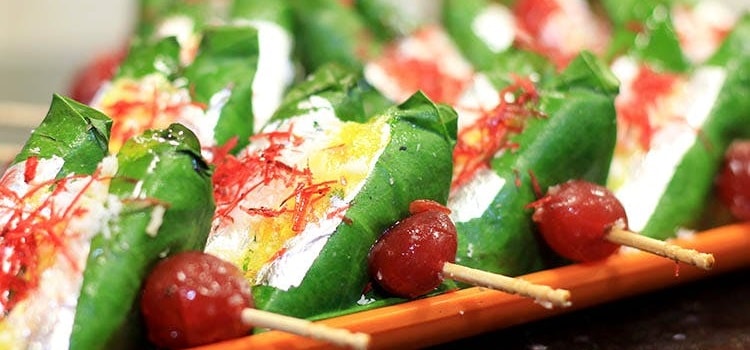 Paan (or scientific name, Betel leaf) is a well-known mouth freshener, famous amongst all. The roots are deeply embedded in the city of peace and faith- Banaras and gained popularity when Shree Amitabh Bachchan shook its booty on "khaee ke paan Banaras wala".
The Banaras Paan has shifted gears and transverse to various states of India. Occupying a special place in Punjabi Culture, the Royal Paan has successfully achieved a makeover and charmed everybody with its unconventional zing.
Paan leaf has healing properties as it is a great source of vitamins, carotene and calcium (Girls! Another savior, if you are calcium deficit). Additionally, it helps in digestion and cures constipation. It is also an aromatic plant which can be grown in homes as an ornamental plant to receive maximum benefits from it.
The famous varieties of paan that Ludhianvis swear by are-
Chocolate Paan
All chocolate-lovers out there, crunch on this divine paan. The minute this paan makes its way, it explodes in your mouth, without drifting away from the chocolate flavor. It's frozen; It's yummy: It's heavenly. The chocolate adds up to the taste and is fit for a king. The paan is wholly covered with melted chocolate which is then frozen and ready to be gobbled after cooling.
Where To find it- Chaurasia Paan, Gurdev Nagar
Cost- 50 Bucks
Tutti Frutti Roll Paan
As the name suggests, Tutti Frutti Paan comes in four variants viz-Kiwi, Mango, Strawberry and Black Currant.Set aside all your thoughts and decide which one you want to try. Because I'm gonna try all the flavors as I can't afford to miss the explosion of flavors in my mouth.
Where To Find It- Any Pan Shop
Cost- 50-60 Bucks
Rasmalai Pan
Rasmalai, the gooey texture affairs with the betel leaf and proves to be a lethal combination. This worldy, zestful, toothsome variety of paan is cherished treasure from the Royales and is paired with the Indian sweet, Rasmalai. Don't forget to garnish it up with Gulkand. All in all, the only word that will pop into your head would be - Yummy!!! (with a sweet smile and closed eyes enjoying every bit of paan)
Where To Find It- Chaurasia Paan, Gurdev Nagar
Cost- 50 Bucks
Sada Paan
Kiddies, this one is for you. Even if your father disapproves the consumption of paan, you can try this Sada Paan. Easy on ingredients and tobacco content, it is the most suitable Paan to taste. Sada Jari Paan, Sada Guzia Paan, and Sada Tikri Paan are its sub-variants to binge on, elegantly decorated with silver vark.
Where To Find It- Chaurasia Paan, Gurdev Nagar
Cost- 40-50 Bucks
Special Flavour Paan
All the Special flavored Paan can appease anybody's tongue's map. These are Strawberry Coated, Butter Scotch Coated, Mango Coated, Orange Coated and Black Currant Coated Paan. Decked up beautifully on the plate, the paan is garnished with the flavored sauces to tempt your taste buds and a cheery on top males me more appealing.
Where To Find It- Any Paan shop
Cost- 50 Bucks
These will tempt you for sure, but keeping health in mind (as an excess of anything is bad) trying them once isn't a bad idea.
Happy Paan-tasting!!