All Vegetarians In Chandigarh You Must Visit These Restaurants Today!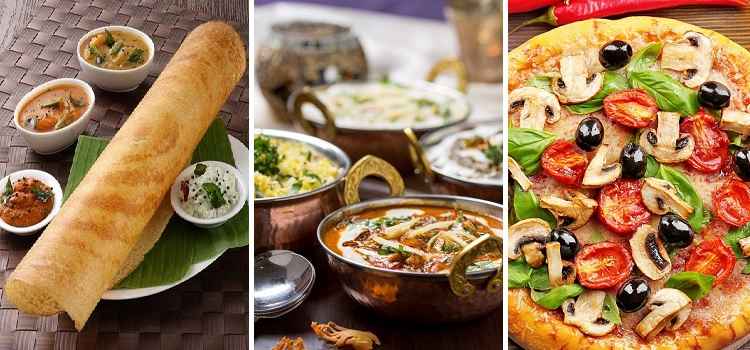 Globally there has been a new phenomenon that has the foodies all over the world turning Vegetarian. Owing to the health benefits associated and compassion towards animals, people across the globe are leaving their "meat sheat" and shifting to "vegetarian".
Obviously keeping up with this, we in city beautiful aren't far behind. However, Being a vegetarian, especially in this part of the country where butter chicken is "punjabiyaan di shaan" have to listen to a lot of useless banter like, "Aren't you just bored of eating aloo and paneer on every lunch date? ", "You're missing out on life." "What about nourishment?" "How do you live?" On top of that finding, a good vegetarian restaurant is like finding a needle in a haystack! OHH DEAR GOD!!!
To ease your daily struggle and to instill pride in the term "Vegetarian", ShoutLo presents these restaurants that are bringing the Swag back to your veg food by offering yummy Licious vegetarian cuisines, all under one roof !! Oh Yeah!!
The House of Sankalp Chandigarh brings 3 drool worthy and lip-smacking cuisines (North Indian, South Indian, Italian) for food lovers under one roof. The best part they are completely vegetarian!! Hard to believe right??
* Sankalp - The South Indian Odyssey
Craving Authentic south Indian food within a budget? Don't wait and head straight to Sankalp. In a very short span of time from the opening of its first restaurant, Sankalp became best South Indian cuisine restaurant and till date is on the top. Authentic South-Indian style culinary preparations, the ethnic table layout and the excellent service add to the USP of this Restaurant Chain. With more Than 150 restaurants around the globe, Sankalp surely is a jewel for Chandigarh and also holds the Guinness World Record for the longest Dosa (a Whopping 53 ft long Dosa!) Sounds Fantastic, Right? What's more is that the variety of dosas offered is unparalleled in the region. The most loved dishes include Panchvarna uttapam, Cheese & Corn Dosa, Masala Idli, Dahi Vada and many more drool worthy dishes that would make any vegetarian feel like heaven. Definitely, a must visit place!
Price for 2: Rs 700 approx
* Saffron- The North Indian Joyride
Named after the world's most precious spice, Saffron serves freshest ingredients with the finest tastes. Ever thought that one can enjoy vegetarian barbeque which is beyond just aloo and paneer?? At Saffron, talented chefs have carefully captured the essence of the traditional North Indian cuisine by offering a unique concept of "Do it yourself". This allows the guests to grill starters of their choice. The tables come with skewers and grill in the center. An array of fresh vegetables and Mouthwatering marinades are offered to the guests to choose from. The restaurant offers both buffet and ala carte options. However, the buffet is served at your table and the service is impeccable. A warm and attentive staff along with a simple yet elegant decor has made Saffron synonymous with Authentic Vegetarian Barbecue & Delicious North Indian Cuisine in City Beautiful.
Price for 2: Rs 1000 approx
* Sam's Pizza - têtê-a-têtê with Italian Pizzeria
An Italian cuisine based eating joint, based on the unlimited concept of food, Sam's Pizza has surely carved out a niche among pizza lovers across the city. Popular for its mouth watering pizzas, Crispies, salads, and brownies, Sam's Pizza offers both unlimited and ala carte menu to its patrons. Fun fact it,s probably the only restaurant in town which offers 22 awesome and healthy varieties of salads!! The chic ambiance, super-courteous staff and a variety of sumptuous options definitely add value to this place. The variety of pizzas this joint offer is sure to get your head spinning (in a good way *winks*). All this and much more without punching a hole in your pocket. Sounds amazing, Right? Head to Sam's Pizza today!
Price for 2: Rs 800 Approx.
3 Smashing and value for money restaurants, exclusively vegetarian, that too under one roof. Doesn't get any better than this folks!
Address: SCO 11, Sector 26, Madhya Marg, Chandigarh
Contact: +91-172-4653355
Wear the green tag with pride vegetarians and get unlimited attention by heading to these restaurants today!