With World-Class Technology And Equipment, This Diagnostic Center Brings Regular Health Checkups At Your Doorstep!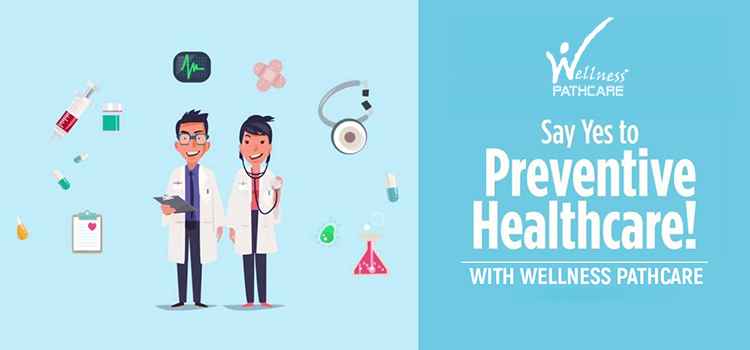 Healthcare in India is slowly and steadily growing. Nowadays, people are becoming health-conscious and have started taking the principle of 'Prevention is better than Cure' quite seriously. Having said that, one can correlate taking care of their health with the upkeep of their vehicles. Like one spends money on taking care of their cars and get them serviced, one also needs to pay attention to their bodies and get them tested from time to time. With the growing number of allergies and diseases doing rounds in the polluted air, one can fall prey to any health-related trouble that can go undetected for a long time. Health has become one of the most important issue that people have started focusing on. Also, a lot of fake and unprofessional diagnostic laboratories are swarming cities like flies. Getting any tests conducted at these centres is not without the risk of non-detection and prolonged non-detection can be fatal for human life.
Keeping this in mind and to realise the importance of Preventative Care, one must actively get them tested from time to time. With too many diagnostic centers in the city, choosing the one that is the best is a hard task. But there is one brand in the city that is taking Preventative Diagnostics to the next level and is bringing it right at your doorstep. Yes. We are talking about Wellness Pathcare: India's Elite Pathology and Wellness Service.

Better Safe than Sorry: Get Tested with Wellness Pathcare
Isn't it better to be safe now than sorry later? If you do agree with this and want to take care of your loved ones then you must choose wisely and pick a Diagnostic center that truly cares. Wellness Pathcare is one of the leading brands among the diagnostic services in India. They are a Delhi-based company of Diagnostic & Wellness centers in National Capital Region, Punjab, Haryana, and Rajasthan as of now and are planning to expand to Mumbai and Bangalore soon. Realizing the importance that people are giving to Healthcare and wellness in India, a dynamic group of individuals from New Delhi got together and established a brand that is now becoming synonymous with Honesty & Integrity.

Their Vision & Mission: Preventative Healthcare
With innumerable diagnostic services coming up in the country, the question always is who to pick for proper check-ups. Keeping this in mind, a group of young professionals started Wellness Pathcare with a motto "Affordable, Accurate and Accredited pathology at your Doorstep." With the aim of establishing Trust & Integrity in the minds of the consumers, They are on a mission to become the Pioneer Preventative Healthcare Service Provider and decisive leader on Accurate Clinical Referral Testing services.
Best In Class Equipment and Testing Services Under Professional Guidance
With technologically advanced equipment for testing, Wellness Pathcare is among the most-trustworthy health and wellness centres that offer complete automated testing. Not just the equipment for testing, the staff is completely professional and well-trained that offers a helping hand during the tests which are reassuring for people. They offer services like the collection of samples right from your homes anytime as per your convenience. They use state-of-the-art testing equipment that reduces the chance of an error in results. They also ensure timely reporting by delivery of reports at home or uploading reports on website and Application within 24 hours of testing so that there is no unnecessary delay. So, if you care about the health of your loved ones, get them tested now at the one of the best Diagnostic Services in India!
Whole Body Checkup Health Package: Need of The Hour
Nowadays, allergens and pollutants in the air can cause some serious health hazards that might affect all of us in the long run. Timely detection can help in preventing small issues from becoming big problems. If you care about your family and are health-conscious, you would want to give them the best possible care. At Wellness Pathcare, 'your problems are their problems' and they take their jobs pretty seriously. They offer a Whole Body Checkup Health Package that is a holistic health care check-up. It includes tests that cover about 101 ailments and 10 profiles.
Here is a complete list of Whole Body Checkup Health Package:
-Arthritis Test
-Vitamin Profile
-Extended Lipid Profile (Heart Risk Profile)
-Extended Liver Profile (Liver Function Test)
-Renal Profile (Kidney Function Test)
-Thyroid Profile (Thyroid Function Test)
-Anemia Screen
-Diabetic Profile
-Arthritis Screen
-Electrolyte Profile
-Blood Counts
-Complete Urine Examination
Customer Satisfaction and Convenience at Your Doorstep
Customer service is what makes the difference everywhere. People look for care when they are getting themselves checked. That level of care and understanding can only be available at a place like Wellness Pathcare. They focus on maintaining high standards of customer service by offering professional services to their customer. With a well-trained staff of Phlebotomist's and Healthcare providers, they are determined to offer comfort right in your homes. Sample Collection Services are offered at your doorstep from 6 am onward and the complete reports are sent within 24 hours with the exception of a few comprehensive tests that may take more time. So, if you believe in the fact, 'A stitch in time, saves Nine', then get your loved ones tested right now!
Reliable and Timely Reporting at Pocket-friendly Prices
Reports of tests are what one needs on time to act and save themselves from problems. As the famous saying goes, 'A stitch in time, saves nine', timely reporting plays a vital role in helping prevent some major health issues. Keeping in mind the needs of the senior citizens along with people who might be sick, they take timely reporting seriously. They place great emphasis on delivering test results within 24 hours of testing. Once the reports are received, they upload it to their application and website so that the users can access these directly from there. Not just this, the reports remain on the application and website forever, allowing the patients to keep an online record of their medical history. Now, that's what we call lightning fast reporting!
Coming to the price of the tests, Wellness Pathcare has a motto of providing diagnostic services at an affordable price to the consumers. Thus, all their tests are offered at a competitive price to the public that makes them completely economical for all the sections of the society.
Quality and Dedication: Key to Success for Future
Winner of "Times Healthcare Achievers Award 2017" Wellness Pathcare is one of the leading Diagnostic healthcare providers in the country that is committed and dedicated to their mission. It is one of the most revolutionary brands among the health & diagnostic service industry in India that religiously follow quality management principles of medical accreditation bodies as the basis of continuous performance improvement. With such a trusted brand, one can be assured that they have a bright future ahead!
Location: Wellness Pathcare SCO 46, Sector 29D, Chandigarh
Follow on: Wellness Healthcare
SCO 46, Sector 29D, Chandigarh, 160020