Buffet Deals
Lunch
Pizza & Salad Lunch Buffet
Actual Price
Rs.345
Discounted Price
Rs.329
Lunch
Veg Pizza & Salad Lunch Buffet (Valid for 3)
Actual Price
Rs.1035
Discounted Price
Rs.690
Lunch
Veg Pizza & Salad Lunch Buffet (Valid for 4)
Actual Price
Rs.1380
Discounted Price
Rs.1035
Dinner
Veg Pizza & Salad Dinner Buffet
Actual Price
Rs.345
Discounted Price
Rs.329
Dinner
Veg Pizza & Salad Dinner Buffet (Valid for 3)
Actual Price
Rs.1035
Discounted Price
Rs.690
Dinner
Veg Pizza & Salad Dinner Buffet (Valid for 4)
Actual Price
Rs.1380
Discounted Price
Rs.1035
Additional Cashback Promo Codes:
20% Cashback up to Rs.60 on min billing of Rs.300
SHOUTBACK20
Rs.100 Cashback for New User on min billing of Rs.200
SHOUTBACK25
20% Cashback up to Rs.80 on min billing of Rs.500 only on SPA deals
SHOUTSPA20
About Captain Sam's Sec 26 Chandigarh
Captain Sam's Sector 26 Chandigarh : Pizza Buffet Offers
Formerly known as Sam's Pizza, Captain Sam's stands for everything that defines Unlimited Buffet Experience. Unlimited Pizzas, Extravagant toppings, loads of Cheeze and an Exotic spread of Salads is what makes Captain Sam's the best in what they do. They have made an exceptional mark not only in Tricity but also in Zirakpur and Ludhiana.
All their outlets promise chic ambience, super-courteous staff who love to serve you as much as you want. Their pizzeria brings the concept of UNLIMITED Pizza Buffet at rock-bottom prices for all the foodies in town.
Map and Directions
Sco 11, Madhya Marg, Sector 26, Chandigarh, 160019
Sector-26,Chandigarh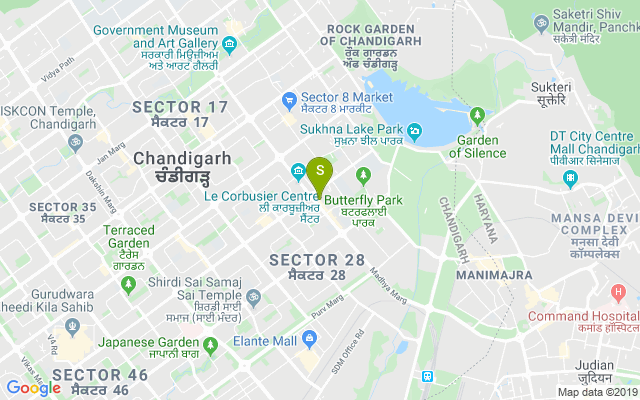 Reviews & Ratings
Captain Sam's Sec 26 Chandigarh is Rated
4
Star based on
21
Reviews
Select Your Rating Below
Recent Reviews By Users
PRABHPREET KAUR
Rated 5 Stars on 28th Feb 2020
MANISHA GARG
Rated 5 Stars on 17th Feb 2020
HARRY KHERAY
Rated 5 Stars on 12th Feb 2020
DUSHYANT OHRI
Rated 5 Stars on 06th Feb 2020
CHANDA DEVI
Rated 1 Stars on 26th Jan 2020
PREETI KUMARI
Rated 1 Stars on 26th Jan 2020
KRISHNAN G
Rated 5 Stars on 24th Jan 2020
ASMITA BHARTI
Rated 5 Stars on 19th Jan 2020
MUKUL GUPTA
Rated 5 Stars on 05th Jan 2020
JASMEET SINGH
Rated 5 Stars on 22nd Dec 2019
SHIKHA SHARMA
Rated 5 Stars on 20th Dec 2019
BALJINDER SINGH DHANJU
Rated 5 Stars on 14th Dec 2019
VIKAS GOYAL
Rated 2 Stars on 01st Dec 2019
ARPANA GROVER
Rated 5 Stars on 24th Nov 2019
NITESH MAHOTRA
Rated 5 Stars on 17th Nov 2019
ABHILASHA SIDANA
Rated 5 Stars on 15th Nov 2019
KARTIKEY THAKUR
Rated 5 Stars on 15th Nov 2019
NIHARIKA ARORA
Rated 5 Stars on 15th Nov 2019
HANI JINDAL
Rated 5 Stars on 15th Nov 2019
SHAGUN KASHYAP
Rated 5 Stars on 30th Oct 2019
SAMEER SHARMA
Rated 5 Stars on 29th Oct 2019
Review
Not to miss veg buffet in Chandigarh
Best Deals in Chandigarh