The Best Pearl Shop In Hyderabad - Modi Pearls (Original)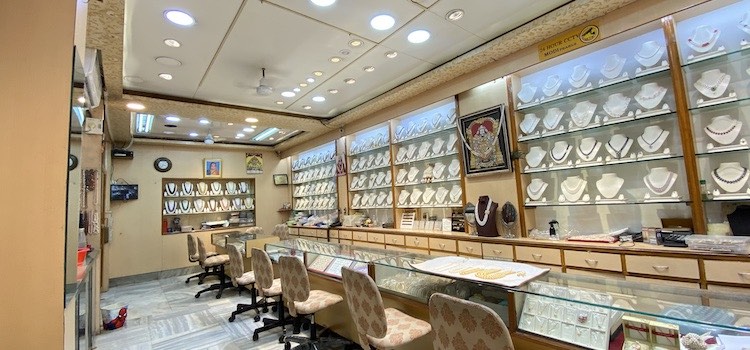 Love the old-world, classy charm that pearls have? Well, you will be awestruck by the collection that the best pearl shop in Hyderabad - Modi Pearls (Original) has. Located near Charminar, Modi Pearls (Original) is a Govt Approved & ISO Certified store that offers exquisite designer pearl jewelry worldwide.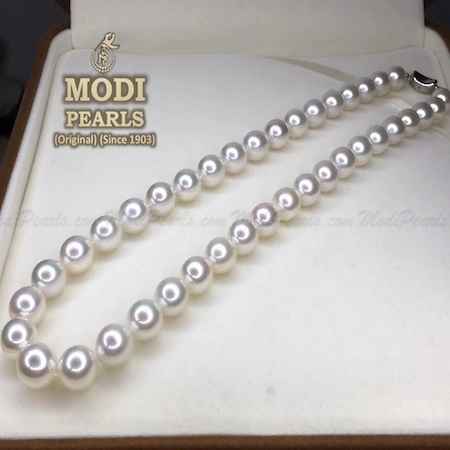 Being a jewelry hoarder myself, I believe that a woman can never have too many jewelry pieces. And because of how timeless pearls are, I am always on the hunt for some finest pearl pieces. So allow me to offer you some pearls of wisdom, while you are on the lookout for that perfect pearl jewelry.
Modi Pearls (Original) is a single-stop solution for all your fashion pearl jewelry needs. Be it a simple pearl necklace, heavy haar or intensely hand-crafted design, they tailor each order to your exact desire, it's tough not to fall for every piece. So, no matter what kind of style you prefer, there is something for everyone at Modi Pearls (Original).
The Iconic Store - Modi Pearls (Original)
When it comes to pearls, you don't have to look beyond Modi Pearls (Original). Founded in 1903, Modi Pearls (Original) is a five-generation old lineage dealing exclusively in pearls. Known for its Hyderabad pearl jewelry, their store comprises 200+ pearl jewelry designs on the display, which are updated fortnightly with upcoming trends, and more than 2000 designs that are stored apart from the main display.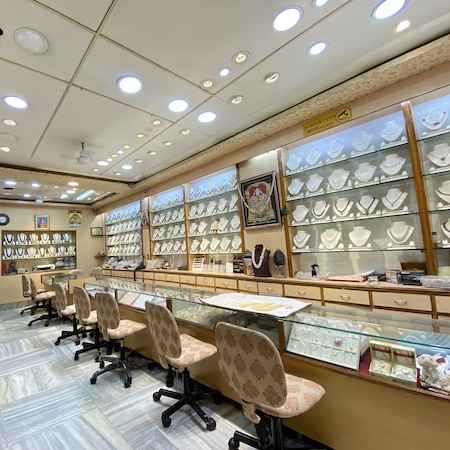 Dazzle In Gorgeous Pearl Jewelry
While you are on the lookout for that perfect pearl jewelry, let us tell you that Modi Pearls (Original) deals in all kinds and types of pearls that are obtained globally. Their pearl range includes Freshwater Pearls, South Sea Pearls, Japanese Akoya Pearls, Tahitian Black Pearls, Keshi Pearls, Seed & Rice Pearls, and Basra Pearls.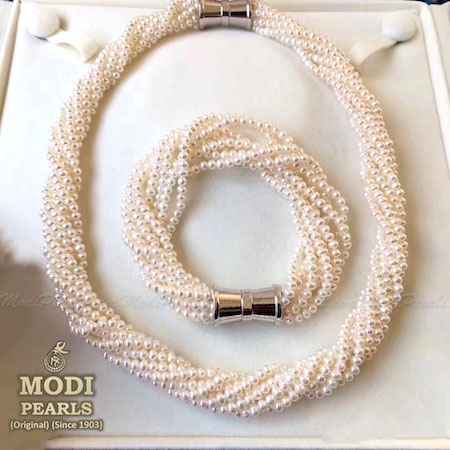 Available in various natural shades such as White Pearls, Cream Pearls, Peach Pearls, Pink Pearls, Grey Pearls, and Black Pearls, that come in various sizes ranging from 0.1mm to 16mm, they offer many different styles - Twisted, Layered, Jumbled, etc.
Fit For Royalty
Apart from the regulars, they also have a vast collection exclusively covering the Hyderabadi Nizami aspect of jewelry. From Jadaavi Lacchas, Satladas, Panchladas, and Chaand Baalis, to Jhoomars, Tammani, and Kadas, they have got quite a collection. My favorite is the Nizami Pearls Rani Haar that has layers of thin pearl chains with a statement pendant.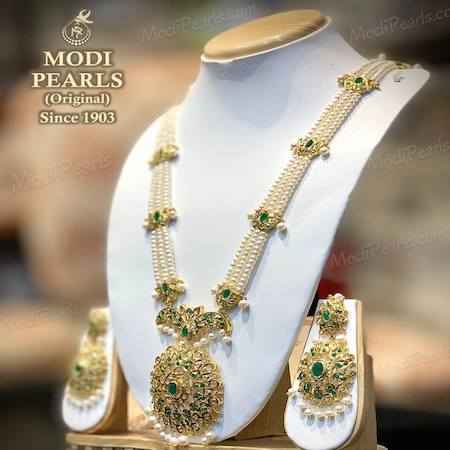 Modi Pearls (Original) offers amazing service too. Whatever is your choice of jewelry or budget, talk to their staff behind the counter and you will be taken through your choices. And, they also custom-make the designs as per your taste and preference. Yes, their staff has 20+ years of practical experience in expertly handcrafting beautiful pieces. Thus, they fulfill custom orders and get them ready right in front of the customer in a matter of 30 to 60 minutes.
Fill Your Jewelry Box With

Stone Statement Jewellery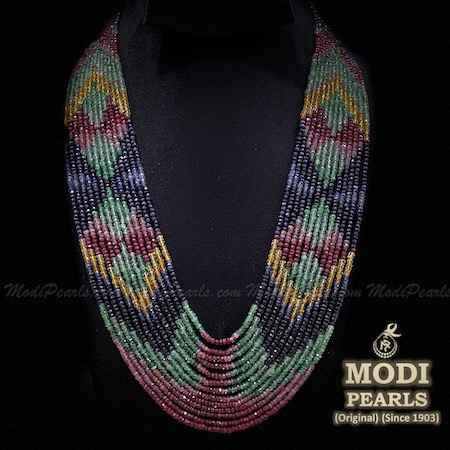 Modi Pearls (Original), with its precious craftsmanship, is all about elegance with modernity. They have a huge variety of precious and semi-precious stones at their store, ready to wear, such Ruby, Emeralds, Yellow Sapphire, Blue Sapphire, Hessonite, Corals, Catseye and in semi-precious, there are endless collections of Aquamarine, Peridot, Opals, Beryls, Turquoise, Rose Quartz, Topaz, Tourmaline, Spinels, etc.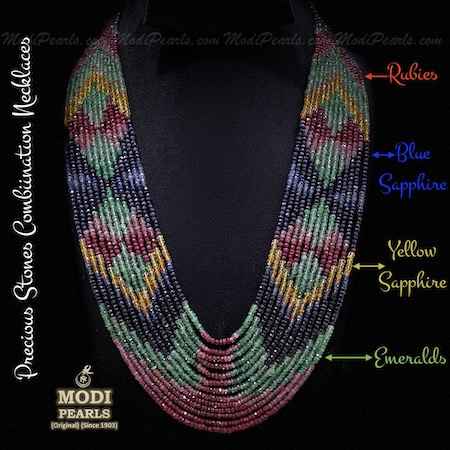 For those who do not like over-the-top bling and haars, you can opt for the minimalistic collection which has more sophisticated and minimal designs. These dainty and delicate pieces are purposely created for daily use at work and other social events.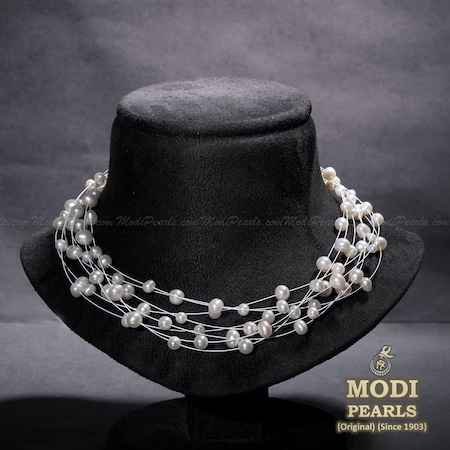 Download The Modi Pearls (Original) App
Peeps residing outside Hyderabad, don't be sad. Modi Pearls (Original) cater to people from every corner of the world. Yes, you read that right!! You can choose from their incredible range of designs and buy the finest pearl jewelry online. They have their app available on both Google Play and Apple App Store, and excitingly they are the first pearl store to do so in the entire country. So, if you are on the hunt for beautiful pearl pieces or statement jewelry, you should definitely download their app or take a look at their website - Modipearls.com
Shop At: Modi Pearls (Original)
Where: 22-5-92, Beside Gulzar Houz Circle, Charkaman, Road, near Charminar, Hyderabad, Telangana 500002
Phone No. : 040 6680 6502
Website: Modipearls.com
Follow on Facebook: Modi Pearls
Follow on Instagram: @ModiPearls
All Precautionary Measures Followed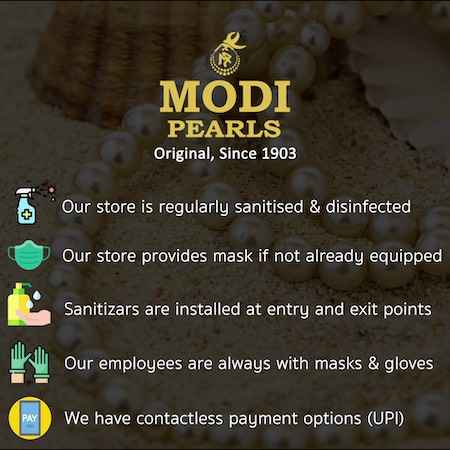 Modi Pearls (Original) follows all the Government prescribed Covid precautionary measures. From frequent temperature checks and wearing masks to ensuring the disinfection of surfaces between visits, they make sure your shopping experience here is safe!

Are you ready to get your hands on the beautiful pearl jewelry? Go on and treat yourself to something fabulous!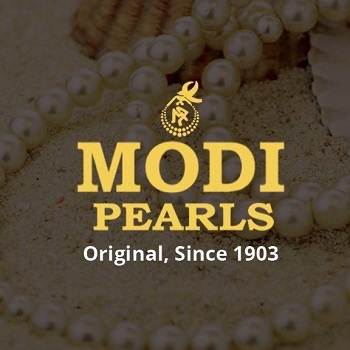 22-5-92, Beside Gulzar Houz Circle, Charkaman, Road, near Charminar, Hyderabad, Telangana 500002