Upstairs Club Launches Live Wednesdays With Hari-Sukhmani!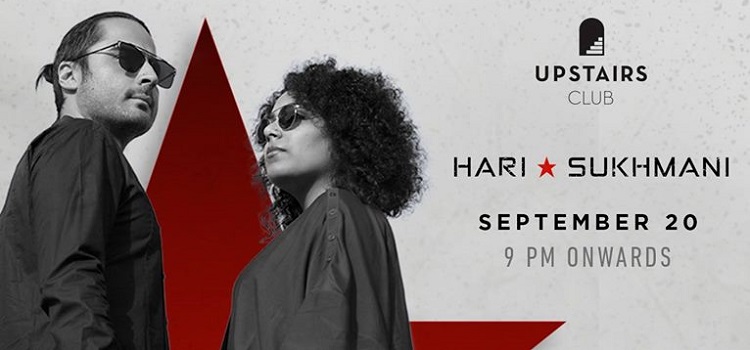 "Saari Raat tera Takni aa Raah,Taareyaan ton puchh chann ve"
The Upstairs Club seems to have taken these lyrics seriously and have arranged a special date, each Wednesday, for all the music lovers in Tricity.
Get ready to swank up your Wednesday nights, every week, starting with dynamic duo from our very own City Beautiful: Hari-Sukhmani.
The Hari-Sukhmani Live Event marks the beginning of the Wednesday night live band theme which The Upstairs Club has devised for its patrons.
A Night under the stars at Upstairs Club with the City Beautiful's Dynamic Duo Hari-Sukhmani Live! Wohoooooooooooo! *Time to Rejoice and Gear up*
The duo isn't new to all the musical junkies across the globe. Hari Singh and Sukhmani Malik are two amazingly talented singers, songwriters, and producers. Hari & Sukhmani have been known to create fresh and eclectic sound, fusing traditional punjabi folk music with ambient electronica embodying their powerful, singular and independent spirit. Inspired by famous Sufi poets like Bulleh Shah, Baba Farid, Kabir and Shah Hussain, their music tugs at everyone's heart and reaches the soul.
Their amazing collaborations with artists across the borders have proved that music knows no boundaries and is universal. Orations with artists across the borders have proved that music knows no boundaries and is universal. This superbly talented duo has a huge fan base globally. Be it to from Chandigarh to New York, they are crossover rockstars with a divine touch in their music.
The Upstairs Club: Sophistication under the Stars!
The Upstairs Club, one the classiest open-air clubs in Tricity, has arranged for a musical soiree with Hari-Sukhmani this Wednesday.
A sophisticated, Chic and Upscale Rooftop Place is how one would sum up the Upstairs Club. Now to beat the mid-week blues, every Wednesday night, Upstairs Club have set up live performances starting this Wednesday with Hari-Sukhmani Live!
Save the Date: 20th September 2017
Timing: 9 pm onwards
Entry charge: INR 3000 cover per person (Fully redeemable against food & drinks)
Gear up music lovers and Get your passes Asap!

See you Upstairs folks!!
Stay tuned for more live performances at Upstairs in the coming weeks!