Event Details
Hello Chandigarhians!! We have got your Sunday evening plans sorted! Farzi cafe brings you a laughter-filled evening with none other than Angad Singh Ranyal! Yes, you all read that right!! The pirated Sardar will go all out to give you an absurd, edgy, funny and entertaining Sunday. So, if a laugh riot is what you are looking for, this event is certainly one to bookmark.
Give Yourself An Entertaining Weekend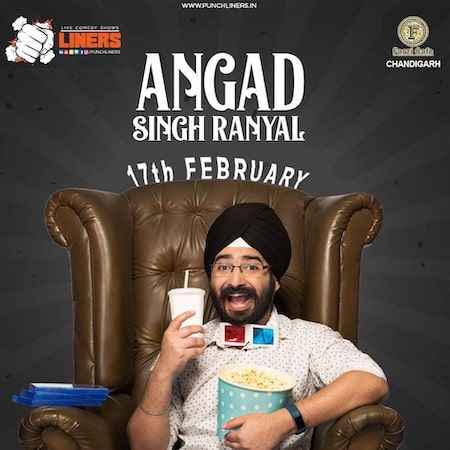 The event lets you sit back with a freshly brewed mug of beer and enjoy a laughter-filled evening as Angad try to crack you up with his jokes. So, come with your friends, family, or by yourself for a healthy dose of humor, feast on some mouth-watering delicacies and let him take you on a laughter ride.
About Angad Singh Ranyal
The thinnest Sardar alive, born and brought up in Libya, and hence culturally confused. He also holds the world record for being the millionth Indian to opt for MBA after completing his engineering. A marketing major who keeps his sanity intact by making fun of everything and anything, including himself. Sarcasm runs in his blood, that's Angad Singh Ranyal for you.
When: 17th Feb 2019, 7:30 PM onwards
Where: Farzi Cafe, Chandigarh
Buy your passes now and don't miss this hilarious evening of stand-up comedy by Angad Singh Ranyal!
Artist/Performer
Angad Singh Ranyal
Ground Floor, SCO 23, Madhya Marg, Sector 26 D, Chandigarh, 160019
Best Deals in Chandigarh
---