Event Details
We all share the common belief that for India to emerge as a world power, the youth has to break the shackles of prejudices and inertia that has kept them from starting up. Thus, they require an opportunity of engaging with some of the best Industry Leaders, Revolutionary Entrepreneurs, and Change-makers.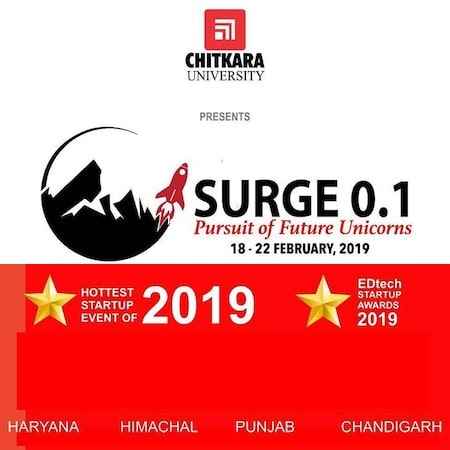 In such a scenario, CUCEED (Chitkara University Centre for Entrepreneurship Education & Development) takes a place of immense importance in the startup ecosystem of the Northern region. CEED has a legacy of conducting most stunning events for students and professionals with an aim to aspire and motivate the youth of the North. And once again taking a step forward in the right direction, they are organizing Surge 0.1 a E-Summit focused entirely on young entrepreneurship and entrepreneurial ventures.
SURGE 0.1: North India's Largest Congregation of Startup Ecosystem Builders
SURGE 0.1, A Chitkara University's initiative brings together the region's startup ecosystems and subsystems, venture capitalists, new age entrepreneurs, the academic community, and region's success stories to a common and interactive platform. The core objective of this E-Summit is to introduce the VCs and industry pioneers to the current startups landscape and to enable entrepreneurs seeking mentoring and fundraising opportunities from the funds pool.
Chandigarh region is often seen as a not-so-mature market for startups to raise funds or to find right VC community for mentoring. The E-Summit is a step to accelerate Chandigarh's growth towards being an exciting startup market that is a win-win for startups, VCs, and the talent pool.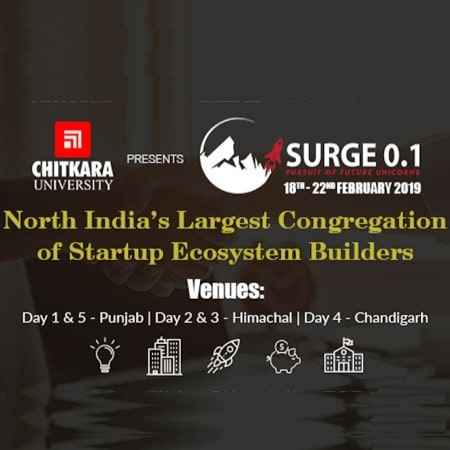 The incubators are playing a huge role in this entire startups ecosystem growth and these incubators have their own cycle and constraints. The E-Summit talks about their role in the community and how they are such an important success factory of entrepreneurs.
Entrepreneurship is challenging and it is a long yet exciting journey. The founders need access to right mentors, incubators, and a support system (academic, government, and for-profit businesses) to learn the best startups growth strategies. They should see this E-Summit as an opportunity to see their goals beyond the product ideas stage.
Event Details
It is a 5 Day event starting on 18th Feb 2019 at 10:30 am. On Day 4 Chitkara University has organized a special lunch, followed by Live Pitches and EdTech Awards at EDC, IT Park (passes are mandatory for Day 4). The event would conclude on 22nd Feb 2019 at 11:30 am.
Venue:
Day 1 & Day 5- Chitkara University (Punjab Campus), Chandigarh-Patiala National Highway
Day 2 & Day 3- Chitkara University (Himachal Campus), Pinjore-Barotiwala National Highway (NH-21A)
Day 4- SPIC Centre, EDC Building, Plot No. 20, Rajiv Gandhi Technology Park
*Please note paid passes are only for Day 4 attendees at SPIC Centre, rest days it's an open entry*
Agenda of SURGE 0.1-Pursuit of Future Unicorns
Day 1 - 18 Feb 2019 at Chitkara University Punjab Campus
- Inauguration - Inauguration, by Dr. Madhu Chitkara-Vice-Chancellor, Chitkara University and a speaker from TIE DELHI.
- Panel Discussion I - "THE UNDERTAKERS" Ms. Vinny Garg- Former Senior Associate KPMG, USA (Session Moderator) Startup Founders from SchoolPad, Chai Nagri, SD Fine Arts, AdCeptive Media, Shoutlo, Zadd
- Workshop on customer validation and lean Model Canvas by Anurag Malloo-TechStars (Please note passes for this workshop is available here)
- Lunch
- Workshop on the art of Fund Raising for Prototyping & MVP - This workshop will focus on fundraising for prototyping and MVP, the birth of instant funding channels like Indiegogo and Kickstarter pose a threat to VC Funding (Nalin Singh Natio Cultus-) (Please note passes for this workshop are available here)
- Networking over Tea & Coffee
Day 2 - 19 Feb 2019 at Chitkara University Himachal Campus
- Inauguration of Startup Camp - "THE INVENTORS" A special EXPO by Dr. Archana Mantri Pro-VC, Chitkara University & Dr. Varinder Kanwar VC-Chitkara University, Himachal Pradesh.Opening Remarks by Dr. Archana Mantri Pro-VC, Chitkara University. Followed by Expo till 3:00 pm
- Innaugral and Special Keynote - Mr. Pranay Gupta, 91 Springboard & Mr. Sohrab Sitaram(CEO Keventers)
- Innovation Expo - LAMHE
- Workshop on IPR (By CURIN)
- Lunch
- Panel Discussion II - on next-gen technologies AI, VR, DRONE Management & their adaptability, the role of the government: Pranay Gupta-91 SpringBoard, Dr. Preetdeep Singh(Invest India) and Govt of Himachal Pradesh, Mr. Rupinder Tiwari(Head DST, Chandigarh), Moderator: Mr. Ankit Bhateja Founder Xovian-Bangalore.
- Awards by CURIN to best Innovations
- Networking over Tea & Coffee
- Fireside chat - "TURNING THE STORY" With Sohrabh Sitaram-Founder Keventers interview by Namita Satija-Founder PLAPP.
- Wellness Session - Wellness Tips for Entrepreneurs/Staff and Students By Ms. Vinny Garg (Former KPMG USA & current CEO Nazakat.org), Virginia -USA
- Live music to unwind
- Dinner
Day 3 - 20 Feb 2019 at Chitkara University Himachal Campus
- Inaugural address and Special Keynote - Keynote Address and Q&A by - Mr. Suresh Kumar, President, ISBA- Indian Science & Technology Entrepreneurs parks & Businesses Incubators Association, Mr. Vaibhav Agarwal(CEO-Inc42)
- The launch of E-Bike - WE MADE IT IN INDIA - Made in Chitkara- Launch of first of its kind E-bike manufactured by Chitkara University's Alumni Opening remarks by Director CEED and Business Mentor to ZADD Mr. Sumeer Walia, Special keynote by Mr. Aniket Bhardwaj and Mr.Shubham Goyal Founders ZADD-Chief Guest: Dr. Madhu Chitkara/Dr. Ashok Chitkara
- Networking over Tea & Coffee
- Business Quiz - A business quiz for students & young entrepreneurs by PLAPP
- Round table Conference of various E-CELL Students President and Incubation Managers - Connect the Dots: E-Cell Round table-In Chair: Mr. Suresh Kumar- President ISBA. Inaugural Address by Mr. Suresh Kumar President, ISBA. Various Entrepreneurship Cells/ Student Presidents of the country will
-Exchange ideas and knowledge.
-Discuss common problems and their solutions.
-Address on Growth and sustenance of the E-cell.
-Share their impact and outcome. Moderator: Mr. Sumeer Walia
- Lunch
- Panel discussion-III - "Challenges & Opportunities in Pre-Incubation & Rising co-working business culture"- A crisp panel with incubation managers & co-working space owners. Focusing on ecosystem building for early-stage entrepreneurs: Mr. JK Sharma-IIT Ropar, Mr. Param Kalra-Startup Hub Nation, Dr. Manisha Acharya Indigram Labs, Dr. Navkiran Kaur, Scientist, Preet Deep Singh- Startup India-GOI.
- Special Keynote Address by Gautam Gandhi - Ex Business Head Google India, session focus: building Digital Sales strategies, a not to miss session for social media marketing companies, social media geeks, young students, creative brains to enhance their go to market skills in digital media.
Day 4 - 21 Feb 2019 at EDC Chandigarh
(Please note passes for this day are available here)
- Networking tea - A good opportunity to exchange business cards, build a network with Chandigarh city entrepreneurs & stalwarts, investors.
- Inaugural Address & Special Keynote - Denny Kurien- President & CEO Keiretsu India. Keiretsu Forum is a global investment community of accredited private equity angel investors, venture capitalist & corporate institutional investors. Enjoy the candid conversation with Keiretsu India champion Mr. Denny Kurien-Q&A
- Tea Break
- Panel Discussion IV - Fundraising - This session will focus on challenges faced by the Indian investors in identifying the next unicorns of the country & challenges faced by startups to find such investors. Denny Kurein- Keiretsu, Mr.Dhruv Sehra(Kalaari Capital), Devesh Chawla (Founder-Chatur Ideas), Mr. Kunal Nandwani, Founding member, Chandigarh Angels Network (Session Moderator), Indian Angel Network.
- Lunch
- CAN Live Pitches - Live Public Pitches by CAN- Chandigarh Angels Network - Session to be hosted & chaired by Mr. Vineet Khurana, Vice President, CAN. Total 4 local startups to pitch from and around Chandigarh
- Tea Break
- Live music to unwind
- EdTech Awards - Awarding the most impactful Edtech Startups of North India. A special award for the most compelling & successful startup in Education Technology from India will be conferred by Chitkara University.
Day 5 - 22 Feb 2019 at Chitkara University Punjab Campus
- Keynote by Social Crusaders - A special session on Social Impact by a decorated Social Crusader Dr. Navdeep Asija, Alumni-IIT Delhi & winner of the excellent award by Govt of India, Sharad Sagar, Founder, and CEO of Dexterity Global
- Tea Break
- Workshop on Let's understand blockchain by Brijesh Aggarwal-docs in blocks an award-winning Startup (Please note passes for this workshop are available here)
- Social Entrepreneurship -
- Social Entrepreneurship -
- Social Entrepreneurship - A special track on social entrepreneurship, a keynote by Ms. Gyatri Sharma- Head- Partnerships and Investor relations Wadhwani Foundation followed by PANEL on Social Impact Innovations: Dr. Nitin Saluja- GFF Innovations, Dr. Gaurav Goyal-Founder Annukai, Sharad Vivek Sagar and Navdeep Asija & Gayatri Sharma.
About Ceed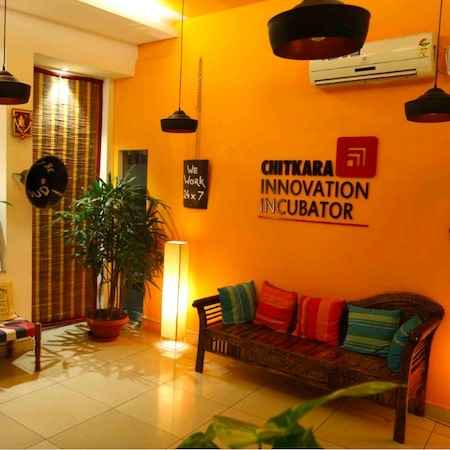 CEED is an entrepreneurship development endeavor of Chitkara University to develop a mindset of being an entrepreneur while a student is in its academic tenure. Most of the big startups like Facebook, Google, Flipkart and lot many more are born out of an academic environment. CEED has a structured setup where it has 2 entrepreneurship development cells which are run by the students under the guidance of a dedicated mentor. One E-Cell is at Chitkara University Himachal campus, where Dr. Neha Kishore is the mentor and one E-Cell is at Chitkara University, Punjab Campus where Dr. Adarsh Kumar Aggarwal is the mentor.
Once the students move out of the University, till plan to continue their entrepreneurship projects they are moved and provided space at Chitkara University Innovation Incubator near Chandigarh IT Park. The Incubator already has 40+ startups successfully functioning.
Join in for 5 memorable days of immersing yourself into the great grand world of entrepreneurship.
Event Organiser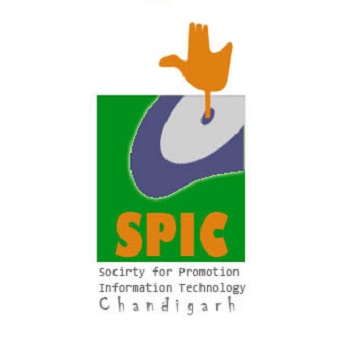 Plot No. 20, EDC Building, Rajiv Gandhi Technology Park, Chandigarh
Best Deals in Chandigarh
---