Event Details
All you cricket fans out there, get ready for the CCL 2019 - an event full of adrenaline gushing excitement and fun. Yes! The season of the popular Celebrity Cricket League (CCL) will kick-start in Chandigarh from 27th February 2019 and we can't keep calm!!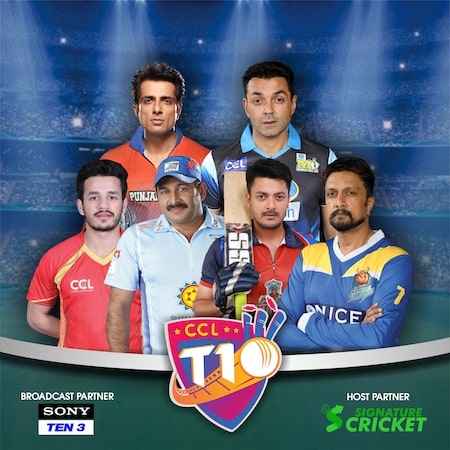 India has two great loves – Bollywood and cricket. So, having an interesting idea of Cricket matches between film stars, the Celebrity Cricket League (CCL) was incorporated in Oct 2010.
Schedule Of Celebrity Cricket League 2019
Celebrity Cricket League 2019 is starting on 27th February and ends on 2nd March with total 12 matches including Semifinal and Finale. Everyday 3 matches with each of 10-10 overs will be played.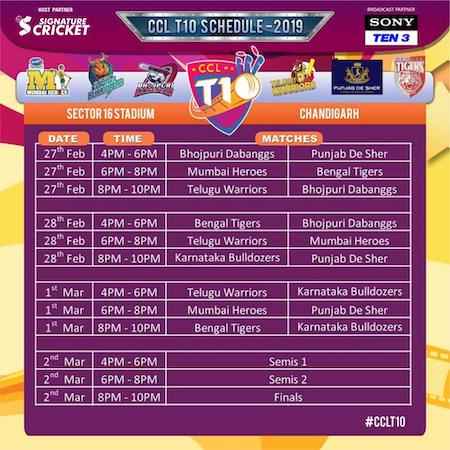 After completing seven seasons of CCL successfully, they strongly believe that CCL will only get bigger and better every year. Undoubtedly, CCL is getting more real; more exciting; and more glamorous.

CCL 2019 Teams
- Bengal Tigers
- Bhojpuri Dabanggs
- Karnataka Bulldozers
- Mumbai Heroes
- Punjab De Sher
- Telugu Warriors
Facts about CCL
- Celebrity Cricket League was commenced in 2003 with many leading Bollywood and South Film Stars even before the first official Twenty20 cricket matches were started.
- With a great effort to fit in 3 matches in a day with the ground of the T20 format way ahead of time setting a trend where film stars compete in the most exciting sport, cricket.

- Having an interesting idea of Cricket matches between film stars from distinguished languages for years then finally they came up with the Celebrity Cricket League (CCL) incorporating the T20 League format in Oct 2010.
- A grand initiative of having more than 60 Artists from 4 different languages was just like a dream turning into reality. Moreover, this was possible only because of the passion that the film stars have for Cricket.
- The core strength of CCL is the support they get from the Team Franchisee Owners and Cricket loving stars whose commitment towards this thrilling sport is commendable.
About Signature Cricket
CCL 2019 is hosted by Signature Cricket. Signature cricket is a leading brand that provides a complete range of cricketing products of top-notch quality for both amateurs and professionals. From the streets to the grounds, their products are loved by all.
When: 27th Feb 2019 to 2nd March 2019
Where: Cricket Stadium, Sector 16, Chandigarh
So, get ready for action. Buy your tickets now and watch the biggest stars from the movie industry play CCL 2019.
Artist/Performer
No Artist
Best Deals in Chandigarh
---