Event Details
Digital Series introduces its youngest child to the world. The bubbling kid with no limits. - ORIGINALS - a platform to bring the hidden talent of the nation to the forefront. Digital Series aims to create a space where people can come together and enjoy Original music and create long-lasting memories.

ORIGINALS is the first of its kind of event which is going to take place starting with the Tricity region. Here artists are always encouraged to perform their original compositions.
We always strive for a lot, but it all seems too little. The focus of life that we continuously run behind, all of it just seems to be out of our reach. Thus, what Digital Series thought of, is to provide you with an experience that resonates with the taste of Original Music. They bring the hidden talent of the nation to the forefront and inspire them to showcase their talent.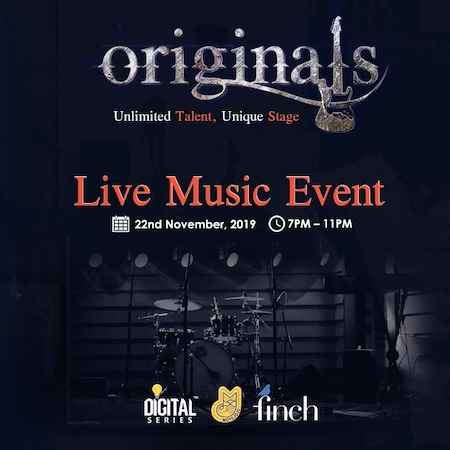 About the Band & Artists
#MotherFuzzer (19:30 – 20:15)
MotherFuzzer | A band par excellence from the City Beautiful, MotherFuzzer is a group of talented people. This group of young musicians tugs at your heart with their tunes which are a genre of a classic rock band.
Artists - Sanmeet + Harry + Manreet
#GAMAK (20:45 – 21:30)
GAMAK an Indian classical-western fusion band that aspires to spread happiness through good music. Believing mainly in original compositions or fuse traditional with western music, "Indo-westusion" is their genre.
Artists - Sippy + Gaurav + Kushal + Vaibhav
#TheSandSmile (21:50 – 22:35)
TheSandSmile, formed in 2017 signifies that nothing is permanent in this world and that all is going to fade away, the only thing that will remain is music. The band just wants to cure and heal people with their music.
Artists - Jasdeep Singh Virk + Jatin Chabbra + Harkaran Singh
Live-In Concert | 03 Bands (45 Minutes Each)
Live Poetry | 2 Artists (15 Minutes Each)
Date: November 22, 2019
Venue: Finch Chandigarh
Time: 7 PM – 11PM
Board the ship for exclusive first access to all Digital Series events and Stay tuned!!
Artist/Performer
Digital Series
SCO 10 Back Lane, Madhya Marga, Sector 26, Chandigarh, 160019
Best Deals in Chandigarh
---