Event Details
Hello Chandigarhians!! Would you all want to attend a stand-up comedy show in Chandigarh which will cater to the self-proclaimed funniest breed on Earth —The Punjabis. For all those who nodded yes! Platinum Arts Entertainment brings together three very different and very funny acts for a memorable day at Rebelle Bar & Kitchen, Chandigarh. A show filled with standup comedy entirely in Punjabi. No English. No Hindi.
Interactive, Engaging & Hilarious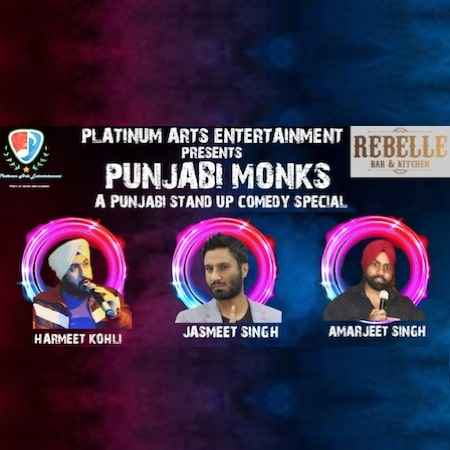 Experience the best and funniest comics at the most hilarious stand-up show First time in Chandigarh. The Punjabi comedians - Harmeet Singh Kohli, Jasmeet Singh, and Amarjit Singh are ready to take you all into interesting, humorous experiences. Their stories, jokes, and one-liners will provide you with a steady stream of laughs.

About The Artists
Harmeet Singh Kohli
Harmeet is a comic soul hidden in a serious avtaar, he doesn't like to talk in a normal way, because information without jokes and subtle examples are boring and less understood according to him, he is intelligently managing his huge transport business along with comedy because he knows a day without laughter is a day wasted. 17 years of being a diesel duck have finally made him dig his passion for comedy. His experiences about life and handling people have given him experiences which are hilariously explained in the form of rib cracking comic way
Jasmeet Singh
Jasmeet Singh is an inventive talent of the comedy circuit. He also has an experience of a lifetime in the Entertainment Industry as an actor and writer under his belt and has worked with Bollywood stalwarts like Mukul Dev, Ranjeet, and Divya Dutta. His comedy is incredibly silly observations, camp, also occasional dark and biting, and also slightly political.
Amarjit Singh (Jeet Matharu)
Amarjit Singh comedian by profession, live to entertain the audience by making them laugh. He is best at jokes, satirical observation, acting foolish (as in slapstick) or employing prop comedy. He addresses an audience directly as a stand-up comedian. While working in International BPO, he learned to spoil English as a language by mixing it with some spice of Punjabi.
Need we say more? Platinum Arts Entertainment promises you an evening filled with some amazing humor. So come in large numbers and get your dose of laughter!
When: Feb 24th, Saturday, 7.00pm - 9.00pm
Where: Rebelle - Bar & Kitchen, Chandigarh
Buy your passes now and share the laughter and excitement with family and friends.
Artist/Performer
Platinum Arts Entertainment
Sco 3-a (backside, Sector 7-C, Chandigarh 160019
Best Deals in Chandigarh
---