Event Details
ComedyMunch presents Ravi Se Chand Tak a multi cities Poetry Tour of Ravi Chand Punia. Catch more of him at Xtreme Sports Bar & Grill, Chandigarh and enjoy his lovely poetry piece!

Ravi Se Chand Tak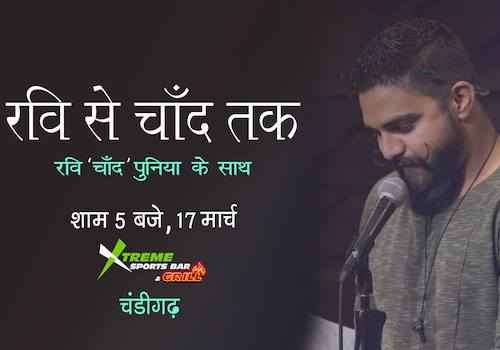 There are years that ask questions and years that answer. - Zora Neale Hursto. Ravi has had questions all his life or shall he say that a few years were the questions themselves. He got blessed to write his curses in cursive and now he has answers in bold, maybe not of all the questions. But he had written down the answers in a diary, words that are immortal now.
Come join and know how a 15-year-old Ravi picked up the pen and became Chand, besides shuffling with other alter egos.
PS - you might have similar questions like him, he is not saying you'll find the answers there. But you might find a clue to set the puzzle right.
About the Artist:
Kya pata tere ishq ki aag me, kisi aur ko sikna ho' - Ravi Chand Punia. Ravi Chand Punia is an exceptional personality, he admits having done nasty things being sober, all in defense of alcohol. "The Sun & The Moon, Ravi & Chand, his idea of a balanced life is to have a drink and a diary in each hand. He has done nasty things in defense of alcohol while being sober too."
When: 17 March 2019, 5 pm to 7 pm
Where: Xtreme Sports Bar, Chandigarh
Buy your tickets now!
Artist/Performer
Ravi Chand Punia
SCO 1086, Sector 22, Chandigarh, 160022
Buffet Deals in Chandigarh
Not to miss lavish Buffets in Tricity
Best Deals in Chandigarh
---