An Ode To City Beautiful- Chandigarh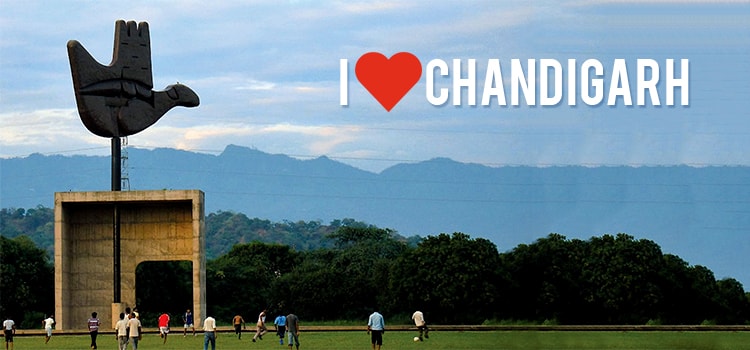 Far from the maddening crowd,
Exists a city that stands proud.
With its open hand symbol, it welcomes all,
That announces to the world, Chandigarh's heart is big, not small.
A sense of calmness and tranquility looms in the air,
That you won't find in a city anywhere.
Lush green trees surround city's landscape,
Cool breeze from the mountains holds us in an embrace.
The stillness of Sukhna Lake mesmerizes your soul,
The Garden of Silence rejuvenates what's taken a toll.
Like a phoenix, statues rise from city's ashes,
Rock Garden brings back school-time memories in flashes.
Awestruck at first sight by Le Corbusier's work of art,
Which got Chandigarh the status of being 'smart'.
From kothiyaan, caraan te sector sataaraan,
We have it all ShoutLo mere yaaraan.
From sohne gabrus astride their Bullet,
To gorgeous mutiyaars whose makeup is perfect.
All roam around the Geri route,
With guys in jeans and girls in suit.
Come spring and roses bloom,
In City's Rose Garden, which is filled with aromatic perfume.
Let's take a moment and appreciate this gorgeous place,
Where people are humble, not at all running a race.
But Chandigarh de lokki have their own tashan,
Shopping and partying is their version of fun.
In all this, we can't forget to study,
For that, we have apni Punjab University.
Where students swarm from all pinds and towns,
To work hard, rise up, never to feel down.
Even at midnight, take a stroll on the city's streets,
You'll feel safe coz Chandigarh Police never sleeps.
Not just men, but women as well,
Feel guarded here, without any alarming bell.
With a breathtaking backdrop of hills,
This city has a vibe that compels you to chill.
True blood Chandigarhians can't stay without food,
Makki di roti to cholle bhature, every dish is too good.
Butter, tandoori ya kadhai ho chicken,
For it, everybody's heart beats as one.
If food is here, how can we forget the wine?
Desi ho ya videsi, Chandigarh wallas love daaru when they dine.
Incomplete is your trip, without a drive on Geri route,
Where you will find the city's youth.
Zorbing past in their Thars,
Enjoying Punjabi gaane, staring at all sohni mutiyaars.
Escape from the city, drive up the Himalayan Expressway,
Stop by TTR Deck and enjoy the thrilling ropeway.
On your way back bring back endless memories,
As the city will cherish them for hundreds of centuries.
There is so much more to do and see,
That makes you jump with glee.
Search far and wide, will find no place like this
Chandigarh Feels like Eternal Bliss